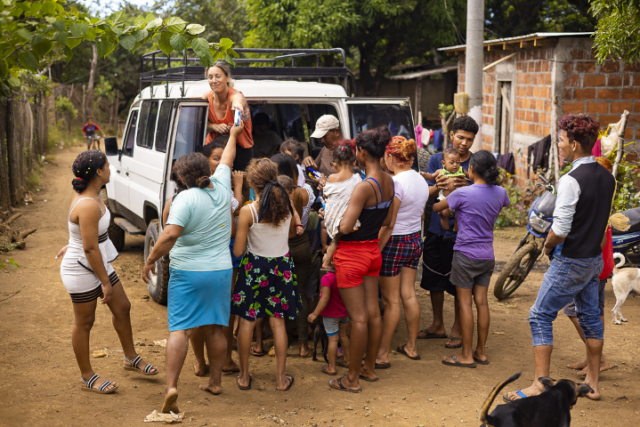 When people think about surf retreats, they often picture luxury resorts, stunning waves and an adventure of a lifetime. Rise Up Surf Retreats provides all of that, but with a natural, holistic twist. Best of all, a lot of their work also benefits local Nicaraguan children and communities.
What is Rise Up Surf Retreats?
Before we get too far into who the Rise Up Surf Retreats team is and why they do what they do, it's important to understand that this is more than just a surf retreat. Set in a stunning location on Nicaragua's coast, Rise Up offers surfing retreats and expert surf coaching in pristine, uncrowded waves. From beginners looking for a new adventure to experienced surfers who just want some time away, Rise Up offers something for everyone.
However, there is a strong wellness aspect to Rise Up's retreats, incorporating yoga, healthy food and a range of holistic health activities to help spread the good vibes. The team at Rise Up has created a real family environment where retreat guests are welcomed in and made to feel right at home. It's all about connecting people with nature and sharing incredible experiences in a beautiful part of the world.
So, while surfing is a big focus, Rise Up prefers to throw out the rule book and also offers a range of activities centred around health, wellness and making a connection with Nicaragua and its people. And while the company also offers retreats in Barbados, Costa Rica and Guatemala, Nicaragua is where the company was founded and where it grew its roots. It's also where they started their passion project – Rise Up Kids.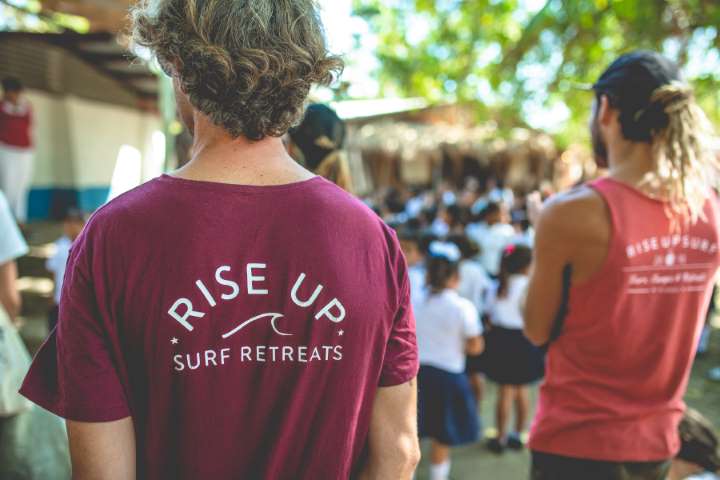 What is Rise Up Kids?
While the team at Rise Up Surf Retreats are more than comfortable offering surfing lessons to kids (and indeed, people of all ages), Rise Up Kids is about more than surfing.
Rise Up Kids is an NGO created by the Rise Up team to give back to the local Nicaraguan community. Rise Up's founders Phillip and Corina have explored surf breaks all over the world, but for the last 20+ years, they have called Nicaragua home. Since the country has provided such an incredible experience for Phill and Corina, they knew it was time to give back to the locals who have welcomed them.
Rise Up Kids was born with a view to helping local kids access a better life. This is achieved through many programs, including surf and English clubs for local kids. Rise Up Kids also supports construction and maintenance for local schools, food aid, and other initiatives aimed at supporting the community and future generations of Nicaraguans.
School renovations
One of the key goals for Rise Up Kids is to help Nicaraguan children get the best education possible. One example is their work with the local school in Asseradores, which is set to transform the lives of many young people in the area.
Phase one involves a lot of construction and maintenance to improve facilities, such as installing a new roof, doors and windows. Other tasks, such as rebuilding the school fence for better security, providing new desks and fans and improving the plumbing to ensure clean drinking water are all part of the plan.
Phase two focuses on providing new school supplies, employing security and cleaning personnel, and even developing a better way for teachers to get to the school from the highway. All of these activities are aimed at improving the education system for kids in the local area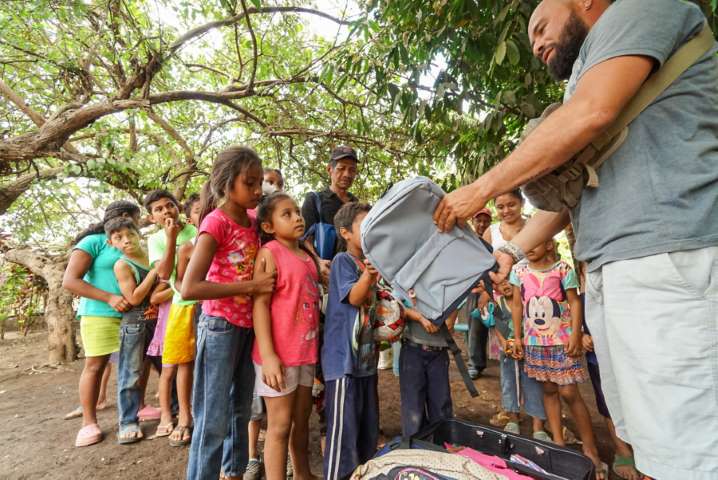 A sense of community
Whether we're talking about Rise Up Surf Retreats or its charitable arm – Rise Up Kids, there's one clear message that comes through. Community matters. Rise Up strongly believes that by supporting future generations, the entire community can rise up. The team themselves have overcome many challenges throughout their journey, and they know how important it can be to get a helping hand.
When you join a Rise Up surf retreat, you're welcomed with open arms. It's creating that sense of community and family that drives owners Phillip and Corina. "We truly provide a safe environment free from big egos and too many rules and restrictions. People can kick back, relax and feel well looked after. More importantly, they feel supported in and out of the water from the first email until the retreat is over."
This love of community and shared experiences is exactly why Rise Up Kids was born. Whether it be providing support to disabled kids in the community, improving school facilities or simply providing a safe, nurturing environment for kids to learn to surf, Rise Up is all about coming together as a family.
Partnership with Helping Hands
Helping Hands Charity Services is one of Rise Up Kids' partners, and offers a unique way for people to contribute. In short, if you've got an old car you want to donate to the charitable organisation of your choice, Helping Hands facilitates the collection, sale and donation of funds to a range of charities. Rise Up Kids is one of those charities, so people all around the world can donate a vehicle to this great cause. They also return 80% value, which dwarfs similar charities that offer vehicle sale returns of as little as 25%.
So, if you'd like to support Rise Up Kids, you can do so through Helping Hands, through direct donations, or even better – book a surf tour you'll never forget. By joining a Rise Up surf retreat, you'll enjoy a fun and relaxed surf and wellness experience like no other, and you'll also be helping the team improve the lives of local Nicaraguan communities. Are you ready to pass those good vibes on?