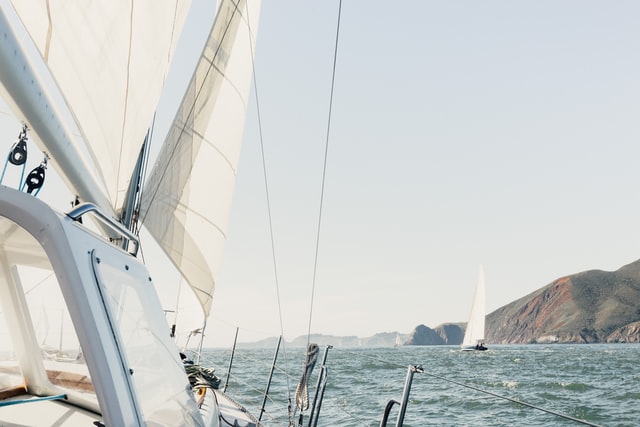 Sailing is a pastime that is enjoyed by increasing numbers of people, whether they are amateurs or boating regulars. One of the key appeals of sailing is that it can be a relaxing or a competitive activity, depending on what you prefer.
If you just want to escape the cares of the world for a weekend, you can take a sailing trip and leave them behind you on the shore. On the other hand, if you are skilled with boats, there are races in the Cape and elsewhere where you can sail to win.
Either way though you need to have some idea of the basics – if you don't want to end up swimming rather than sailing!
Getting Started With Sailing
Sailing might look to you like something that is unbelievably complicated and technical – and we certainly wouldn't recommend trying it with no prior knowledge – but anyone can be taught to sail. The first step towards getting your sea legs is to investigate training courses.
The Cape has loads of places where you can get hands-on knowledge and experience about sailing. The Cape Point Sailing Academy, which is in the navy territory of Simonstown, is probably the most well-known, but certainly not the only one.
Yachtmaster Ocean Sailing School is another one that you might prefer if the academy sounds a bit too rigid and military for your liking.
Unless you are lucky enough to have money to burn, boat rentals will be more viable than buying when you start sailing. The age old debate about whether size matters comes into play again here and the answer is 'yes' – but you want less not more.
Little crafts like a dinghy or a small sturdy sailboat are a lot easier to handle when you are starting out. At that stage you will just be taking short sailing trips anyway. If you are specifically looking for an inflatable one, here's an inflatable boat buying guide for you.
When you graduate to longer trips – maybe even to exotic and sun drenched spots like the Bahamas or the British Virgin Islands – you will find larger crafts for hire at affordable prices at Borrowaboat.
You don't have to join a sailing club if you are getting into this activity – maybe you don't want to join any that would have you as a member – but there are real benefits to it.
For one thing, more experienced club members will be able to teach you things that will let you learn the ropes more quickly. For another, it is a chance to meet people with the same interest and have a few drinks (not before you sail though, unless you have a very strong stomach).
Everywhere has sailing clubs, with the Royal Yacht Club and Zeekoe Vlei Sailing Club being two of the ones that Cape Town has to offer. Prices vary so just browse until you find one to fit your budget
You may be thinking sailing is strictly a summer activity, well think again. A warm summer day is the best time to go for a new sailor just because the water will be calmer and more manageable then.
Once you get more experienced though, it can be exciting to man your vessel in more challenging conditions. That said, check the forecast before heading out to make sure you don't get a storm you weren't expecting!
Why Sailing Is So Popular?
So now you know how to get started, but not why. Well, if you still have doubts about sailing, here are some reasons why other people love it so much.
Nothing lets you escape from it all quite like taking to the water in a dinghy or boat. A big reason why it is awesome to sail is because it takes you away from the annoying everyday stresses of life.
Being able to sail is about mastering a craft so that you and anyone else on board is safe and that involves learning skills. There is a real sense of satisfaction that comes from being in control of the vessel you are navigating through the waters.
If you can sail, you can see the world. There is nothing to stop you from hiring a boat and sailing along the coast of Florida in the US or drifting lazily along the Bahamas.
Sailing lets you see these places at your own speed, stopping off every time you come across something – or someone – that catches your eye.
Excitement of competition
Maybe you are more competitive – well sailing will suit you as well. There are plenty of sailing races that you can take part in if you have learned the skills needed.
There is no buzz to compare with the adrenaline rush of gliding through the water at top speed and none like the glory of winning.
You can choose to sail with a crew rather than on your own and the experience will help you bond with them. The teamwork skills you will develop are invaluable in lots of other parts of day to day life.
If all this has you thinking that it is a sailor's life for you, start by learning the key sailing points so that you can take your boat out onto the water feeling confident and prepared.