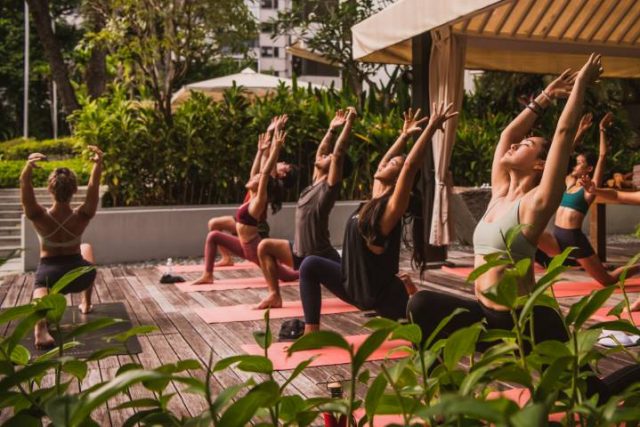 Hyatt Hotels Corporation announces today Hyatt hotels across the Americas, Asia Pacific, Europe, Middle East, Africa, and Southwest Asia regions have launched more than 160 Hyatt Loves Local collaborations in a continued effort to help revitalize and advance care to communities and small businesses recovering from the COVID-19 pandemic. Following the success of the 2020 community-driven initiative, which provides complimentary resources and exposure to select local businesses that have struggled during the pandemic, Hyatt Loves Local has evolved to further meet the current needs of Hyatt communities and guests, including collaborating with more minority-owned and female-owned businesses and delivering reimagined experiences inspired by the new travel landscape. In turn, Hyatt Loves Local connects those in-need directly with Hyatt guests and locals through distinctly local offerings, including wellbeing, arts and entertainment, "voluntourism," traveling with pets and culinary experiences.
Aligned with Hyatt's Change Starts Here commitment to accelerate Hyatt's longstanding diversity, equity and inclusion efforts, nearly half of the 100 participating hotels are teaming up with more than 65 minority-owned and female-owned businesses, two groups that have been disproportionately impacted by the pandemic. Participating hotels are also working with new businesses that were born out of the pandemic. For example, Hyatt Regency Mission Bay in San Diego is collaborating with Seaside Cinema to offer personalized, mobile outdoor movie experiences on the shores of Mission Bay. Seaside Cinema founders, Brian and Krystil Hofmann, were inspired to start the company as an alternative to movie theaters and indoor gatherings after Krystil lost her corporate job due to COVID-19.
"Based on how enthusiastically guests and colleagues embraced Hyatt Loves Local since launch last year, we are excited to expand the program with more than 100 new community collaborations that truly support the people, businesses and organizations that are the foundation of the local communities in which Hyatt hotels operate," said Amy Weinberg, senior vice president, loyalty, brand marketing and insights. "Hyatt has been advancing care across communities for more than 60 years and to see Hyatt's role helping small businesses thrive through Hyatt Loves Local last year has been a rewarding experience. We are proud to continue supporting communities while simultaneously offering our guests experiences that celebrate the future and recovery of travel."
Guided by its purpose of care, Hyatt's multi-layered Global Care & Cleanliness Commitment further enhances its operational guidance and resources around colleague and guest safety and peace of mind. More information on Hyatt's commitment can be found here: hyatt.com/care-and-cleanliness.
These and more Hyatt Loves Local collaborations are being offered through Summer 2021 and beyond. For more information about Hyatt Loves Local and participating property collaborations, please visit hyatt.com/hyattloveslocal.