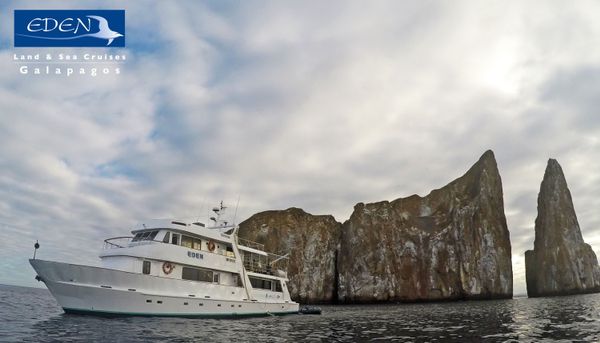 Leading small group adventure tour operator G Adventures has added a fifth yacht to its fleet of chartered vessels for the Galapagos Islands, and made new commitments to further reduce its travelers' environmental impact on the popular archipelago.
Beginning in January 2019, the 16-passenger Eden yacht will join G Adventures' four other touring vessels in hosting small group, sea-based trips around the 20 major and smaller Galapagos islands. With six different itineraries around the North, Central, West, East, and Southern islands, ranging from seven to 17 days in length, the Eden will enable G Adventures to meet the increasing traveler demand it's seeing for Galapagos adventure: between 2016 and 2017, there was a 22 percent increase in global bookings of G Adventures' marine-based tours through the Galapagos. One hundred percent of its yacht departures were fully sold between August 2017 through July 2018.
The competitively-priced Eden offers three upper deck, twin-share cabins with bunk beds, one main deck double bed cabin, and four lower deck twin-share cabins, as well as a scenic, two-level, wrap around deck with outdoor lounge area and sundeck for sunning or wildlife spotting. Also on board are accommodations for nine crew members, including a chef and expert naturalist who will cater to travelers' appetites and curiosities, and an interior dining room and living room with television and DVD for entertainment use. Built in 1996 and refurbished in 2012, G Adventures plans to move the Eden into drydock this fall for further upgrades and "G" branding. It is available for booking now by travel agents and travelers alike.
U.S. Marine Specialist Dennis Dziedzic, who serves as G Adventures' U.S. sales lead for marine-based tours, welcomed the addition. "What better way to spot flying Albatross or Darwin finches than by comfortably laying out on a chaise lounge right outside your room? On board the Eden, there won't be a minute for travelers to miss out on witnessing the wondrous wildlife of the Galapagos. This ship is ideal for exploration."
Also new, G Adventures announced it will be offering all its travelers to the archipelago a complimentary, reusable, stainless steel water bottle for both sea- and land-based trips that depart from January 01, 2019, onward. As a responsible travel company, it welcomed the regional Galapagos ban on single-use plastics in the archipelago. As of February 26, 2019, non-returnable bottles of any description will no longer be allowed on the islands. This follows a ban on plastic straws which came into effect on May 26, 2018, and plastic bags, which were also banned last July.
G Adventures' North American Managing Director Ben Perlo welcomed the move, noting the critical levels of global plastics waste, and the growing awareness among adventure travelers to reduce their footprint.
"The issue of plastics pollution is a massive challenge that is wreaking havoc on our seas and shores. Whether the crisis shows up in waves of trash on beaches such as in the Dominican Republic this past week, or in the remains of deceased marine animals like whales, as tour operators, we have more responsibility than ever to reduce any negative impact. I'm proud that our teams in Ecuador have stepped up to manage the logistics of reusable bottle storage and distribution for our customers visiting the Galapagos."
In Quito, regional operations manager Gabriela Gomez Coello added, "All our boats in the Galapagos are fitted with filtered water in refillable tanks for travelers' access. The hotels we use here also supply our land-based travelers with this service. Together with these ground partners and the Ministry of Galapagos Government Council, it's our goal to ensure that the Galapagos Islands remain one of the most ecologically healthy and inspiring destinations our guests can possibly visit."
G Adventures has a number of other initiatives onboard its vessels through the Ocean Health Fund, which was started with G Adventures' non-profit partner, Planeterra. Among them:
Filtered water is available onboard the G Expedition ship which visits the polar regions
Reusable water bottles are also provided on G Adventures' Sri Lanka sailing tours
Toiletries onboard all of G Adventures' boats are provided in refillable containers
Plastic straws are not offered onboard any of G Adventures' vessels.
Beach trash clean ups for marine tour guests and crew have been organized in Svalbard for the past four years, as well as in Thailand, Cuba and Sri Lanka.
The G Expedition ship picks up drifting plastic and fishing lines whenever possible.
G Adventures supports the United Nations Environment Program's Clean Seas campaign
For more information visit: www.gadventures.com.