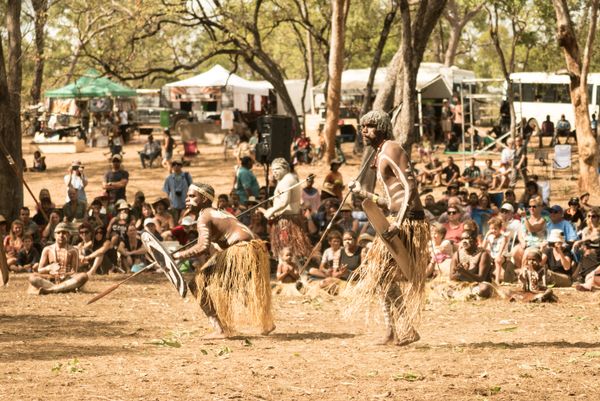 It's the world's oldest culture, dating back more than 40,000 years, though the traditions of Aboriginal and Torres Strait Island people are still celebrated today in Queensland, through song, dance, art and natural surrounds.
There are roughly 150 Indigenous language groups around the state, each rich with their own history and stories to be shared and passed down to younger generations.
Indigenous tourism in Queensland is on the rise, with a string of new experiences now open and waiting to be unearthed:
Kinrara Expeditions, Tropical North Queensland
Tapping into 270 generations of Gugu Badhun creation stories that have helped define the remote Kinrara National Park, husband and wife duo, Callum and Robin O'Brien, along with Callum's brother Shane, have launched Kinrara Expeditions – a five-day, four-night stunning outback Queensland adventure four hours south west of Cairns. Operating from their 70,000-acre MacEacherns Camp cattle station, each tour takes up to 12 guests staying in one of 10 low impact double tents that come with large private deck, high-quality inner-spring mattresses, crisp white linen and enchanting views of the Burdekin River. Callum customises the tour (and menu) depending on the group's preferences, making stops at the Atherton Tablelands and Mount Garnet on the four-hour 4WD convoy out to the station. After the Welcome to Country, guests can opt into guided walks – some in footsteps of the Prussian explorer and naturalist Ludwig Leichhardt, kayak trips on the lush waterways, mountain biking, helicopter rides to Australia's youngest volcano to explore its secret lava tubes, fishing, or just sitting at the lake's edge and watching the rich biodiversity of kangaroos, emus and 60 bird species on the property. Tours depart from Cairns or Townsville and bookings are now open for an April to October season. www.kinraraexpeditions.com
Jarramali Rock Art Tours with experienced Kuku-Yalanji traditional owners, Tropical North Queensland
A new guide-driven 4WD tour near the remote town of Laura in Queensland's Cape York will connect travellers to country and unearth the rich and untold stories of Aboriginal history and culture. Jarramali Rock Art Tours takes guests along the Maytown-Laura Coach Road – one of the few remaining ungraded historic access routes – to Magnificent Gallery where some of the 450 works of rock art go from backdrop to centre stage for an hour-long guided tour. Enroute to the gallerty, guests can stop off at sites like the Cobb and Co staging post take a dip in the Little Laura and Garden Creek junction and dine out on bush-camp tucker on a sandstone escarpment at Johnny's bush camp. Overnight camping is optional, complete with billy tea, damper and a camp oven roast dinner. Day trips from Laura start from $280 per person, or $370 for an overnight tour with pick up from Cairns or Port Douglas. Kids under 12 travel free. www.jarramalirockarttours.com.au
Guurrbi Tours, Tropical North Queensland
Part preacher, part teacher and a man with a whole lot of commonsense, this would have to be one of my favourite small tours.  Here Nugal-warra Elder Willie Gordon takes you through a dramatic landscape to several rock art sites, including the Rainbow Serpent Cave and an ancestral Birth Site where his grandfather was born. Here he explains the stories and meanings behind the art, giving you a insight into Aboriginal philosophy and spirituality. And as you walk the ancient tracks used by the Nugal people for centuries, Willie shares some of his vast knowledge of the land you're in: its bush tucker and medicines, creatures which forecast the weather, flowers which give messages, leaves which make soap, how to interpret snake tracks or give a little lizard a drink….No two tours are ever the same, but whatever happens you'll be enchanted and enthralled. Tours operate daily departing Cooktown at 8am, returning at 2.00pm. The tour takes place near Hope Vale. www.cooktownandcapeyork.com/tours/local-tours/guurrbitours
Jowalbinna Rock Art Walks, Tropical North Queensland
Located one hour south west of the town of Laura, and accessed only by 4WD only, Steve Trezise is a foremost guide in rock art and anthropology and has been continuing the role of Percy Trezise, who first began exploring and recording Quinkan art since 1960. The Trezise family continue to work closely with the Aboriginal traditional owners and have played a seminal role in conservation and research. www.jowalbinna.com.au/
Nyanda Cultural Tours, Brisbane  
Dive deep into the lives of Queensland's longest living inhabitants on a 90-minute walking tour that recreates the moments of the final journey from childhood to adulthood with the Nyanda Cultural Tour in Brisbane's northern suburbs. Along the way, venture through the bush to the Nyanda waterhole and one of just two bora sites remaining in Brisbane, and experience ancient cultural practices including a smoking ceremony, finding bush tucker and ochre (paint) making demonstrations. Led by the late Senator Neville Bonner's descendants, tours run weekly on Monday, Wednesday, Saturday and Sunday. www.nyandaculturaltours.com.au
Spirits of the Red Sand, Brisbane
Ever wondered what life was like in a 19th century Australian village, a time when British settlement changed forever the aboriginal people's way of life? The new Spirts of the Red Sand experience in Beenleigh is a 2.5-hour journey through the 1800s, led by Jarrah, the only survivor of three Aboriginal brothers, based on the true story of his family. This interactive experience with indigenous culture takes up to 120 guests through seven sets of live theatre, like the Dreamtime, a precolonial village and a jail, with an 18-strong cast of direct descendants. The cast will join guests for a warm damper dinner in the dining hall when the show concludes. Located in the Beenleigh Historical Village, 45km from the Gold Coast CBD and 36km from Brisbane's CBD, tickets include transfers from either location, and start from $25 to $65 for kids and $120 for adults. The Spirits of the Red Sand experience will commence from December 1, though online pre-booking is now available. www.spiritsredsand.com/
Time your trip to Queensland around an event:
Quandamooka Festival, Brisbane
June-August 2018
Explore the Quandamooka Coast – the sands, seas, lakes, creeks, catchments and creatures – during the Quandamooka Festival, held over three winter months in the Redlands and Southern Moreton Bay islands region and North Stradbroke Island. With up to 55 events, including whale watching cultural tours, Kunjiels (corroborees), Indigenous sports, music, eco boat tours, art exhibitions, fibre art and weaving workshops, bush tucker dining, arts and cultural talks by specialists and new events featuring international acts and First Nations dancers and performances.
Cairns Indigenous Art Fair, Tropical North Queensland
13-15 July 2018
The Tropical North Queensland city of Cairns is an ideal setting for this culturally important and vibrant art market. It's considered to be the only art fair in Australia to welcome commercial art galleries and Indigenous art centres to sell and showcase works by Queensland Aboriginal and Torres Strait Islander artists. Held at the Cairns Cruise Liner terminal, the event is framed by the waters of the Cairns Trinity Inlet, and rolling mountains and land of the Gimuy Walubara Yidinji people. The three-day fair features a vibrant program of events, exhibitions, dance and theatre. www.ciaf.com.au
Bunya Spirit of Youth, Sunshine Coast
24-26 August
An event very much in its infancy and inspired by the traditional custodians of the Blackall Range, the Bunya Spirit of Youth is a new race event that takes place over two days through the the Sunshine Coast Hinterland, where groups will complete a 22km trail and a variety of team-building activities while competing for more than $18,000 in prizes. An initiative of Run Queensland, in partnership with the QCCC Mapleton and the Jinibara people, it's a celebration of the coming together of people with an aim to teach resilience, aboriginal culture, nurture connection with the land, connection with each other and test individuals comfort zones. www.runqld.com.au
Winds of Zenadth Cultural Festival, Torres Strait
12-14 September 2018
Perched on the tip of Queensland's northernmost point, Thursday Island comes alive every two years when local Torres Strait Islander communities converge for the Winds of Zenadth Cultural Festival. Expect elaborate traditional dresses, spectacular headdresses and handheld instruments as dance teams from different islands tell ancient stories, passed down and told through the medium of dance. www.queensland.com/en-au/event/winds-of-zenadth-cultural-festival
Cape York Laura Aboriginal Dance Festival, Tropical North Queensland
July 2019 (TBC)
It's been 40,000 years in the making, but Laura Aboriginal Dance Festival is an Eisteddfod like no other – celebrating the oldest living culture in the world in one of the largest gatherings of Australia's indigenous communities. Staged in the town of Laura, situated on the Cape York Peninsula, this biennial gathering draws 5,000 people from across Australia and up to 500 performers. The dust flies, the dance begins, and all you'll hear is the roar of the dance troupes as they bring ancient stories to spectacular life. www.lauradancefestival.com