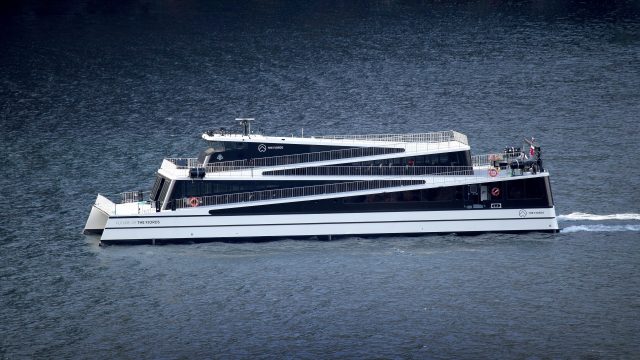 Future of The Fjords, a revolutionary all electric passenger vessel, has won the Ship of the Year 2018 award at SMM. The win marks the second time in three years that owner The Fjords, together with shipyard Brødrene Aa, has secured the title, with sister ship Vision of The Fjords taking the prize in 2016.
Although both vessels share the same energy efficient carbon fibre hull, Future of The Fjords was seen by awards organiser Skipsrevyen, its readers and expert judging panel as marking a major leap forward in sustainable transport, both on the water and, potentially, on land.
"We're proud to receive this accolade and excited about what it means for ourselves, our stakeholders and the wider transport industry," says The Fjords CEO Rolf A. Sandvik. "Both Vision and Future were designed to showcase and protect the unique Norwegian UNESCO World Heritage listed landscape they sail through – delivering an optimal passenger experience, whereby visitors can become at one with nature, without impacting upon it."
"However, while Vision, with its hybrid solution, marked the start of that journey, Future, a true zero emission, silent running vessel, really signals the fulfilment of our dream. We'd like to thank everyone that's worked with us on this project – including our owners Flåm AS and Fjord1 ASA, key suppliers Westcon, Servogear AS, Aurland Harbour KF, state run low emission solutions supporter Enova, and energy supplier Aurland Energiverk – for making the dream come true."
Future of The Fjords is the world's first all-electric carbon fibre vessel, but this wasn't the only deciding factor in elevating the vessel above fellow award nominees Antarctic Endurance, a krill harvesting ship owned by Aker Biomarine, and PONANT's expedition cruise ship Le Lapérouse.
The revolutionary 'power dock' charging solution was also key to the win, as Sandvik explains:
"Due to the limited local grid capability in our port of Gudvangen we could only access a charging capacity of 1.2MWh, just half of what the vessel requires," he notes. "So we, together with Brødrene Aa, in collaboration with our project partners, had to think a little differently to achieve our aims. Together we came up with the idea of a floating 2.4MWh battery bank contained in a 40m long glass fibre composite body. This could simply and slowly top up capacity from the grid through the day without the need for disruptive and expensive power surges.
"Then we started to think about how else we could utilise the structure. Could we use it to take on black water from the vessels too, so we didn't have to dump sewage directly into the fjords like other passenger vessels? In this way we could make Future truly ZERO emissions, both to air and to water. And it didn't stop there. We ended up fitting the dock with a 40 m3 diesel tank for Vision, alongside storage room for on-board consumables, allowing the vessels to maximise passenger capacity. It's a one of a kind piece of floating infrastructure, with potential far beyond this project."
The Fjords and Brødrene Aa now believe the dock can be used as a widespread enabler for green transport on land. The idea is that anywhere there's an electric ferry – often remote rural locations with limited grid capacity – power docks can be used to charge electric cars, buses and other transport modes. In this way they could form cost effective, efficient and easy to install local power hubs, changing the way communities move.
"As such this project, and this win, is about more than just one ship, it's about the Future," concludes Sandvik. "We firmly believe it has the potential to make waves right across the globe. It's great to see that others, including the award jury, see those possibilities too."
Future of The Fjords launched in May and will now make around 700 round-trip voyages a year, silently sailing between Flåm and Gudvangen, with the highlight of the trip the stunning UNESCO listed Nærøyfjord. Both Vision and Future offer panoramic views from inside, while enabling all passengers, including those of limited mobility, to climb over them outside. In recognition of this accessibility, the design received the Norwegian Centre for Design and Architecture (DOGA) Universal Design 'Transport' award 2017, as well as the overall 2017 DOGA Innovation prize.