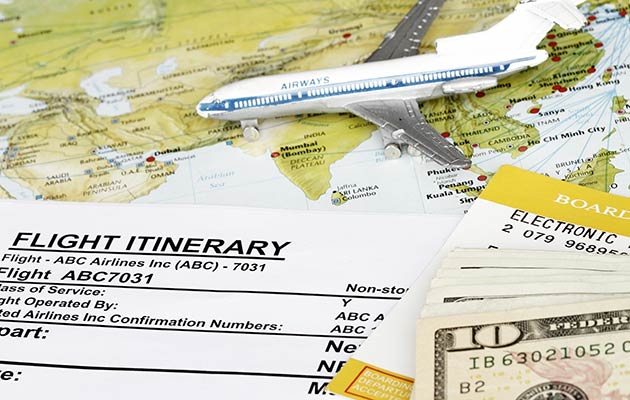 Long gone are the days when we only traveled to attend a wedding or a funeral, or when it was family vacation time each summer. Today, traveling across the Nation and around the world is commonplace. Some adventurers travel alone or with friends, outfitted with nothing but a backpack and set off to see the world. Businessmen and businesswomen jet set around the world, flying often, staying in hotels and racking up thousands of frequent flyer miles. Still, many of us do travel solely during family vacation times.
As you can see from the worldwide statistical information, travel can be for business or leisure; can be a weekend getaway to a small town close by or a year long sabbatical to a foreign country; it can be experienced alone or in the company of friends and family members. No matter how you travel and for what reasons, there is one constant. Today's traveler likes to be in control of their own journey and personal affairs and when traveling, wants to make sure that the itinerary is well thought out, planned and put together to gain both maximum enjoyment and maximum value.
This insider's guide to travel will help you achieve all of these goals. Learn from all the mistakes made by veteran travelers, discover their secrets for having the best vacation or business travel experience ever, while saving the most amount of money in the process.
Insider's Guide to Travel Transportation
Traveling by Air
 One of the keys to expert airline travel and securing the best deals is to have a good understanding of yield management in the airline industry. If you were traveling from New York to Los Angeles and you asked everyone aboard what they paid for their airline ticket, it is quite possible that everyone aboard would give a different answer, with prices ranging from $200 to $2000 dollars.
What may seem unfair because so many travelers are paying such a wide range of airfares is precisely how the airlines make money and stay in business. Each and every fare offered using a somewhat sophisticated mechanism that is called yield management.
Basically, a yield management system allocates a certain number of seats per flight at a discounted or bargain rate, while others are flagged for mileage upgrades and other still are earmarked as business travel seats. Finally, a certain number of seats are pegged for last minute travelers. That is precisely why you might have paid $400 less than the person sitting beside you on the flight. The airline makes assumptions about what you are willing to pay for your ticket.
If you understand the game of yield management, you can secure the best prices on airline tickets. Airlines try to sell seats for the most money possible. When that is not possible, and the yield management system is indicating that a great number of empty seats may go unsold, the airline launches a promotion – generally a seat sale of one form or another. The extent of the sale is based on the airline's anticipated losses for certain destinations or travel time periods. Let's take a closer look at the types of sales offered based on yield management:
Common Advertised Airfare Sales
The average airline has several common sales each year (some have literally dozens) that generally offer discounts that range from 25-35% if you purchase a ticket in advance, stay a certain number of days and are subject to other restrictions. Every so often (and more frequently in today's troubled economic times) an airline will offer a spectacular deal that would also fall under the advertised airfare sales because they have restrictions, and in most cases no cancellations or changes without incurring a hefty penalty. For example AA recently offered a system wide seat sale with prices advertised as low as $34 one way, when a round trip ticket was purchased. The tickets had to be purchased 7 days in advance and a Saturday stay over was required. Therefore, if you called and booked a ticket it would be $68 plus airline fees and taxes. However, booking on the AA website offered a further savings because you are "self booking" and only came to $64 dollars before airport fees and taxes. With this type of sale, you normally have to make reservations a minimum of seven days before you fly. Generally, the tickets are good for stays of no more than 30 days. If you're interested in traveling somewhere in the near future – maybe late summer vacation – then this is the kind of fare sale you should consider taking advantage of.
Web Only Seat Sales
 All airlines offer web only sales and the discounts can be substantial – anywhere from 40-55% although many are not this deep until you are very flexible on your dates and really dig deep for the best deals. Generally these types of sales are for specific flights that are within the near future (perfect for last minute travelers). Most times, you can only find out about these offers by subscribing to the airline's email alert or newsletter. If you are a serious traveler, it is a great idea to take a moment and register. Offers are usually mailed on Tuesday or Wednesday of each week and they sell very, VERY quickly. Example: US Air offered a round trip flight sale for Albany, NY to Boston, MA for $59. The ticket was nonrefundable and a Saturday stay over was required. The same flight regular price on the US Air website was $116.
Airlines teeter between profit and bankruptcy these days and more and more frequently, as flights are sluggish, the airline will have unadvertised one day sales on their websites or can be sourced out through discount and last minute travel websites and blog – to push seats that they need to get rid of or to advertise new services. This is excellent news for budget minded travelers, as these discounts can be huge! However, the restrictions are very stringent. You must buy the ticket immediately by Internet (usually), and no changes or refunds are permitted. If you are comfortable with flexibility and are not prone to changing your mind, you can save as much as 65-75% off a round trip ticket. A great place to search these out is Travel Zoo.
The moral is that you should watch for fare sales and plan your trip around these sales. Can you imagine flying to Los Angeles for $30 return!! Add a great low cost car rental, a discounted hotel rate and you can easily have a 7 day vacation for under $500! Last minute travelers are generally flexible travelers and therefore are in a unique position to get the best deals possible. In some cases, the best fares can be obtained through a travel agent. Online operators work from a set book of airfares, but travel agents have access to the yield management systems and can find you the ultimate travel deals. However, airlines prefer that you book directly with them. Be assertive and if you cannot get the best deal possible, and you fly with a certain airline faithfully, demand a better rate or ask to speak with a supervisor to either get a lower rate or get additional perks.
First Class Air Travel at Coach Prices (or less!)
You may need to ask your travel agent to help you out with this tip initially until you get the hang of it, but once you do, you can approach the airlines directly or even search for these discounts online.
Who doesn't want to fly first class… but who can afford the extra expense these days? It is possible to snag a first class seat at the coach or economy fare rate. You just have to know the secret to booking a first class ticket without paying the hefty price tag! You need to be a little assertive and ask your travel agent or ticket agent about a special air type that is commonly referred to as YUPP. However, some airlines use different codes such as QUPP or simply Z. It is absolutely a fact that most travelers – business, leisure or otherwise – have no idea about this travel secret. All airlines offer this type of special fare, which they basically categorize as an economy or coach seat that has received an automatic upgrade to first class, or a heavily discounted first class ticket. Either way, you save big money and get to travel in high style… with all the perks and legroom that comes with a first class airline ticket.
Insider Secret – Reverse Direction Fares
 It is no secret that airfares are based on what the airlines think we should be paying for any given flight. There is a way around this if you know the Reverse Direction Fares secret.
If you are traveling business class or first class to an international destination, do not book a return flight! Instead book and buy a one way ticket to your destination and then a 2nd one way flight from your foreign destination back home. This way you will always pay the lower price for the return flight from the international city. Even more savings can be had if you can purchase the round trip ticket directly from the other country. In most cases, these tickets do allow changes so you are not locked in without a refund option.
Even your travel agent can help you book two one way tickets and you will save a great deal of money using this insider travel tip. However, this really only works when you are flying business or first class to an international destination.