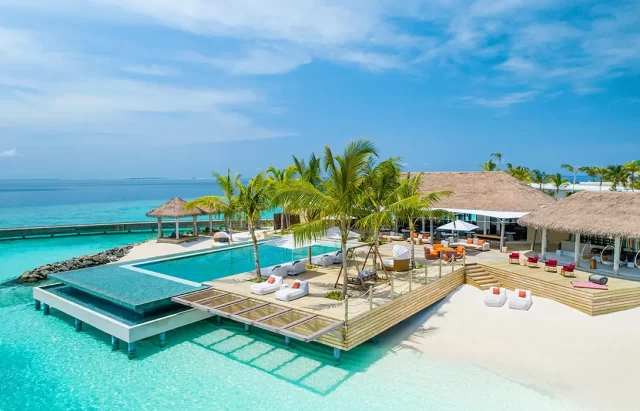 InterContinental Maldives Maamunagau Resort has announced its second Manta Retreat will take place from 9th to 13th March 2023, featuring several snorkelling and research trips, on-hand educational workshops, as well as excursions to find turtles and learn about corals. The Manta Retreat will educate participants and ocean aficionados on the resort's work on manta conservation, whilst raising funds to support the work of the Manta Trust. This continuing partnership highlights the resort's desire to help protect the pristine island surroundings. Aimed at adventure travellers, nature lovers, young explorers, and those who wish to add more meaning to their holidays, the Manta Retreat is the perfect combination of a luxury holiday and an educational experience – and takes place on a bi-annual basis at the Maldivian resort.
Sitting on the idyllic Southernmost tip of Raa Atoll, on the edge of a UNESCO World Biosphere Reserve and within its own natural lagoon, InterContinental Maldives Maamunagau Resort leads the way for manta ray research and has its own sustainable waste initiatives and recycling programmes. With pop up wellness practitioners, resident chefs and most recently, educational manta ray retreats, the resort plays host to a whole range of individuals, as well as a rich array of marine life. As the first and only all-Club InterContinental resort, guests are truly spoiled with indulgent complimentary benefits alongside luxurious five-star Maldivian facilities such as overwater villas, adults-only enclaves and a tranquil spa. With 81 beach, lagoon and over-water villas and residences, as well as six restaurants and bars, the resort enjoys the peace of a boutique hotel, but has the facilities of a world-class resort.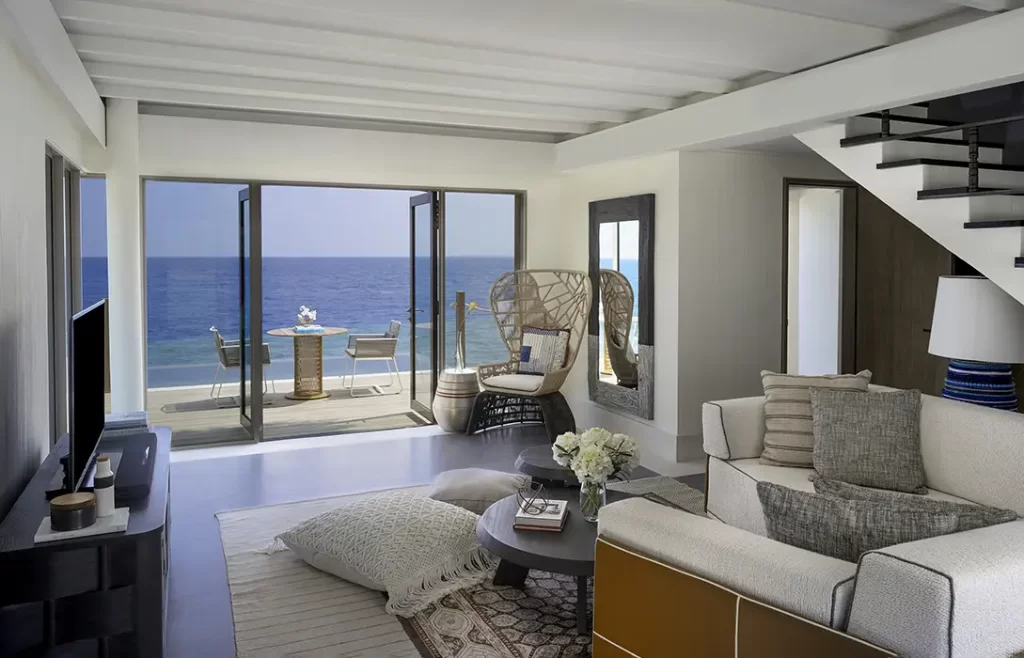 Manta Retreat – 9th-13th March 2023
Following the success of the resort's first Manta Retreat which took place in October 2022, InterContinental Maldives is making the retreat a regular offering. Designed to allow guests the chance to experience the magic of these gentle underwater giants, participants will learn and explore the research that is taking place around them. In collaboration with the resort-based Manta Trust organisation, a thoughtfully curated programme has been made available to guests to educate, explore and raise awareness for manta rays in their natural habitat.
Participants of the Manta Retreat will look forward to many mind-blowing manta encounters whilst learning about plankton, coral reefs and, most importantly, marine protection. "The Manta Retreat is the perfect holiday programme for everyone passionate about marine life and our oceans. I am very excited to lead the retreat for the first time this year, and to help our participants to satisfy their need for meeting mantas" says Farah Hamdan, the Manta Trust base leader at Maamunagau who has recently taken over the post from Jessica Haynes.
This year's Manta Retreat falls into the Maamunagau Manta Season, where young manta rays are found in the resort's lagoon just a few minutes away from shore. The Maamunagau Lagoon is a known juvenile manta ray aggregation point and a significant research ground for the Manta Trust team. "We can assume our lagoon to be a manta ray nursery. We still don't know where manta rays are born, but many juvenile manta rays hang around in our lagoon from December to April. This is a research haven for us, while we, of course, love to head out to Hanifaru Bay during the season as well to observe and research the massive aggregation of mantas there." explains Farah.
The Manta Retreat will take place from 9th to 13th March 2023 at the InterContinental Maldives Maamunagau Resort. Activities included are three manta ray snorkelling trips, house reef night snorkelling experience, sunset dolphin cruise, several workshops to learn more about manta rays, plankton, turtles, coral restoration and more.

For certified divers, options are available to ensure all guests find their individual way of interacting with manta rays. Dedicated dive spots are in the area around the resort that allows divers to observe the natural manta ray 'spa', known as cleaning stations, showcasing the incredible symbiosis of marine life in the Maldives.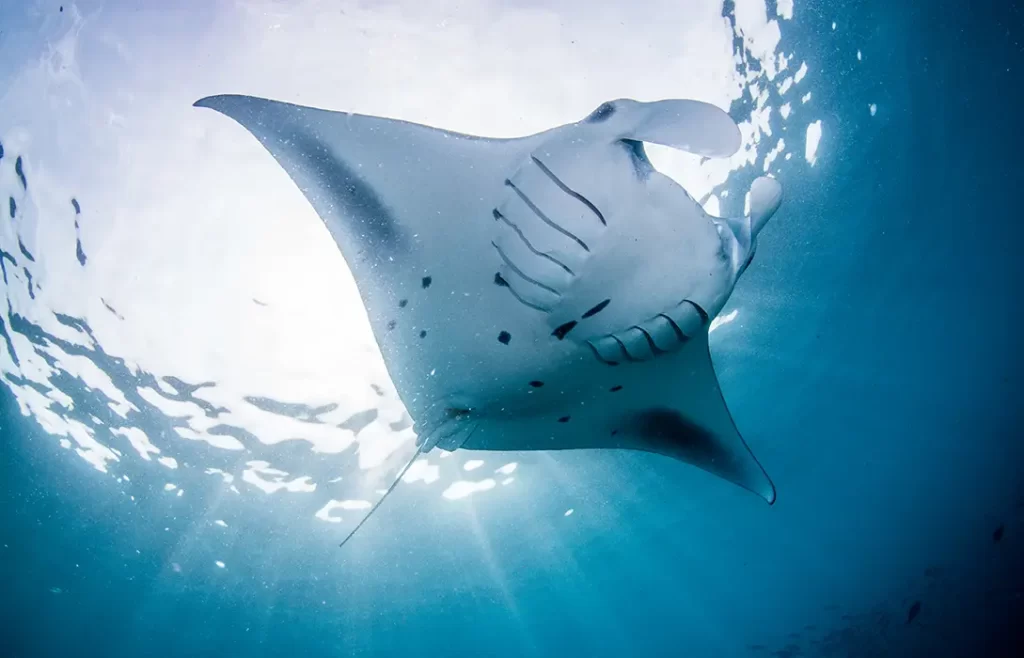 The Manta Trust
The Manta Trust is one of the world's leading manta ray research organisations. Using co-ordinated global research to aid conservation efforts surrounding manta rays, their relatives and their habitats, the Manta Trust aims to achieve global conservation through Research, Education and Collaboration.
Recognising the unique privilege of occupying an island in such close proximity to a newly discovered juvenile manta feeding ground, InterContinental Maldives began working in collaboration with the Manta Trust in 2019. The area around InterContinental Maldives Maamunagau Resort is home to a large and healthy population of manta rays which provides Manta Trust researchers based at the resort incredible access to study these animals. Reef manta rays are listed as "vulnerable" and Oceanic manta rays as "endangered" on the IUCN Red List, the work we do here helps to increase knowledge and understanding, which can be used to guide conservation measures both here in the Maldives but also around the world where manta populations are much smaller, and often threatened. Our team of Manta Trust researchers welcome our guests to join them for educational presentations and sustainably ran excursions.