Habitas, the sustainable, experience-led hospitality brand which fortified its status as an industry disruptor earlier this year with the opening of its second property in Namibia, will launch its third "home" – this time even further off the map, in the uncharted AlUla region in the Northwest of Saudi Arabia. Opening in the second quarter of 2021, the property rests within an ancient oasis in the desert canyons of the Ashar Valley, surrounded by sandstone cliffs and palm groves.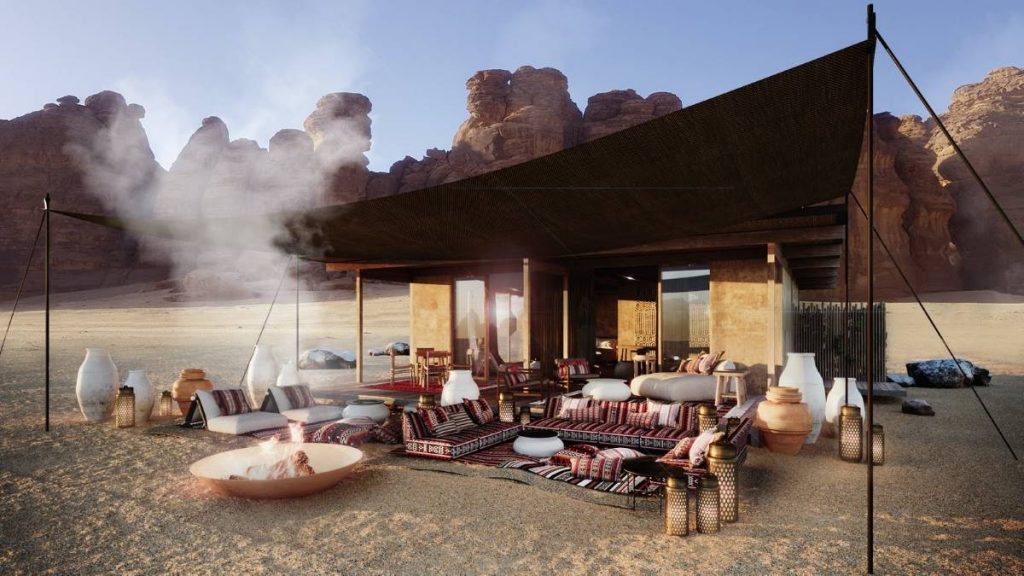 The resort's pathways lead guests right up to each of the 100 guest rooms, as well as to the yoga deck, wellness and fitness centers, restaurant, and swimming pool. Each of these spaces is constructed from ethically sourced organic materials which blend seamlessly into their natural surroundings. This minimally invasive build model, along with the property's sustainable programming, are the Habitas calling card: modular-build, low impact design that does virtually no harm to the environment, creating an organic space in which meaningful experiences of all kinds will spring to life.
Habitas AlUla is the true embodiment of the brand's six programming pillars: wellness, adventure, culture, learning, and food & beverage, all of which are meticulously developed to immerse guests within the region's authentic culture and natural environment. AlUla's on-site restaurant Tama, aptly named after the word "here" in Aramaic, is a gathering place using sustainable agricultural methods to bring guests along an unforgettable culinary journey. The food & beverage concept marries Saudi and Middle Eastern cuisine, sourcing local fresh ingredients and bringing the unique flavors of Saudi Arabia to life.
Guests are invited to gather and improve their knowledge of this historical region with weekly outdoor cinema screenings featuring regional cultural films and documentaries in addition to open discussion lectures relating to local initiatives, culture, and history. Numerous Arts & Culture activities complement these learning experiences, such as a guided walk through the remains of the ancient city where the Nabateans once lived.
Located along the original pilgrimage route to Makkah and described as an open-air museum, AlUla spans 22,561 km2 of land, enveloped in both the immense beauty of the natural world and the dramatic splendor of human creation. The ancient site was a hub of trade and cultural exchange for millennia and abounds to this day with traces of those who passed through over the years. AlUla is home to thousands of burial places including 111 tombs, 94 of which remain elaborately carved at Hegra, a UNESCO World Heritage Site. They stand majestically among mammoth structures carved
and refined by the natural elements.