With summer months approaching, StayOne, the like-minded community enabling luxury travelers to experience the finest one percent of homes worldwide, has put together an exceptional collection of properties in Greek islands. This of the beaten track island hopping adventure in the Mediterranean will enable travelers to avoid the crowds associated with some of the more popular destinations, and enjoy the tranquillity and untouched nature on the islands of Milos, Paros, Naxos and Lefkada and the island group of Cyclades. 
Milos, Cyclades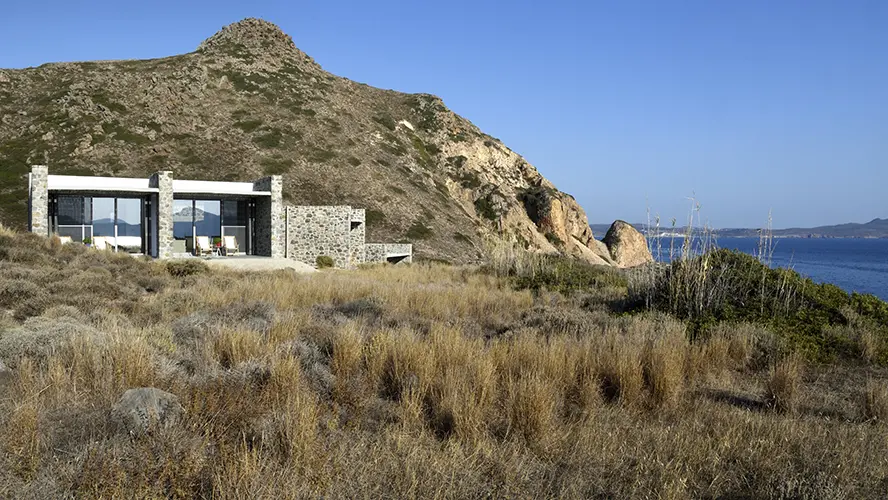 Embracing its natural surroundings, this eco stone villa is nestled within the sloping hillside overlooking the tiny fishing village of Skinopi on the Cycladic Greek island of Milos. West facing, specifically designed to enjoy unrivalled views of Milos' famed sunset, this home forms part of an intimate development of three villas, and has been brought to life by a world-class Greek architect to sit in harmony with its beautiful natural environment, while reflecting modern, minimalist style. Located amidst nine acres of private land, the villa takes full advantage of the mesmerizing Aegean Sea views. There is a wonderful outdoor kitchen for preparing meals al fresco and an outdoor shower that makes bathing extra special. This is a perfect villa for  experiencing the ultimate Greek getaway.
Antiparos, Cyclades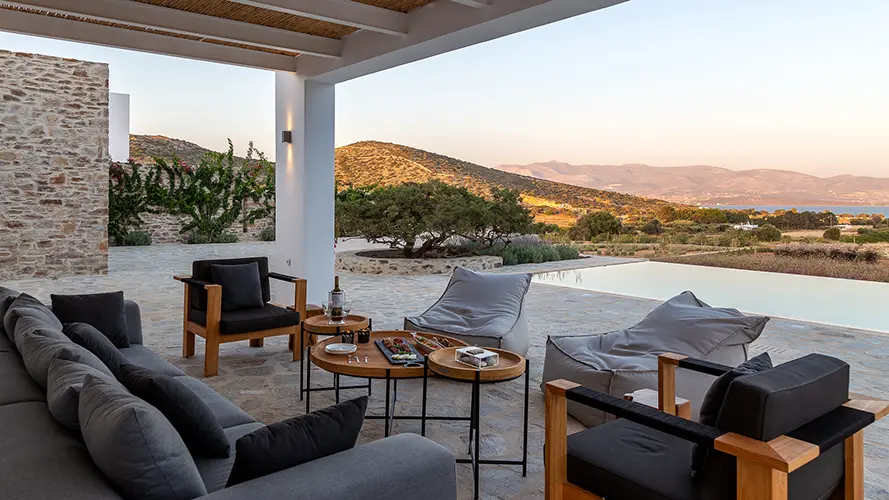 Newly constructed this villa is a true slice of luxury on the picturesque island of Antiparos. The villa's garden is especially beautiful with stunning views across the surrounding countryside providing a real sense of seclusion and tranquillity. Guests can make the most of the private infinity pool to cool off in the Mediterranean heat, soak up the sun on the poolside loungers, and enjoy barbecued meals al fresco in the outdoor dining area.  All of Antiparos' beaches are located nearby, taking between three to 20 minutes via car and Glyfa beach is just 900 meters away. The picturesque town of Antiparos, characterized by whitewashed buildings and winding streets is only ten minutes away by car.
Isterni, Paros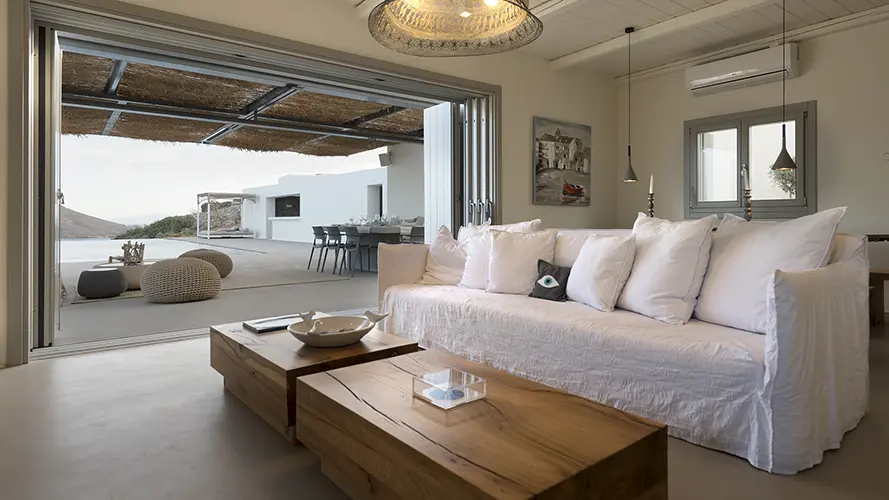 With views that span across the azure sea below, from the vantage point of this villa, guests will find true Grecian bliss. A retreat within the stunning natural landscapes of Paros, this six bedroom villa is ideal for larger groups. A spacious infinity pool overlooks the waters below. The shaded outdoor space is also home to an al fresco dining spot and outdoor couch area for relaxing in the evenings. The first floor is home to the master bedroom which has panoramic views of the Aegean, and its own bathroom and balcony space. From this home, there are several beaches less than a 20 minute drive away, including Kolympethres beach which is around 16 minutes drive.
Orkos, Naxos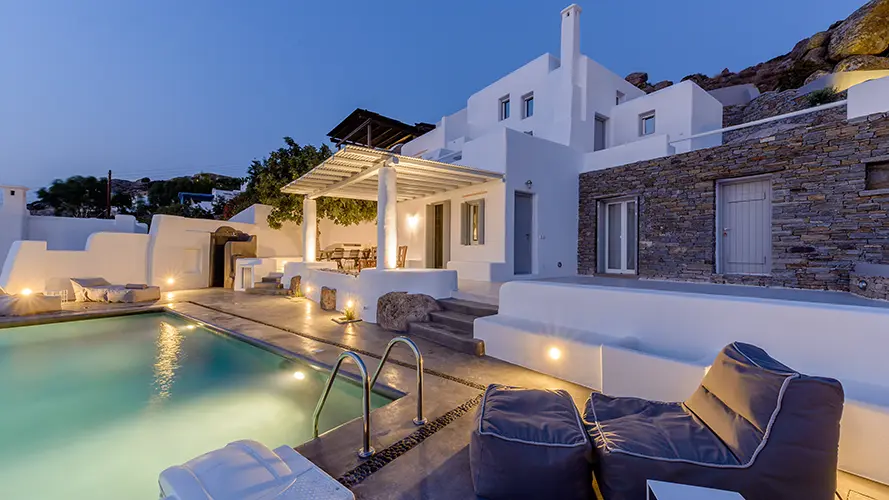 Located on a hillside overlooking Orkos Beach, this amazing villa offers a private sea-view pool with a wraparound sundeck, a pergola shaded terrace, a pavilion and an outdoor shower, alongside al fresco dining for twelve with a BBQ and a built-in outdoor living area. An impressively sized fully equipped eat-in kitchen opens directly onto the sunny terrace via glass French doors, and a spacious living area adjoins, featuring a traditional statement fireplace and polished stone floors. The stunning white-sand beach of Orkos, is just a scenic ten minute stroll away from this home, or visitors can drive to the picturesque city of Naxos and stroll its cobbled streets as well as find a variety of shops, restaurants and bakeries.
Katouna, Lefkada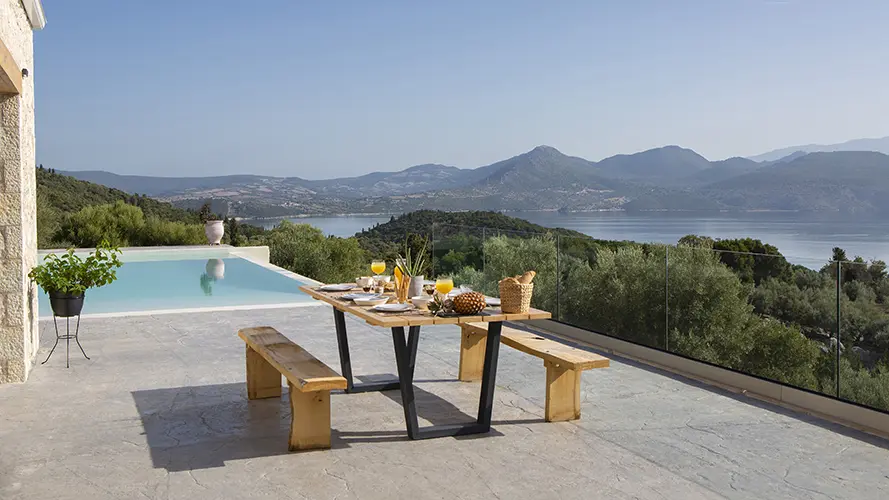 Surrounded by rolling coastal hills and the crystal blue ocean, this home is the perfect base for travelers to enjoy the unspoiled island of Lefkada. The large swimming pool outdoors offers space for the whole family to enjoy the Greek sunshine, and there is also a jacuzzi and stunning glass walled balcony, allowing guests to unwind and maximize on the panoramic vistas afforded by this home's hilltop location. Found on the stunning, pristine and untouched Ionian land of Lefkada, this home can be found in Greece's self-proclaimed Caribbean. The visitors will find an abundance of beaches nearby, or head to the town of Katouna which has a good selection of shops, restaurants and other amenities.