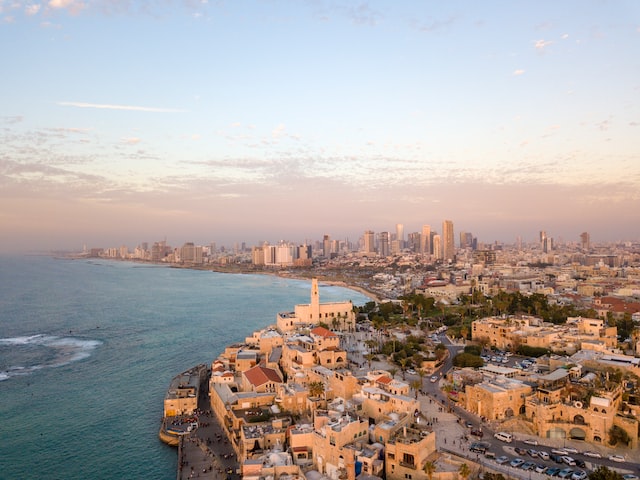 Israel is a unique, beautifully diverse country that's steeped in traditions that typically come from the foundations of religion. The beauty of this country is unrivaled. Every town and every city tells a different story, usually one that is steeped in religion. From the ancient city of Jerusalem to the modern city of Tel Aviv, there are countless places to explore and discover. Now is the perfect time to think about your escape to Israel – plane tickets are cheap, and the weather is divine. Dive into the overwhelming beauty of Israel with these destinations below.
Jerusalem
Jerusalem is perhaps one of the most well-known cities in Israel, one that attracted 2.7 million tourists in 2022. Dubbed the 'Holy Land' – it's one of the oldest cities in the world and is without a doubt a must-visit destination in Israel. You'll find that it's also one of the busiest cities. The tourism levels are always high, with many flocking to some of the most popular destinations, including the Dome of the Rock, Western Wall, and the Church of the Holy Sepulchre. The Old City is also a UNESCO World Heritage Site and offers a snapshot of the city's past.
Tel Aviv
Israel's second-largest city – but it might as well be the first thanks to its bustling tourism scene and modern take on old-school classic Israel. Tel Aviv is a vibrant and cosmopolitan city with a thriving arts and culture scene. Search for a hotel Tel Aviv, and you'll find an abundance of luxurious accommodations overlooking the bustling metropolis or the glistening Mediterranean. It is home to some of the best beaches in the country – Banana Beach, Tel Baruch Beach, and Jerusalem Beach are just a few waiting for you to explore.
Move away from the dazzling beaches and into the bustling city, and you'll find an endless list of things to do. The Tel Aviv Museum of Art, Sarona Market, and the Jaffa flea market are just a few explorations to put on your list of things to do.
Haifa
Haifa is perhaps one of the lesser-known locations in Israel. Located on the slopes of Mount Carmel, Haifa is a picturesque city with stunning views of the Mediterranean Sea. It's a quieter city, but it still has plenty to offer for anyone wishing to bask in its beauty. For example, it's home to the Baha'i Gardens, a UNESCO World Heritage Site considered one of the most beautiful gardens in the world. At one lookout point in the garden, you have a full view of Haifa city below and beyond. The Madatech, Stella Maris Monastery, and Grand Canyon Haifa should all be on your Haifa hitlist.
You'll find that hotels and travel to Haifa are relatively cheaper compared to some locations in Israel, and it has transport links to neighboring cities like Tel Aviv, so you could make it a two for the price of one vacation.
Israel is a country that won't disappoint. The above are just three must-see locations, but there are numerous other cities and towns to explore, with an endless list of history and beauty to immerse yourself within. What will be your go-to location in Israel?