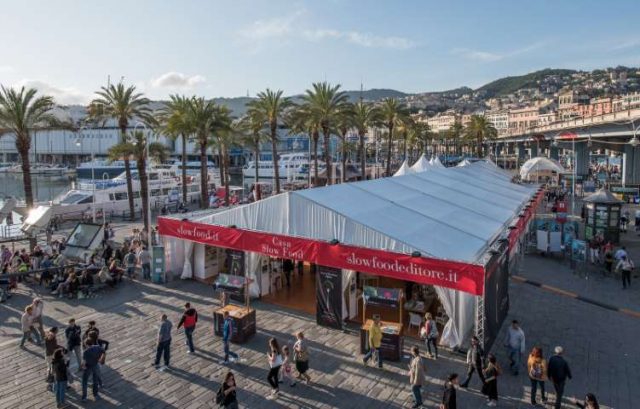 From 9th-12th May, the Italian city of Genoa will host its Slow Fish Festival, the largest slow fish festival in the world. Foodies can indulge in this ultimate celebration of the Mediterranean's gastronomic culture and fantastic seafood as Genoa's entire Porto Antico is devoted to dedicated street food stalls, taste workshops and special dinners hosted by Michelin starred chefs.
This year the festival has a theme of "The Sea: A Common Good," with the aim of highlighting best practice in order to preserve the shared resource of the sea. The festival will have a sustainable focus with many of the talks devoted to explaining how we can protect our oceans and to publicising low-impact fish techniques
Festival highlights include:
The Slow Fish Market sprawled across Genoa's Porto Antico is one of the festival highlights. The market showcases an impressive array of fresh and preserved fish ranging from amberjack to horse mackerel, all of which are free from artificial preservatives and flavourings. Visitors can meet producers, hear about different fishing techniques and conservation and learn about buying fish by season. The market also sells many of the complementary ingredients essential to fish cuisine, from oils to spices and salts; perfect for taking home and sampling with new recipes. The market will be open from Thursday to Sunday, 10am – 8:30pm and entry is free.
Dinner Dates – one of the most popular elements of the festival is the chance to experience world-class fish-focused dininghosted byItalian and international chefs. Held daily throughout the festival the Dinner Dates feature such gastronomic luminaries as Pino Cuttaia, holder of two Michelin stars for La Madia in Lica, Sicily and Roman Chef Pascucci al Porticciolo who has held a Michelin star since 2012. The Dinner Dates are hosted this year in Il Marin and the Ancioa bistro in the gastronomic experience Eataly. Registration / tickets are available on the website https://slowfish.slowfood.it/en/slow-fish-guide-dinnner-dates/
Taste Workshops – these are popular and educational sessions where visitors can learn about unusual and sustainable types of seafood, artisanal fishing techniques and traditional ways of preserving fish. Whilst learning visitors get to try and sample fish and dishes comparing local seafood. https://slowfish.slowfood.it/en/taste-workshops/
Cooking Schools – Casa Slow Food is home to a 40-seat venue where visitors can enjoy a close-up view of members of the Slow Food Chefs' Alliance preparing some of their signature dishes with the best local produce and ingredients. https://slowfish.slowfood.it/en/cooking-schools/
Visiting the Slow Fish Festival
Genoa is Italy's sixth largest city and is ideal for a city break to tie in with the Slow Fish Festival. The city has Europe's largest medieval centre, 42 sumptuous 16th and 17th century palaces, a 12th century cathedral and a famous aquarium.
Further details on the festival can be seen at: http://slowfish.slowfood.it/