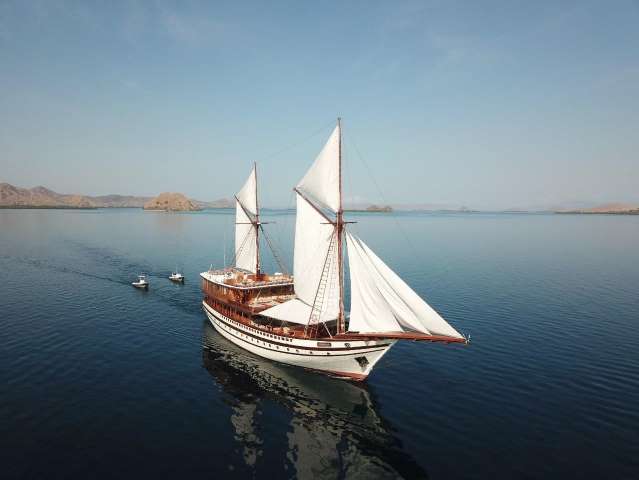 Watch Kim and Kourtney Kardashian jump from the world's biggest & most luxurious phinisi superyacht (pictured below) as part of the location filming for KUWTK (Bunim-Murray Productions) episodes 1603 and 1604 which premiered in the USA, 21st April on E! Channel.
The location chosen for part of the KUWTK sixteenth season was the beautiful hand-built yacht Prana by Atzaro, the biggest and most luxurious of its kind in the world. At just over 55 metres in length, Prana by Atzaro has been crafted in the style of a traditional Indonesian Phinisi (a sail boat with two masts), built entirely of ironwood and teak according to traditional methods.
The Kardashians – Kim, Kourtney and family enjoyed a luxuriously relaxed time onboard Prana by Atzaro.
Designed with the utmost luxury, Prana by Atzaro offers guests space and comfort in nine elegant suites, each with their own private ensuite bathrooms. Fully sound- proofed the suites are decorated with sumptuous vintage fabrics and contemporary linens in a sophisticated palette. Prana offers more space and comfort than any other Phinisi, with all the super deluxe mod cons of a lavish five-star hotel. There are one lavish master suite and eight further suites on-board.
Oversized gangways and 4 spacious decks with king size daybeds offer abundant places to retreat and relax. A yoga deck doubles as an open-air cinema and Prana's main deck has inside and outside living, a luxury spa, a water sports deck and a further suite.
The 18-man crew includes a Cruise Director, Dive Instructor, several chefs, stewards and expert spa therapists; all on hand to deliver a seamless experience and to ensure all your needs are met.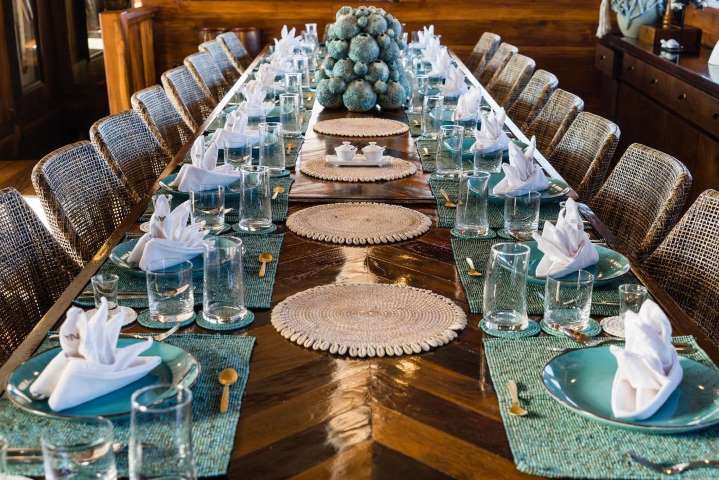 With fine dining, unlimited water sports, on-board spa treatments, unforgettable diving and the chance to visit some of the world's most beautiful heritage sites, 'Prana by Atzaro' encapsulates a perfect unison between ancient craftsman- ship and contemporary luxury.