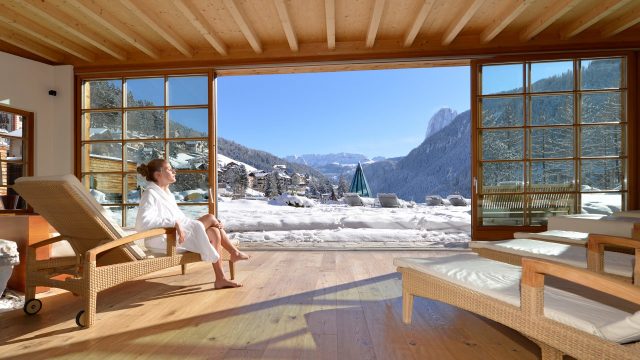 Some say that a single real estate transaction can change history. This was especially true in 1810, when the purchase of a small inn in the Dolomite village of Ortisei altered the landscape for Italian spa hotels. The buyer was a gentleman named Josef Anton Sanoner, and he named his new property "Gasthof zum ADLER" (or Eagle's Inn).
More than ten decades later, the hotel is now known as the ADLER Dolomiti Spa & Sport Resort, and has three sister properties, all in Italy and each imbued with a strong sense of place. ADLER Balance Spa & Health Residence is linked to ADLER Dolomiti by an underground tunnel; the woodsy-yet-luxurious ADLER Mountain Lodge is set on the Alpe di Siusi, Europe's largest mountain plateau; and ADLER Thermae Spa & Relax Resort, in Bagno Vignoni, Tuscany, is famous for its complex of naturally fed thermal baths and pools, totaling more than 1,000 square meters. As the hotels have grown and expanded from their humble roots, one thing has not changed: The Sanoner family, who have owned and managed the properties for seven generations and are passionate about hospitality.
The hotel spas set the standard for excellence, offering personalized sessions using the company's new ADLER SPA cosmetics line. The products are made using three kinds of water: the thermal water of Bagno Vignoni, the Dolomites' pure mountain spring water and saltwater from Sicily. Each spa has dozens of treatments on its menu, and along with signature ADLER offerings there are many other approaches represented. ADLER Thermae, for example, has 30 different massages, including craniosacral, Lomi Hawaiian, hot stone, Shiatsu and Thai. Although all ADLER spa therapists are highly skilled in their areas of expertise, they are also continuously educating themselves about new techniques. There is no "one-size-fits-all" approach at the ADLER spas; rather, staff members strive to create solutions that are as unique as the guests themselves. Facials, for example, are performed using the ADLER cosmetic line, and depending on the client, products can be chosen for their ability to deeply cleanse, lighten, rejuvenate or soothe. Treatments are relaxing, but they can also weave in high-tech elements. For facials that might mean adding options like an oxygen bath or JetPeel (a tailor-made, high tech facial treatment using ingredients that deeply penetrate the skin).
For those who want to combine the soothing elements of a spa with cutting-edge medical diagnostics and treatments, both ADLER Thermae and ADLER Balance are home to the ADLER MED health centers. Beginning with an initial medical consultation, the staff of doctors, nurses and therapists help each guest create a program that might include prevention and diagnosis of chronic health conditions (such as thyroid function, food intolerance and osteoporosis); stress management; weight loss and nutrition counseling; physical therapy; and dermatological treatments. "When you run a car for a long time in full throttle, it eventually needs a tune-up. It's the same with the body," says Laura Santini, a doctor at ADLER Med in the Dolomites. Of course, participation in the ADLER MED program is optional, and many guests simply come to relax at the hotels' spas and explore the surrounding areas.