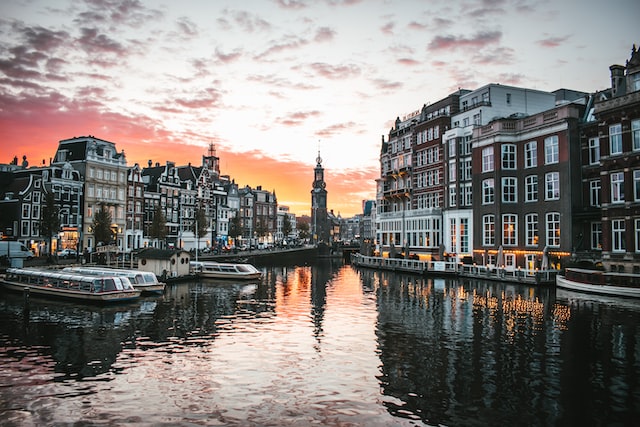 Amsterdam offers you Europe at its best. There are excellent museums with rare and exciting exhibits that are intriguing places to visit. Walking in the beautiful parks and along the lovely canals is so relaxing. The city exudes a genuinely international ambiance, and it has a lively café culture.
Amsterdam's also known for its buzzing art scene and the many cozy bars where you can unwind. Founded in the 12th century, Amsterdam beckons you with its rich history and many attractions. Read on as we share an itinerary to explore the city, so you don't feel overwhelmed.
Day 1 of exploring Amsterdam
A walking tour is just grand if you're looking to feel the spirit of Amsterdam. It gives you a peek into the city's history, locate the major sights, and explore the beautiful canals flowing through Amsterdam.
Go on the Black Heritage Tours if you're interested in the less well-known side of the Dutch capital. These tours shed light on the deep history of Amsterdam and the Netherlands in Black history. The tour will include walking and sailing the city's canals. It is both an exciting and educational experience.
You can also opt for some other tours like food tours, museum tours, and more. Amsterdam will likely offer for even the pickiest tourists.
The Canal Tours
Amsterdam is a truly charming city to travel through its network of canals that spread to every corner of the city. These canals were formed after the Amstel River was tamed, giving Amsterdam a unique beauty.
Seeing the city from a boat is a whole new experience. We suggest you avoid taking the big canal boat tours since they are overpriced. Hiring a private boat at around 50 Euros per hour is better. These smaller boats give you a more intimate tour, and the captain makes the experience more personalized.
Day 2
After you've experienced the sights and sounds of Amsterdam by taking the walking and canal tours, it's time to visit the museums. You've just got to have Van Gogh Museum and the Rijksmuseum on your bucket list.
The Van Gogh Museum
Being one of Amsterdam's most popular tourist attractions, the Van Gogh Museum is always a tad crowded. That said, this place is an absolute treasure trove if you can take the crowd in your stride.
The museum features the best works of the troubled artist with a superb biography of his life. Paintings by other famous contemporaries of Van Gogh, like Manet, Matisse, and Monet, are also displayed here. A word of advice—come here late in the afternoon when the crowds start thinning.
The Rijksmuseum
You'll come across the Rijksmuseum next to the Van Gogh Museum. After going through a renovation for years, the Rijksmuseum is beautifully remodeled. There's an extensive Rembrandt collection here, and you'll see the famous painting "The Night Watch" here.
You'll also see works by other classic Dutch painters like Johannes Vermeer and Frans Hals. You'll need to set aside enough time for the Rijksmuseum as it houses more than 1 million exhibits, including artwork and historical artifacts, and around 8,000 objects for display.
Day 3
A visit to Amsterdam has you in the heart of Europe, the epicenter of World War II. So, Anne Frank's Museum is one of the heartbreaking stops tourists make.
The Anne Frank House and the Jewish History Museum
A visit to this museum leaves you deeply moved. The Jewish History Museum also sheds light on the horrors of the War and the persecution during World War II. Be sure to book your tickets online to avoid the rush. A visit to these places will leave you deep in thought as you reflect on the evils of war.
Extra activities to squeeze in
A visit to Amsterdam would not be complete without a stop at the Jordaan neighborhood. It has markets, boutiques, and various restaurants or coffee places. So, it is the perfect spot to take a relaxed stroll and enjoy your surroundings.
Speaking of strolling, do not forget to tour the Royal Palace of Amsterdam. Gaze upon the classical exterior and be fascinated by the beautiful interior.
Regarding the best places to eat, travelers make many recommendations. You cannot go wrong with Jansz, Hap-Hmm, Stork, De Kas, and Pesca.
Of course, always remember to be aware of your belongings when cruising through the city. You might encounter impromptu boat trips, street dealers, or fake police while attempting to have a relaxing trip. Thus, be aware of common scams that might make your trip bitter.
Furthermore, be wary of free Wi-Fi whenever you sit at a restaurant or a coffee shop. Typically, public Wi-Fi lacks security, and it could help others steal your data.
Thus, it is better to use cellular data whenever abroad. However, knowing the prices, you will be tempted to take advantage of free Wi-Fi.
If you do decide to connect, get a VPN for Windows before your laptop joins an unknown network. This tip is essential if you choose to do some work and cannot find a reliable network.
A Virtual Private Network is an application that encrypts traffic and reroutes it through secure servers. Thus, you will not be threatened by eavesdroppers attempting to read your data.
Conclusion
With its rustic brick buildings and winding canals, Amsterdam exudes a distinct character that has never failed to charm visitors. No wonder it's one of the most popular destinations among tourists. The city's rich history makes it a fascinating place to explore. The mesmerizing scenic beauty takes your breath away. We tell you, if you've visited Amsterdam once, you won't be able to keep yourself from revisiting the city.