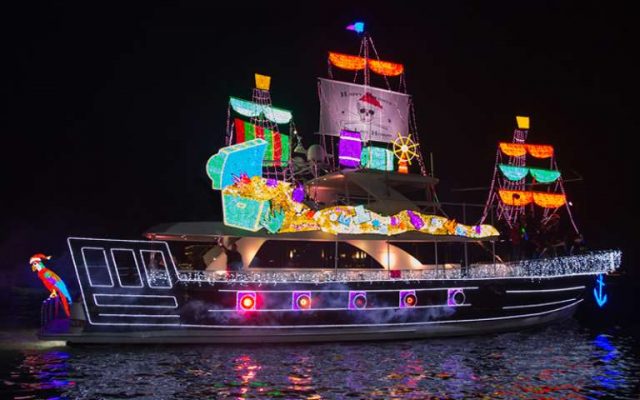 It's the most wonderful time of the year! The holidays are such a magical time for togetherness, reflection and celebration. Looking for a destination that feels so many presents wrapped into one? Look no further than Newport Beach, California. With so much happening in town, Newport Beach is the most festive city in the world!
111th Annual Newport Beach Christmas Boat Parade (December 18-22):
Holiday cheer takes to water like Santa takes to eggnog! One of the longest-running holiday boat parades in the United States, and ranked as "#2 City in the Nation for Holiday Lights" by Yahoo! Travel, the Annual Newport Beach Christmas Boat Parade has yachts, boats, kayaks and more glide across the water with twinkling lights, brightly coloured tinsel. What could be better than that? Our very own Grand Marshal, Christina Anstead, star of HGTV's Christina on the Coast and Flip or Flop!
Ring of Lights (December 12-22):
Do you hear what we hear? And do you see what we see? Locals of Newport Beach are known for their style and flair, and this is especially during the annual Ring of Lights festival. Part of the Christmas Boat Parade, Ring of Lights bring you some of the most spectacular Christmas lights displays in the world that would bring a smile to none other than Mr. Grinch!
Photos with Santa at Fashion Island (November 22-December 24)
Santa Claus is coming to town to visit children and bring holiday cheer to the people and Newport Beach. Come to the world-famous Fashion Island to meet Santa Clause and catch up on Christmas shopping!
Balboa Island Holiday Home Tour (December 8)
We'll be home for Christmas… or perhaps someone else's home! The 23rd annual Balboa Holiday Home Walking Tour is sure to be its best year yet. Sponsored by the Balboa Island Improvement Association, visitors will get the chance to visit eight uniquely decorated homes in the area for a chance to experience the holidays and Balboa in a way like you've never experienced before!