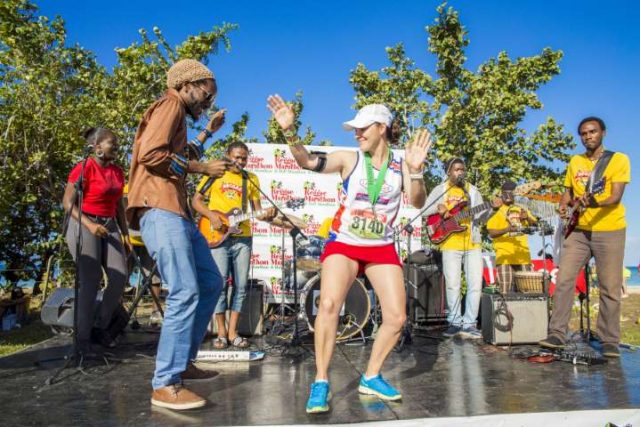 Active vacations continue to rise in popularity and for avid runners and athletes, trotting the globe for destination races has become a lifestyle.
Jamaica has long been synonymous with running for its exceptional athleticism in track and field, with record-breaking Olympic athletes setting the pace for generations. The island continues to gain recognition as a destination of choice for running enthusiasts, not only for its Olympic accolades, but also for its unique trails and globally ranked racing events.
The Reggae Marathon, Half Marathon and 10K is Jamaica's premier international marathon event hosted annually in December. Marathoners and sports enthusiasts gather in Negril for this vibrant run brought to life by the rhythm of reggae. The IAAF certified course begins at Long Bay Beach Park, situated along Negril's famed seven-mile beach and loops north into the town of Green Island, the pulsating reggae music serving as a soundtrack along the way. From start to finish, Reggae Marathon offers a distinct way to experience Jamaica's natural charm and welcoming culture. Next Race: December 6, 2020.
Insider Tip: Don't miss the "World's Best" Pasta Party hosted on Saturday night by the Jamaica Hotel and Tourist Association. The celebration features music, entertainment and endless pasta dishes, giving runners a tasty way to carb load before race day.
Also internationally renowned, Kingston City Marathon includes a half marathon, 10k and 5k race/walk. The race attracts participants from across the globe including the Caribbean, Ireland, Denmark, United Kingdom, Japan, China and the United States. As a full IAAF/AIMS Certified marathon, the event gives runners the opportunity to record official qualifying times while experiencing the birthplace of reggae. The route loops through the city to highlight the best scenic and cultural assets of Kingston and St. Andrew and encourages spectators to line up and cheer on participants in four different fan zones. Next Race: March 15, 2020
Insider Tip: Trail runners looking for a challenge in exchange for amazing views, can add Mountain Spring Drive to their Kingston itinerary. The road provides a low trafficked, paved street for a steady 1.3 mile uphill run into the mountains.
Jamaica's South Coast is home to this annual race, regarded as the world's oldest off-road triathlon. Jakes Hotel, located in the quiet coastal community of Treasure Beach, St Elizabeth, hosts international participants for a 350-meter ocean swim in the warm Caribbean waters, a 25k mountain bike ride and a 7k country run. Proceeds from the race benefit BREDS, the Treasure Beach Foundation, to support community initiatives.
Next Race: April 25, 2020
Insider Tip: A group and family-friendly race, the triathlon offers participants the opportunity to join as teams in the relay category. Kids can join in for the Likkle Jakes Kids Triathlon held immediately following the major race.
The annual MoBay City Run includes a 5k run/walk and a 10k run, with the mission of raising funds for scholarships to benefit needy tertiary students from western Jamaica. This do-good feel-good race, welcomes participants to take a scenic tour of Montego Bay, the tourist capital of Jamaica, starting from the Old Hospital Park up to Catherine Hall. Next Race: May 3, 2020
Insider Tip: While visiting Montego Bay, see another side of town while running the Mount Zion Trail nestled in a rural hillside community near the popular Cinnamon Hill Golf Course.
Hit Some of the Best Trails on Island…
Travellers looking for a more laid-back way to get some miles under the belt can pound the pavement at any of the island locals-approved running trails. From beach side to mountainside, these treks give active vacationers a sampling of Jamaica's athletic culture.
The Elegant Corridor (Montego Bay)
Located east of Sangster International Airport, Montego Bay's Elegant Corridor stretches from the Ironshore neighbourhood to the Rose Hall Great House along the main A1 roadway. The strip covers a distance of 4.9 miles (7.9 km) and is home to some of the area's best resorts and golf courses, providing picturesque scenery and plenty of lighting after sunset.
One Love Trail (Ocho Rios)
Running enthusiasts visiting Ocho Rios will want to check the One Love Trail off their bucket list. This paved roadside trail begins in the downtown area on Main Street and continues through the famed Dunn's River Park, covering a total of 3 miles (4.9 km) lined with lush gardens and ocean views.
Great Bay & Big Groun' Trails (South Coast)
Part of the Jake's Off-Road Triathlon trail, these two segments give runners the perfect opportunity to take in the rugged beauty of Treasure Beach. From the starting point at Jake's Hotel, the Great Bay trails goes south on Calabash Road covering 4.8 miles (7.5 km) roundtrip, while the Big Groun' trail heads north through treasure beach, looping back for a total of 6.8 miles (11 km).
Seven Mile Beach (Negril)
Negril's famous Seven Mile beach, the centrepiece of Reggae Marathon, is a must-do for short or long-distance runs. From the Long Bay Beach Park, the beach stretches north for 7 miles (11 km) up to Bloody Bay with sweeping ocean views and plenty of food huts to fuel up post-run. While the sand adds a resistance challenge, those looking for an alternative route can opt for the walking/cycling lane found along Norman Manley Boulevard.
Mona Reservoir Dam (Kingston)
In the Mona neighbourhood west of Kingston, runners will find a gem that has been called the "Holy Grail" of running in Jamaica's capital city. The Mona Reservoir's hard dirt path covers a 1.6-mile (2.6 km) loop offerings panoramic views of Kingston and the Blue Mountains in the background. To add on, visitors can stop by the Usain Bolt Track located at the nearby University of the West Indies (UWI) campus.
For more information on visiting Jamaica, please visit www.visitjamaica.com.