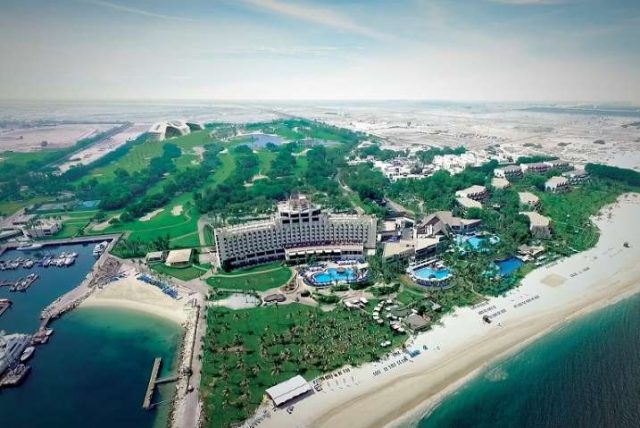 Described as the 'original heritage hotel at the heart of the action', the much-loved and award-winning JA Beach Hotel at JA The Resort, Jebel Ali Beach, Dubai, has completed its 2019 makeover and will reopen for business on September 1st.
In keeping with the world class resort facilities at the 1 million square metre JA The Resort, JA Beach Hotel has completed a renovation of the entire building façade, now showcasing sleek all-glass balconies and new furniture, providing guests with panoramic sea views of the 800 metre private beach. The bedrooms which have always been a firm favourite amongst families, have been further improved with modern wood tile flooring, new beds and furniture in a fresh colour scheme of soft greys, neutrals and relaxing hues.
One of the biggest and most exciting changes are the new restaurants and bars opening at JA Beach Hotel. The JA Beach Hotel team will launch a stunning new romantic Italian restaurant, Sette, with 360 dome views of the resort in October, as well as Phoenicia restaurant – a collaboration with the 'master of modern middle eastern cuisine' – multi award-winning Greg Malouf. The name Phoenicia (pronounced fuh-neesh-a) comes from the ancient Mediterranean civilization that originated in the Levant, specifically Lebanon. In 2500 B.C. and beyond, the Phoenicians were famous tradesmen who introduced the cultivation of olive oil and widely sold saffron, wine, figs and salted fish amongst many other luxuries. The concept of Phoenicia is described as a 'neighborhood restaurant and contemporary celebration of the enduring popularity of Levantine cuisine.' Lead by world renowned Australian-Lebanese Chef Greg Malouf, Phoenicia offers a contemporary twist on the Lebanese classics, such as salmon kibbeh and avocado fattoush – a refreshing blend of the best of the old with the thrill of the new. The food presentation is simple and rustic, with a discreet licensed bar complimenting a wide range of artisan tea's and juices. With a focus on sharing, the food is enduringly approachable, affordable and frankly, addictive. JA Beach Hotel will also be home to Vasco Da Gama, a new bar and lounge based on the intrepid Portuguese explorer, on top of the existing restaurants which were also refreshed.
Boasting a strong base of 30% repeat guests every year, JA Beach Hotel has a loyal following and families who treasure years of good memories at the property. The hotel experiences high volumes of repeat guests from Europe, while also providing UAE residents with an ideal staycation destination a short drive from the city centre. A true escape from the city vibe of Dubai, JA Beach Hotel has always offered a resort feel, with a surrounding expanse of greenery and wildlife, a private marina and a host of family activities to suit all generations. An intrinsic landmark in the history of Dubai's rapid development, the JA Beach Hotel, once known as the Jebel Ali Beach Hotel, was one of the first leisure hotels built in the city. The extensive refurbishment to JA Beach Hotel in 2019 is an important step in the repositioning of JA The Resort in Jebel Ali Beach, which is preparing to open its third hotel, JA Lake View Hotel in the sprawling grounds at the end of September 2019. Situated on a stunning 1 million square metre plot of landscaped gardens, JA The Resort features a huge 800 metre private beach, 104 berth private marina and a 9-hole, par 35 championship standard golf course – establishing itself as the only true resort in Dubai and competing on the global stage.
Located just 10 minutes away from Dubai Parks & Resorts, 20 minutes from Dubai's buzzing JBR and 30 minutes from the iconic Dubai Mall, the 5-star JA Beach Hotel accompanies the new JA Lake View Hotel (opening September 22nd 2019) and the Mediterranean villa suites of JA Palm Tree Court to become Dubai's Largest Experience Resort. Guests staying at the three unique properties will enjoy seven landscaped swimming pools with four swim up bars, a choice of 25 restaurants and bars, a floodlit driving range on the golf course, putting and pitching greens and Leadbetter Golf Academy Dubai, 4 floodlit tennis courts and a tennis academy, squash courts, badminton courts, beach volleyball facilities, horse riding stables, 9-hole mini-golf course, a Watercooled Watersports Centre with water-skiing, windsurfing, banana boats, catamarans, laser sailboats and a private 104-berth full service marina offering fishing trips, boat trips and sea plane flights. It also boasts 6 shooting ranges, the Calm Spa, a bio-garden, a crèche, Pirates and Mermaids Kids Club and Babysitting service.