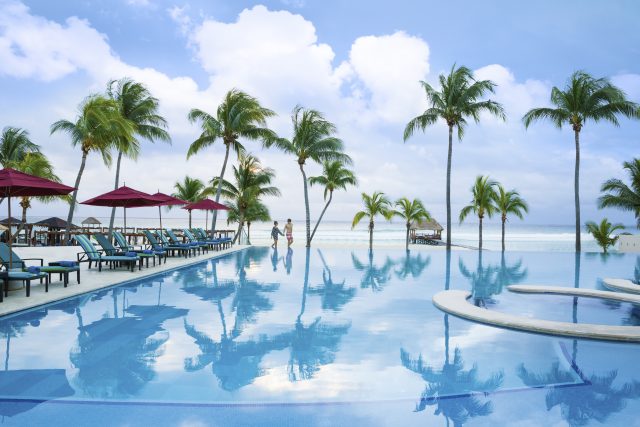 Karisma Hotels & Resorts announces its newest campaign, The Five Senses at The Fives Azul Beach Resort Playa del Carmen, centered on the five senses embodied within a luxurious Gourmet Inclusive® Experience. The new brand campaign, "Awaken Your Five Senses," aims to increase brand awareness and drive bookings by targeting consumers and travel agents across the United States and Canada by encompassing an array of weekly on-property activities and initiatives that stimulate taste, sight, touch, smell, and sound.
"The Five Senses campaign spotlights the unique multi-sensory experience afforded by The Fives Azul Beach Resort Playa del Carmen, bringing to life existing elements in new and exciting ways.  We're pleased with performance generated by the campaign thus far and look forward to continuing our robust marketing approach to further increase bookings this year," said Kelly Poling, Senior Vice President of Marketing of Premier Worldwide Marketing, the exclusive representatives for Karisma Hotels & Resorts.
Marketing efforts cater to families and adults, inviting guests to awaken their senses with Gourmet Inclusive® luxury, positioning The Fives Azul Beach Resort Playa del Carmen as an immersive vacation destination that invigorates all five senses by way of discovery. Using a multifaceted approach, The Five Senses Campaign aims to bring the new resort experience to life through online advertising, social media, partnerships, public relations efforts, and strategic influencer collaborations. Campaign initiatives also encompass social media photo shoots highlighting the redesigned guest experience as well as property enhancements, new food & beverage offerings including the resort's most recently opened Peruvian restaurant, Pisco Nikkei Cuisine & Raw Bar, and creation of visually-stunning video content.
From the moment guests arrive on property, their senses are stimulated – most immediately upon entering the lobby, where The Fives signature scent of green tea, verbena and mandarin flows throughout. Greeted with a scented cold towel and a refreshing beverage, guests are then guided through the lush Mayan jungle to their suite. "Sensational Areas" are marked throughout the resort, identifying which activities cater to what sense. Sensory-stimulating activities range daily:
Monday (Savor The Fives) – Activities to awaken and delight the palate; from cooking classes with Executive Chef Gusteau, to a barbeque dinner under the stars in The Love Garden. Catering to multiple senses, the popular "Dinner In The Dark" series invites guests to enjoy a decadent 5-course meal complemented with wine pairings and alluring music, all while wearing a blindfold, bringing all the senses to peak.
Tuesday (Feel The Fives) – Guests can dive into their creative side with hand-made jewelry and colorful Mayan hipils, and release tension through complimentary massages and reflexology treatments from Vassa Spa.
Wednesday (Listen to The Fives) – Touching on the sense of sound, guests can enjoy various live-musical performances on Wednesdays from a Rock Disco Party and Michael Jackson Show, to Karaoke Night, storytelling sessions and more.
Thursday (Aromas of The Fives) – Guests are encouraged to find the aroma of happiness and relaxation on Thursdays with guided tours through the resort's nursery and participation in a traditional Mayan Alux ceremony.
Friday (Unique Views of The Fives) – Visually stimulating shows and activities play into the sense of sight with fire shows, circus performances, acrobat shows, glowstick night parties, and outdoor cinema showings.
Saturday (Day of the Body) – On Saturday, guests can find peace of body and mind with physical activities such as competitive sports games, canoe tours, stretching courses and a scavenger hunt for children.
Sunday (Day of the Spirit) – Spiritual activities including yoga, a detoxing Mayan Cleanse and a Mayan blessing ceremony to re-establish harmony for couples, are a few options for resort guests on Sundays.
Located on the turquoise waters of Mexico's Playa del Carmen, The Fives Azul Beach Resort Playa del Carmen by Karisma, is a Gourmet Inclusive® property featuring ultra-spacious and luxuriously designed resort residences with shared living areas designed to foster togetherness among guests of all ages.  Gourmet culinary offerings are beyond compare, encompassing exceptional a la carte restaurants and bars with cuisines from around the world, including the popular Zky Bar with stunning views of the Caribbean and the new Club82 Wine Bar, the first international tasting room by Jackson Family Wines.  With a variety of exceptional amenities, modern décor, warm hospitality, and a 15,000-square-foot Vassa Spa, every aspect of The Fives Azul Beach Resort Playa Del Carmen creates a uniquely unforgettable vacation experience.