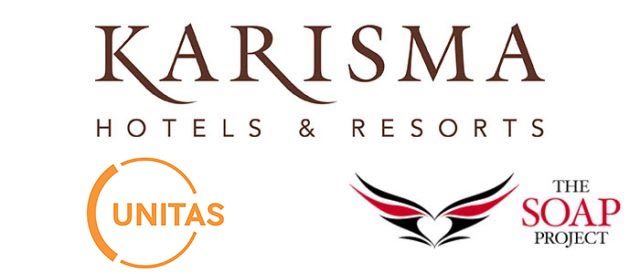 Karisma Hotels & Resorts, an award-winning hotel collection that owns and manages properties in Latin America, the Caribbean and Europe, today announces an expanded partnership with international anti-trafficking organization UNITAS, which provides prevention education and opportunities for trafficking survivors to heal. In collaboration with UNITAS and The S.O.A.P. Project, an organization that focuses on educating and increasing awareness on the prevalence of human trafficking, Karisma will sponsor a Therapeutic Survivor Retreat in January 2019 at one of its resorts in the picturesque Dominican Republic. Karisma has supported UNITAS for the past 3 years, regularly serving as the presenting sponsor of the annual UNITAS Gala in NYC, which helps raise awareness and funds to fight human trafficking.
"We are beyond grateful that Karisma Hotels & Resorts has graciously offered to sponsor the January retreat in such a beautiful and uplifting destination," said UNITAS Executive Director Todd Cavaluzzi. "Normally held at donated facilities such as dormitories, schools and churches, we are excited that the 2019 retreat will be a departure from survivors' everyday environments, providing them a tropical beachfront escape where they can be inspired and change their perspective. Our goal is to give these brave survivors, who have been through so much, a life-changing and enriching experience where they can heal and leave feeling empowered to live free."
In addition to UNITAS, another key sponsor of the January retreat is The S.O.A.P Project, an organization dedicated to putting a stop to human trafficking by distributing millions of bars of soap to high-risk motels. The bars are wrapped with a red band that displays the National Human Trafficking Hotline number, in the hopes that trafficking victims will see it and call for help.
"These life-changing retreats are a huge step in helping survivors heal," said The S.O.A.P Project Founder Theresa Flores. "We are thrilled that Karisma has provided such a beautiful, relaxing environment, which will enhance the participants' healing on the way to truly living free."
This is the second year that UNITAS and S.O.A.P have partnered on a Therapeutic Survivor Retreat, during which survivors are given the opportunity to heal, build life skills and discover life-long support among fellow survivors. "The retreats are important to me because they give me a sense of calm. In a world where horrible things happen, I can look around this crowd of survivors and see that no matter how bad things get, you can always come back," said a previous retreat attendee.
During the retreat, attendees will participate in a variety of healing activities – from seminars that focus on the law of attraction, paying it forward, forgiveness and coping mechanisms, to more physical group bonding activities such as sunset vinyasa yoga, beach volleyball, salsa lessons, tai chi and photography lessons, among others. Survivors will also be able to enjoy gourmet meals served a la carte, premium beverages, 24-hour room service, full service concierge and luxurious amenities with Karisma's signature Gourmet Inclusive® Experience while on property.
"Human trafficking has become a global epidemic and we at Karisma Hotels & Resorts feel a deep social responsibility to support organizations such as UNITAS," said Lubo Krstajic, Co-Founder and Chief Marketing Officer at Karisma Hotels & Resorts and founder of UNITAS. "Travel is a powerful healing tool. We are honored to expand upon our long-term partnership with UNITAS to sponsor the 2019 Therapeutic Survivor Retreat, inviting survivors to one of our remarkable resorts to restore and find solace with each other in a serene, memorable environment."
UNITAS is also raising additional funds for programming and other expenses for the retreat through a peer-to-peer campaign. Anyone wishing to fundraise or donate for the retreat can sign up at https://give.classy.org/ProjectLiveFree
About Karisma Hotels & Resorts:
Karisma Hotels & Resorts, an award-winning luxury hotel collection which owns and manages properties in Latin America, the Caribbean and Europe, comprises an impressive portfolio including El Dorado Spa Resorts, Azul Beach Resorts by Karisma, Generations Resorts by Karisma, Nickelodeon Hotels & Resorts, Karisma Villas, Allure Hotels by Karisma and Karisma Hotels Adriatic. Properties have been honored with the industry's top accolades including Conde Nast Traveler's "Top 100 Hotels in the World," Conde Nast Traveler's "Top 30 Hotels in Cancun," TripAdvisor® Traveler's Choice "Best Hotels for Romance," and AAA's "Four Diamond Award."  Karisma has received worldwide recognition for its creative approach to hospitality management and product innovations. For reservations and a full list of Karisma properties, please visit www.karismahotels.com.
About UNITAS:
UNITAS began combating human trafficking in 2015 after founder, Lubo Krstajic, learned of the plight of trafficking victims. Believing in unity as the name suggest, UNITAS quickly forged partnerships with governments, NGO's, and experts in the field to develop collaborative solutions in the fight against human trafficking. UNITAS has offices in Belgrade, Serbia and New York, USA where they are developing innovative programs to expand regionally. http://www.unitas.ngo/.
About The S.O.A.P. Project:
The SOAP Project is a charitable and educational organization, specifically focused on educating and increasing awareness in the public on the prevalence of human trafficking, to restore trafficked survivors and to prevent teens from being victimized by domestic, minor, sex trafficking. S.O.A.P. was founded by author, advocate and survivor, Theresa Flores in 2010. On her worst night, after being auctioned off to nearly two dozen men in a dirty inner-city Detroit motel, Theresa recalled the only item that would have reached out to her—a bar of soap. With that in mind, she created S.O.A.P. — Save Our Adolescents from Prostitution — to help reach out to other victims. S.O.A.P., nurtures strong, self-reliant survivors, brings people together to create a sense of community to fight human trafficking, raise awareness and help find missing children. And promotes the social, economic and political empowerment of all individuals and communities to show them how to end modern day slavery. https://www.soapproject.org/.