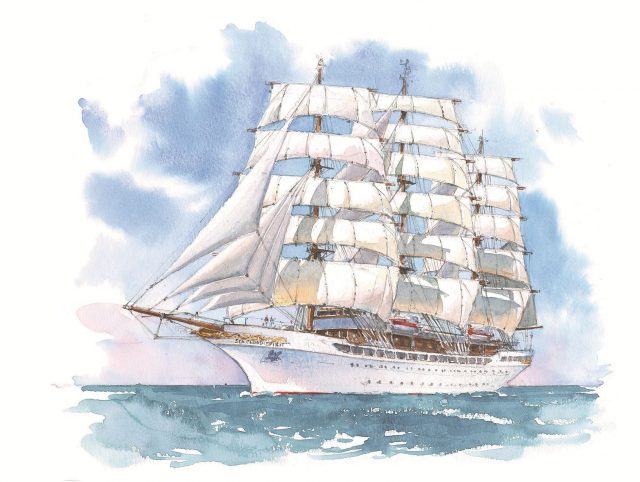 In the summer of 2020, SEA CLOUD and SEA CLOUD II will receive a new sister. The SEA CLOUD SPIRIT will be built on a similar spirit and philosophy, and will also be sailed traditionally by hand – thus reinforcing SEA CLOUD CRUISES´ unique selling point in the market of sailing cruises.
"SEA CLOUD SPIRIT is arriving at the right time," says Daniel Schäfer, Managing Director of SEA CLOUD CRUISES, the Hamburg operator of small, fine sailing cruises. "SEA CLOUD and SEA CLOUD II are enjoying a high demand from both independent travelers and in the charter market. An expansion of the fleet, especially in the Mediterranean, is expected and demanded by many guests. With an extended capacity of 136 guests, we can also serve our charter market better with additional offers. However, despite the greater capacity, intimacy of a private-yacht will still be preserved and sailing can be experienced in an authentic manner."
SEA CLOUD SPIRIT- ready to set sail in Summer 2020
Due to a close cooperation with the shipbuilder Metalships & Docks S.A.U. in Vigo Spain, SEA CLOUD CRUISES can already state that the first cruises with SEA CLOUD SPIRIT will be in 2020. The shipyard is known for its expertise in the construction of technically sophisticated ships, such as platform supply vessels and for its highest quality standards in the building of mega and sailing-yachts. Metalships will build the SEA CLOUD SPIRIT based on the hull of the former construction project of SEA CLOUD HUSSAR. The renowned planning firm Partner Ship Design in Hamburg, will be responsible for the design of the ship´s interior. Upon completion, SEA CLOUD SPIRIT will present itself as a tall ship, offering her guests plenty of space under the open sky, an exclusive spa/wellness department, and an elegant interior-design combined with a classical yacht-style feel. For the first time on a sailing ship, the SEA CLOUD SPIRIT will also have an elevator connecting the various decks.
Luxurious and elegant- the SPIRIT is a true SEA CLOUD
Like her sister ships, SEA CLOUD SPIRIT sports clear, classic lines and high-quality furnishings. 25 of the 69 outside cabins will be equipped with balconies, including the three owner suites. The spacious wellness area will impress with three treatment rooms, a Finnish sauna, a steam bath, and a hairdressing salon. The separate fitness area will be located on the sundeck of the ship.
An intimate private-yacht atmosphere remains on the new tall ship
Small and fine: the new addition to the SEA CLOUD CRUISES fleet will provide a similar private-yacht atmosphere on board, for which the other two sister ships are already best known for. The experience of nature is at the center of every journey-roughly 4,000 m² (43,056 ft²) of sails will billow under the sky, surrounded by wind and waves, bringing guests on SEA CLOUD SPIRIT a tad closer to natural elements. SEA CLOUD CRUISES stands for environment-friendly, gentle eco-tourism at the highest level. Since only eco-friendly marine-diesel is being used on both existing tall-ships, a low consumption hybrid machine (diesel-electric) will be used for SEA CLOUD SPIRIT. That's because, the vessel still wouldn´t work without engines, even if sailing is the main focus.