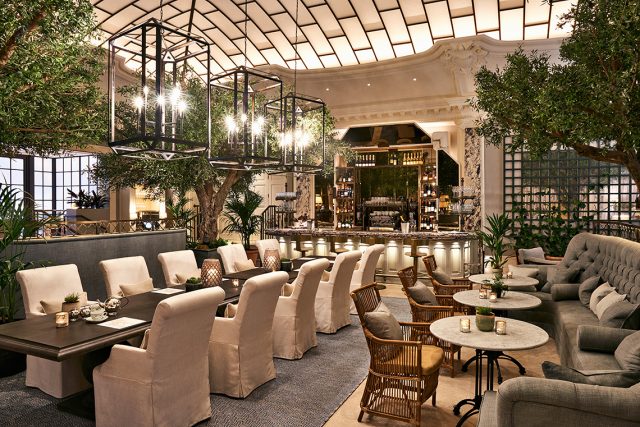 Kimpton® Fitzroy London, the first UK hotel from boutique luxury brand, Kimpton® Hotels & Restaurants, opens its doors today in London's Bloomsbury neighbourhood. The hotel combines late-Victorian heritage with a quirky, modern vibe. The existing glamour of the building paired with Kimpton's signature heartfelt service brings a new hotel offering to London that delivers exclusivity for everyone.
Set on Russell Square within an iconic Grade II listed heritage building dating back to 1898, design-led Kimpton Fitzroy London features 334 luxurious rooms and suites, a large ballroom, various restaurants and bars, modern meeting rooms and a 24-hour fitness centre.
A true homage to British history and design, the hotel is named after the original architect of the building, Charles Fitzroy Doll, a Titan of British architecture in the Victorian and Edwardian eras.  The interior features striking, contemporary design by lead designer Tara Bernerd & Partners that thoughtfully honours the building's heritage. The bedrooms are decorated with Kimpton's bold and playful edge and include unexpected touches such as unique, contemporary artwork and vibrant floral cushions, featuring a bespoke design by British textile artist Kit Miles.
Kimpton Fitzroy London offers Kimpton's much-loved signature touches including in-room yoga mats, complimentary bikes to explore the city, tea and coffee to fuel up for the day, and welcomes pets to stay for free. In true Kimpton style, perks take on a local slant and the hotel will host a complimentary champagne hour – a daily social gathering for hotel guests.
Paul Walters, General Manager of Kimpton Fitzroy London, commented: "This hotel will bring a new luxury approach to the UK– a more inclusive style of luxury as opposed to museum-like spaces so guests don't need to keep their voices down in the lobby, or wear a suit jacket to dinner. A defining trait for the Kimpton brand is the focus on heartfelt human connections. We want guests to enjoy the glamour of a historic iconic building but still feel free to be themselves. It's an approach we're excited to bring to London, as we know it's what guests in this city are craving."
Kimpton Fitzroy London has an interior courtyard, the Palm Court, which provides a peaceful oasis away from the hustle and bustle of central London. Neptune restaurant offers breakfast, lunch and dinner with a range of modern seafood dishes courtesy of duo Brett Redman and Margaret Crow in a stylish, yet relaxed environment. The 1920's inspired Fitz's is the spot to enjoy an evening cocktail while Burr & Co. coffee house awaits guests and locals throughout the day. Neptune, Fitz's and Burr & Co. have all been designed by Russell Sage Studio.
Overlooking Bloomsbury's Russell Square and only two minutes' walk from Russell Square tube station, the hotel is located steps away from The British Museum, Lambs Conduit street and London's West End, making Kimpton Fitzroy London the perfect base from which to explore all that the British capital has to offer.