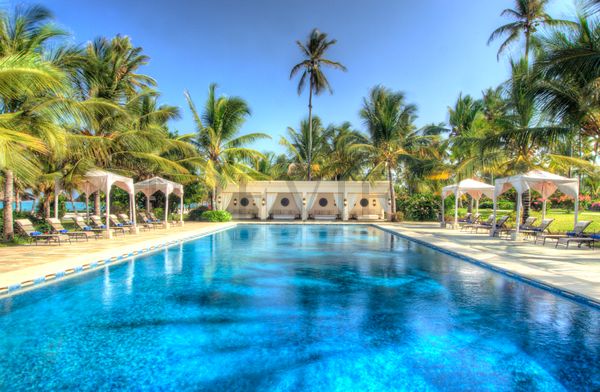 This is the real life, not just fantasy. With The Zanzibar Collection's Freddie Mercury Experience, you can escape from reality to the beautiful African island that gave birth to a music legend.
Freddie Mercury was born in Zanzibar, and this special trip combines the best of the Spice Island with highlights of the Queen singer's life and a luxurious holiday getaway.
You'll feel like a champion on the six-day Freddie Mercury Experience as you settle into your room at the sumptuous Baraza Resort & Spa (www.baraza-zanzibar.com), situated on a beautiful beach and the only hotel in Africa to be voted number 25 in the world. The next day, you'll be taken to nearby Breezes Beach Club & Spa (www.breezes-zanzibar.com) for a day of watersports and lounging around the spa and pool – a real treat, whether you're with somebody you love or your best friend.
Don't stop now, you're having such a good time! You'll be taken on a tour of UNESCO-listed Stone Town to find out about this historical city's fascinating past, plus a peek at the places important to Mercury, including where he was born and the streets he played on as a child. Later, you'll enjoy sunset cocktails with ocean views.
If that rocks you, you're in for a treat the next day when you go on a Queen-themed tour of the island. You'll see some of Zanzibar's exotic wildlife from the comfort of your shuttle as you listen to Queen's greatest hits. Then you'll visit a market to gather the ingredients to prepare one of Mercury's favourite meals.
Feeling under pressure? A relaxing day off with a 30-minute massage and a local cooking class should get you ready to ride your Baraza bicycle where you like on the island. Or just be cool and relax.
The following day is something guaranteed to blow your mind. After a mangrove visit, spice tour and dinner at the exclusive Palms private resort (www.palms-zanzibar.com), you'll go onto the beach for a bonfire, complete with Queen music.
After a final day of snorkelling and sunbathing, we think you'll agree that the whole trip has been a kind of magic.
RESERVATIONS
The Zanzibar Collection
The Zanzibar Collection (thezanzibarcollection.com) consists of four luxury hotels on the southeastern side of the island:
Baraza Resort & Spa
An all-inclusive five-star resort on Bwejuu beach, with 30 villas, a kids club, tennis courts, pool, PADI dive centre and spa. www.baraza-zanzibar.com
Breezes Beach Club & Spa
A family-friendly resort on Bwejuu Beach with 70 rooms and two villas, an award-winning spa, watersports centre and pool. www.breezes-zanzibar.com
The Palms Zanzibar
This adults-only resort has just six villas, set between tropical gardens and the beach. www.palms-zanzibar.com
Zawadi Hotel
Nine villas that sit on a clifftop above a private beach cove, with ocean-view pool, PADI dive centre, restaurant and bar. www.zawadihotel.com
For further information and prices for Breezes Beach Resort & Spa, The Palms, Baraza Resort & Spa and Zawadi Hotel, Zanzibar, please contact info@thezanzibarcollection.com