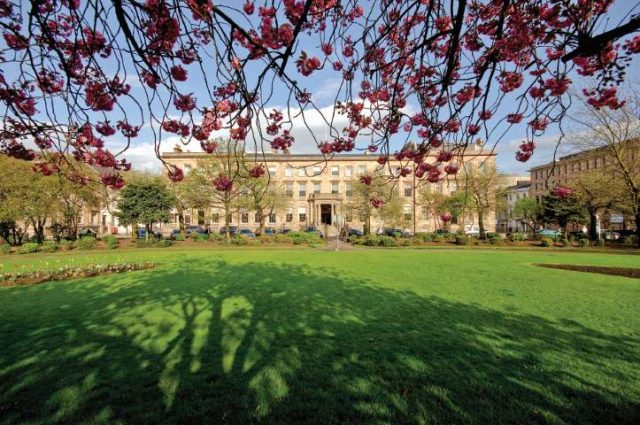 Kimpton Blythswood Square Hotel is situated in a landmark location with a storied past. The hotel exudes class and elegance, with original architectural features such as marble fireplaces, rich wood panelling, and lofty ceilings. In true Kimpton style the hotel offers a luxury experience full of signature perks, brought to life with Glaswegian charm and personality. 

The exterior Georgian townhouse architecture at Kimpton Blythswood Square Hotel offers guests an elegant welcome. Once inside, modern, playful and edgy art pieces bring a soulful edge to the grandeur of the hotel. The 113 rooms and suites offer a sense of warm sophistication with marble bathrooms, luxury amenities, natural light, and a refined design that serves as the ideal backdrop for any Glasgow getaway.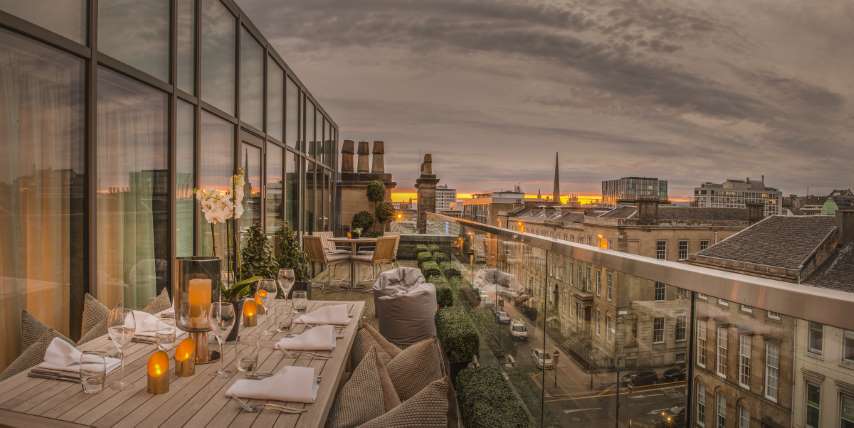 Kimpton is renowned for its award-winning, seasonally-inspired restaurants and bars, and Bo & Birdy at Kimpton Blythswood Square Hotel is the newest Kimpton restaurant and bar globally. Inside an elegant dining room, diners can enjoy the best of Scottish ingredients in a relaxed, informal setting. Under the culinary guidance of the first female Executive Head Chef of a luxury hotel in Scotland, Gillian Matthews, signature dishes include the Bo & Birdy shortcrust pie and St Andrews Farmhouse Cheddar macaroni cheese. The cocktail menu focuses on much-loved classics but offers an exciting twist; the signature Bo & Birdy cocktail comes complete with Peacock feather garnish. The Salon is an equally stylish spot for afternoon tea or a local whisky, while enjoying the view of the Blythswood Square gardens.
Murray Thomson, General Manager, Kimpton Blythswood Square Hotel, commented on the opening: "Glasgow is one of the UK's most exciting cities, it's bursting with culture, music, history and personality, making it a great location for the newest Kimpton Hotel & Restaurant. Bo & Birdy will offer a unique new dining experience in the city, bringing to life soulful, hearty dishes using the best of Scottish produce.."
Tom Rowntree, Vice President, Global Luxury Brands, IHG commented: "As the UK's largest luxury operator, we're excited to continue expanding our presence across the UK, with Kimpton Blythswood Square Hotel marking our third Kimpton Hotel & Restaurant opening in the UK, and second in Scotland this year." For an elevated stay at Kimpton Blythswood Square Hotel, guests can choose from a 50sqm Junior suite, 65 sqm Executive Suite, or the 153sqm Penthouse Suite; a stunning, two-bedroom apartment with its own private lift and entrance. The Penthouse Suite includes a master bedroom with a sunken bathtub; a walk-in wardrobe and unrivalled views across the city. Ideal for groups, there's also a dining room that seats up to 10 guests, with adjacent kitchen and a private roof garden. The hotel also offers an in-house cinema which can be used for private events. 

The Spa at Blythswood Square invites guests and locals to enjoy state-of-the-art rest and rejuvenation away from the hustle and bustle of the city. The luxurious space offers the city's only Thermal Spa Experience including a hydrotherapy pool, crystal steam room, relaxation pools and nine treatment rooms.

The hotel offers guests Kimpton's thoughtful, signature perks including a nightly hosted evening social hour, free bikes to explore the city, in-room yoga mats and Kimpton's 'Forgot It, We've Got It' service of essential travel items, ensuring guests want for nothing. Kimpton Blythswood Square Hotel is also a pet-friendly hotel, welcoming pets at no extra charge.

Lively, bustling, distinctive and full of character, Glasgow is a national cultural hub, home to institutions including the Scottish Opera, Scottish Ballet and National Theatre of Scotland, as well as acclaimed museums and a thriving music scene.
For more information, please visit: kimptonblythswoodsquare.com