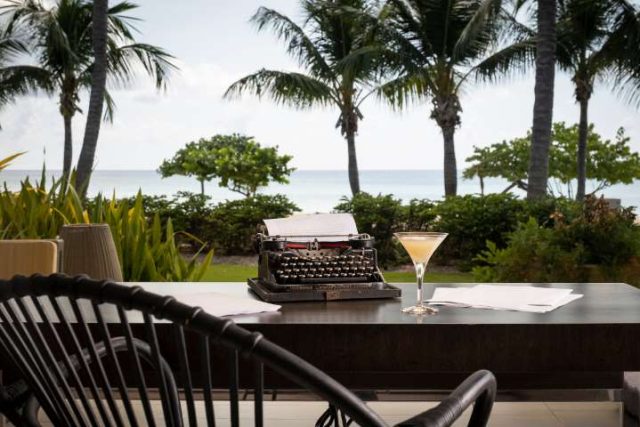 Cocktails and Grand Cayman go together like sun and sand. To further that association, Kimpton Seafire Resort + Spa, located on the famed Seven Mile Beach, has introduced a unique upscale bar concept to the island. Debuting this December, the resort's extraordinary new Library by the Sea cocktail lounge is the first of its kind on Grand Cayman, offering guests an immersive sensory experience and delivering a breath of fresh Caribbean air into the concept of a hotel lobby bar.
An Imaginative Concept and World-Renowned Team
With narrative taking center stage, Library by the Sea serves up creative inspiration and a depth of connectivity in its menus, as well as engaging staff that will be sure to leave a lasting impression on all who embark on the journey. The brainchild of Kimpton Seafire's Beverage Manager, industry veteran Jim Wrigley, the menu is a collection of narrative-driven drinkable stories, inspired by works of beloved literature, music, art, and film. Alongside Jim, and running point on the bar's operations is Andrew Copsey, an experienced bar expert that has worked in London's top establishments including Milk & Honey and Playboy Club London. Jim and Andrew are joined by an impressive team made up of a diverse group of international industry specialists that have a background in numerous award-winning venues such as Paradiso, NoMad, and Lyaness, including Head Bartender Max Wolff, formerly of Swift in Soho.
Locally Inspired Look
Located in the resort's bright and airy lobby, a prime space for guests to meet, gather, and socialize, Library by the Sea will frame Seafire's arrival experience. The space, designed by Dayna Lee of Powerstrip Studio, incorporates Seafire's signature design, tailored local accents and breathtaking views from the adjacent terrace. The bar is an adaptive reuse of wood which previously formed the welcome area at the old Georgetown Airport. Suspended from the ceiling over the venue hangs Miss Ola, a lovingly restored, traditional hand-made catboat, the likes of which were used for centuries by Caymanian fishermen.
"You won't find any creaky old armchairs or candlelit aisles of dusty leather-bound books in Library by the Sea," said Steven Andre, Kimpton Seafire's general manager. "Library by the Sea is a beautiful indoor/outdoor space with spectacular views of palm trees and the Caribbean Sea — the perfect visual accompaniment to the inventive cocktails that Jim Wrigley and his team have dreamed up."
Thoughtfully Designed Menu
Both like a library and a book, Library by the Sea's drinks menu features an organized contents page, and is broken down by four distinctive style categories: Short Stories (smaller, aperitif-style drinks); Page Turners (the core of the menu, featuring eight cocktails, each as unique as their literary inspirations); Masterpieces (a collection of showstopping serves, ideal for sharing); and Rare & First Editions (incorporating long-lost or vintage spirits into incredibly limited-edition cocktails.) A lite bites bar menu curated by Seafire's Executive Chef Massimo De Francesca will also be available.
"It's been a joy bringing the Library by the Sea concept to life," said Jim Wrigley, Kimpton Seafire's Beverage Manager. "Using both Grand Cayman and all of the works of great literature as twin inspirations, I believe we've created something truly unforgettable for our guests."
Immersive Cocktail Experience
Imagination and creativity are the watchwords when it comes to the cocktails at Library by the Sea. Each beverage is concocted using a variety of innovative libation gadgets and methods, including rotary evaporators, refrigerated centrifuges, sous vides, 3D printers and a Thermomix that allows the resort's mixologists to devise exclusive distillations and infusions of spirits, liqueurs, cordials, syrups and purées.
The cocktails incorporate esoteric local ingredients (such as spirits and liqueurs made in-house from local tropical fruits and botanicals from the sea) with a focus on sustainability, as well as elements produced in-house in a purpose-built beverage laboratory. Drinks also showcase components from the resort's curated library of scarce and vintage spirits, liqueurs, amari and fortified wines including sea mineral vermouth, buttercream spiced foam, clarified strawberry jam, Lady Grey milk punch with scones from spent tea, jam from centrifuged strawberries and others.
Highlights from the Library by the Sea's menu include: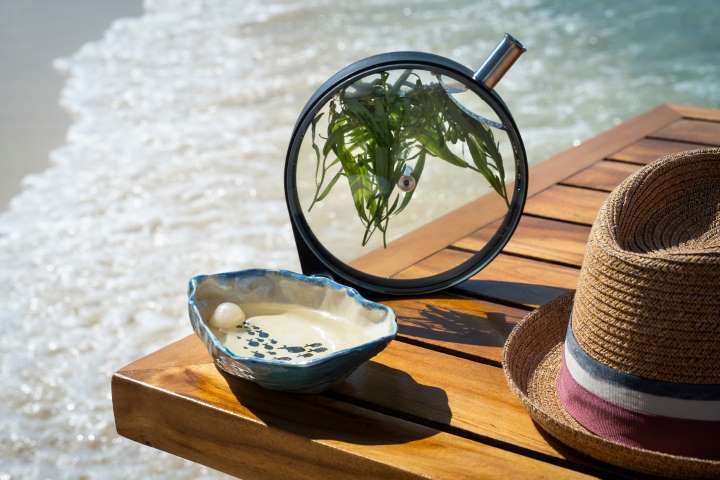 From Cayman With Love: Taking Quarrel, a Caymanian fisherman character from James Bond author Ian Fleming as inspiration, this "short story" cocktail is made with local sugarcane spirit re-distilled with local botanicals; a seaweed and sea mineral-adjusted vermouth and a tropical cordial, all served in a hand-painted and fired ceramic shell specially created by a local Caymanian potter with a champagne vinegar agar "pearl" onion.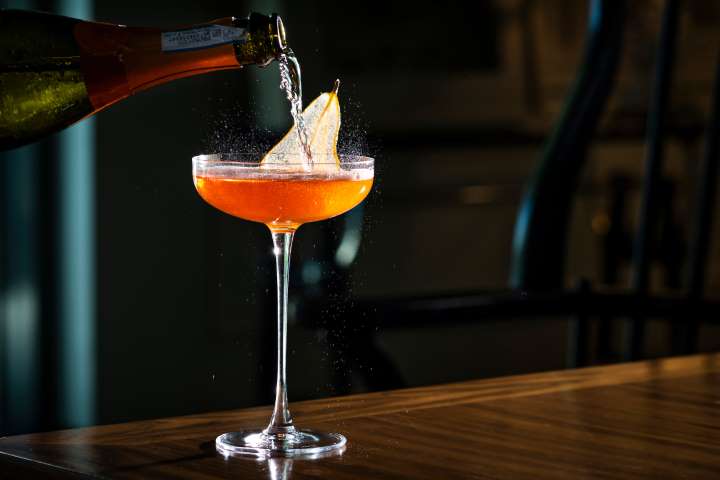 Murder in the Afternoon: Suspense, luxury, mystery, and danger all unfold in Agatha Christie's brilliant work 'Murder on the Orient Express.' Library by the Sea tips its hat to cocktails such as the 'Kir Royale' & 'Death in the Afternoon' by taking elements of each combined with touch points in the story and the talented nose of Mr. Hercule Poirot that have been brought to life through homemade cordials and liqueurs made in a sous vide – Pear eau-de-vie, cassis, menthe, absinthe, and champagne.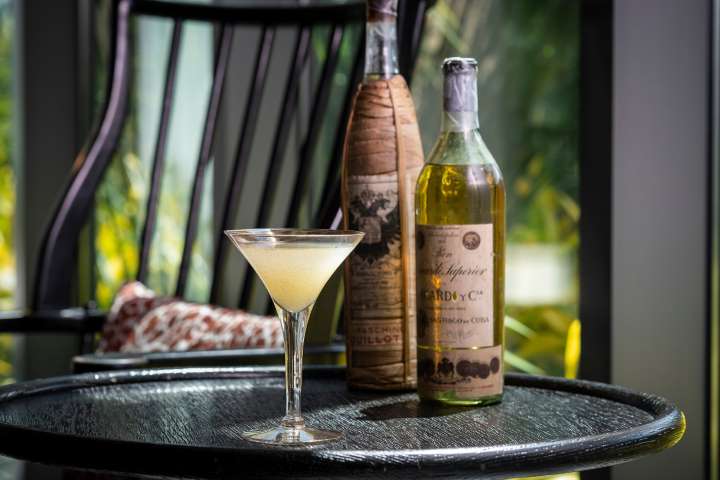 Hemingway Special: Pulitzer Prize winning author Ernest Hemingway became so famous for drinking his "special" Daiquiri twist in Havana in the early 1930's, that La Floridita bar even named a cocktail after him. At Library by the Sea you can turn back time and try the original version, with 1932 Bacardí and 1932 Maraschino shaken with fresh lime and grapefruit, served in a 1930's Dorothy Thorpe glass. The perfect pairing for perusing a vintage copy of the Old Man and the Sea.
No library would be complete without books, therefore Library by the Sea will also feature digital copies of all the texts which inspired the cocktail menu, as well as a curated collection of vintage and unique books. Starting this December, Library by the Sea will be open for both guests and Cayman Residents seven days a week from mid-day to mid-night. To learn more please visit www.seafireresortandspa.com.