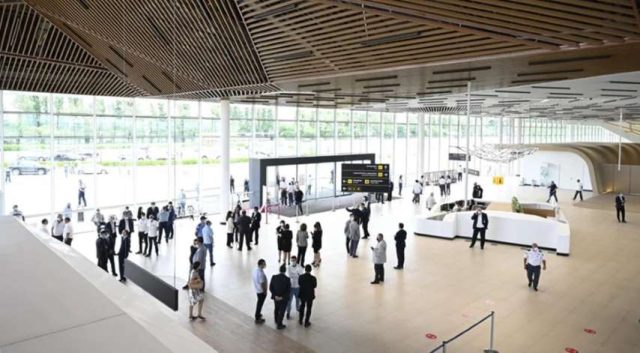 Kutaisi International Airport, alternatively referred to as David Aghmashenebeli Kutaisi International Airport, stands as one of the principal aviation hubs in Georgia.
Serving the city of Kutaisi and the surrounding regions, the airport has grown in popularity and significance in recent years, thanks in large part to the arrival of the Hungarian low-cost carrier Wizz Air. This article will explore the history and development of Kutaisi Airport, its significance to the Georgian aviation industry, and the role of Wizz Air in boosting the airport's popularity and connectivity.
A Brief History of Kutaisi International Airport
Kutaisi International Airport was established in 1940, initially serving as a military airbase for the Soviet Air Force. Following the dissolution of the Soviet Union and Georgia's independence in 1991, the airport transitioned to civilian use. In 2011, the Georgian government made the strategic decision to invest in the airport's infrastructure, aiming to establish it as a major regional hub.
Significant upgrades to the terminal and runway were completed in 2012, transforming Kutaisi Airport into a modern, efficient facility capable of handling increased passenger traffic. Its IATA code is KUT, and its ICAO code is UGKO.
The Wizz Air Effect
In 2012, Wizz Air, a leading low-cost airline in Central and Eastern Europe, revealed its intentions to broaden its operations and enter the Georgian market. Wizz Air identified Kutaisi Airport as a key location for its new routes, with the first flights commencing in September 2016. The arrival of Wizz Air marked a significant milestone in the development of Kutaisi Airport, as the airline's presence has contributed to the growth of the aviation industry in Georgia.
Wizz Air's entry into the Georgian market has provided travelers with affordable access to an extensive network of European destinations. As of 2021, Wizz Air operates over 20 routes from Kutaisi Airport, connecting Georgia to cities such as London, Paris, Berlin, and Budapest. The airline's presence has not only boosted tourism but has also provided new opportunities for Georgian businesses to expand their reach in the global market.
Economic Impact and Employment Opportunities
The growth of Kutaisi Airport, spurred by the arrival of Wizz Air, has had a significant economic impact on the region. With increased passenger traffic comes increased demand for various services, such as ground transportation, food and beverage, and accommodation. This has led to the creation of numerous employment opportunities in the area, with the airport itself directly employing hundreds of local residents.
Additionally, the increased accessibility to European destinations has encouraged foreign investors to take an interest in Georgia, contributing to the country's economic development.
Facilities and Amenities
Kutaisi International Airport has been designed to provide passengers with a comfortable and efficient travel experience. The airport features a modern terminal building equipped with all the necessary amenities, including check-in counters, baggage handling systems, customs and immigration facilities, and a variety of retail and dining options.
Passengers can also take advantage of the airport's free Wi-Fi, currency exchange services, and car rental facilities. For travelers with additional needs, the airport provides services such as wheelchair assistance and baby care rooms.
Accessibility and Connectivity
Kutaisi International Airport is well-connected to the city center and surrounding regions, making it easily accessible for travelers.Numerous transportation options are available for travelers, such as taxis, private transfers, and public buses. A new railway station is currently under construction, which will further enhance the airport's connectivity to the city and other regions in Georgia.
Future Expansion Plans
As Kutaisi International Airport continues to grow, so too do the plans for its expansion. The Georgian government has expressed its commitment to further develop the airport's infrastructure to accommodate the rising demand for air travel. Several expansion projects are underway, including the construction of a new terminal building and additional parking facilities. The airport also aims to increase its capacity to handle up to three million passengers annually by 2025.
Furthermore, Kutaisi International Airport is actively pursuing additional airline partnerships to diversify its route network and enhance its status as a regional aviation hub. These efforts will not only solidify the airport's position as a vital gateway to Georgia but will also create new economic opportunities for the local community.
The Role of Wizz Air in Georgia's Tourism Industry
The presence of Wizz Air at Kutaisi International Airport has played an instrumental role in the growth of Georgia's tourism industry. The airline's affordable fares and extensive route network have made Georgia an increasingly attractive destination for European travelers. In turn, this has led to a surge in tourism-related businesses, such as hotels, restaurants, and tour operators, further contributing to the country's economic growth.
Wizz Air's commitment to Georgia extends beyond its flight operations at Kutaisi Airport. The airline has actively promoted the country as a must-visit destination, investing in marketing campaigns and partnering with local tourism boards. This collaborative effort has helped to raise awareness of Georgia's rich cultural heritage, stunning landscapes, and unique culinary offerings, drawing in more tourists each year.
Conclusion
Kutaisi International Airport has come a long way since its humble beginnings as a military airbase. Through strategic investments and partnerships, the airport has evolved into a key aviation hub for Georgia and the wider region. The arrival of Wizz Air Georgia at Kutaisi Airport has been a game-changer, providing affordable air travel options and connecting Georgia to a vast network of European destinations.
With ongoing expansion plans and a commitment to enhancing its facilities and services, Kutaisi International Airport is poised for continued growth in the years to come. As the airport and Wizz Air continue to work together, they will undoubtedly play a significant role in shaping the future of Georgia's aviation and tourism industries.