Dine like royalty with La Table French Brasserie's five-course Caviar Delight Set Dinner from now until the end of April 2021 – where each dish pairs perfectly with the culinary "black gold" from France, culminating in an experience of gastronomic opulence.
The five-course set dinner starts with Cauliflower Panna Cotta, a creamy appetiser complemented with sea urchin, lobster jelly and caviar; followed by Lightly-smoked Warm Charcoal Salmon with dill crème fraiche, crispy capers, red onion jam and ikura, all infused with a hint of smoked cherry wood. Next on the menu is Squid Ink Linguine with Scallops, Cottage Cheese and Caviar, a rich combination of tastes and textures; and the Baked Atlantic Cod Fish with Herbs-cured Egg Yolk, Chickpea Purée and Caviar, which brims with buttery flavours. Last but not least, a Fresh Berry Gratin with mango pearl caviar vol-au-vent dessert rounds out a memorable journey of complex flavours.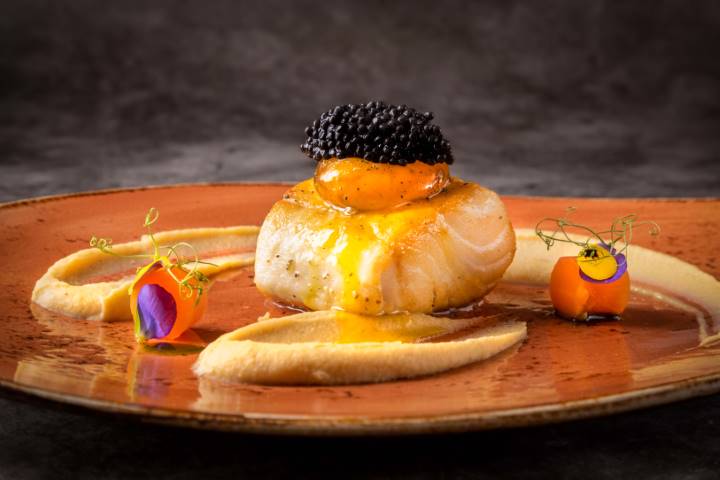 The Caviar Delight Set Dinner is available from Monday to Saturday (except public holidays) and is priced at HKD1,388 per person. Guests can also opt for a wine-pairing option for an additional HKD428 per person. All prices are subject to a 10 percent service charge. For reservations, please call +852 2313 4222 or book online via newworldmillenniumhotel.com.
With freshly refurbished interiors and a relaxed ambience, La Table French Brasserie is the only hotel French casual dining restaurant in Tsim Sha Tsui East. It features exquisitely authentic culinary creations from all corners of France with most ingredients directly imported from the country. Whether in the modern main dining area or within the intimacy of the 10-seat private dining room, perennial classics inspire "bon appétit" for every diner.