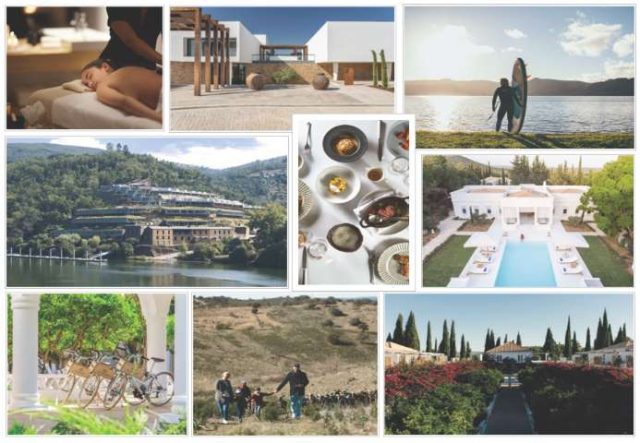 As spring approaches, Octant Hotels in Portugal reawakens, and with balmy weather, endless natural beauty and fewer tourists to contend with it's a fantastic time to visit. From horseback riding and local cooking workshops in the Algarve to swimming with dolphins and hiking across volcanic trails in the Azores, the unique experiences and authentic local activities at each Octant Hotel ensure guests have a laid-back, yet unforgettable stay.
Octant Évora promises an array of activities this Easter; to enjoy with friends, loved ones and plenty of excursions for families. For the more romantic, enjoy stargazing, hot air balloon rides, nature walks and food and wine tastings. With their own farm, Octant Évora offers daily entertainment for kids and horseback riding sessions to enjoy together. The 56 rooms and 16 villas at the hotel enhance guests' relationship with the beautiful outdoors, with open-air living areas in every room and even a private balcony, terrace and pool in each villa. With service operating around the clock, the two inviting outdoor pools offer a refreshing dip; and the heated indoor pool keep the cooler nights at bay. Guests can enjoy a stress–free holiday while soaking in all the culture that Évora has to offer.  
April is one of the best months to visit the UNESCO protected Douro valley. The weather is warm, the vineyards are slowly beginning to flourish, and with fewer crowds it's a great time to experience the region at a leisurely place. Perched on the river's banks in Castelo de Paiva sits an architectural work of art, Octant Douro. From wine tastings, vineyard tours of the region's unique green wine producers, canyoning, paddle boarding, kayaking and sunset boat trips to take in the stunning scenery and more. After a day exploring, the hotel's minimalist spa is the perfect sanctuary to relax and rejuvenate with a nourishing treatment followed by a swim in the indoor pool overlooking the Douro River. For dinner, unique regional delicacies can be savoured at the hotel's Michelin Guide-approved restaurant, Raiva. This Easter, Octant Douro provides guests with time for well-being, exploring, pleasure and comfort.  
A former 18th century palace, once home to the Viscountess of Espinhal, Octant Lousã is steeped in history, similarly to the region that surrounds it. The climate during Easter, and the region's beautiful mountainous landscape make for the ideal adventure, whether exploring on bike or foot.  Guests can cycle to one of Portugal's best kept secrets, Aldeias de Xisto, a collection of Schist Villages, where residents welcome visitors to view their traditionally designed homes. Hiking through the mountains, home to deer, wild boar and waterfalls, and swimming in the upland river beaches, are also utterly unforgettable experiences this special region has to offer. Relieve aching muscles after a day spent exploring in the hotel's new spa, featuring three treatment rooms, a sauna, cryotherapy tank and an indoor pool with whirlpool. This lesser-known region of Portugal should be on everyone's travel bucket list this spring!  
Surrounded by citrus trees, pink bougainvillea and olive groves sits Octant Vila Monte in an unspoilt corner of the Algarve, where temperatures sit at around 20°C during Spring. The property is the epitome of boho chic with an array of beautifully designed luxury suites and rooms yet an informal vibe accommodating family groups with ease. Just a stone's throw from the hotel is bustling Faro, and the quieter fishing village of Olhão is a 15-minute drive, for those seeking some salty sea air. For an authentic Octant experience and to connect with the local community, arts and crafts at the neighbouring pottery workshop with local artisans can be arranged, or a visit to neighbouring São Brás de Alportel which puts on the Procession of the Flowered Torches on Easter Sunday.
Ensconced within a leafy pine grove overlooking the sea, Octant Praia Verde lays claim to a perfect balance of one-of-a-kind travel experiences and immersing in the true Mediterranean way of life. Centred on ease, freedom and pure appreciation of the natural surroundings, this is a getaway where guests can truly disconnect from the outside world during the Easter break. Explore local trails on horseback, learn rustic cooking techniques in the kitchen or enjoy a peaceful round of golf in this perfect fusion of verdant forest and dramatic coastline. A place to come together, friends, families and couples need only wander down to the neighbouring town of Altura for the festivities of Feirinha da Páscoa (Easter Fair), before heading back via Praia Verde, translating to Green Beach, to soak up the gentle warmth of Portuguese Spring with dolphin watching and dips in the sea.
The Azores are not only one of the most stunning territories in the world, but they are also rich in cultural heritage and history. Two Octant properties are found in this spectacular region; Octant Ponta Delgada in the heart of the island and Octant Furnas in the island's ancient volcanic valley. Perfect for a twin-trip, Octant Ponta Delgada combines comfort and Azorean sophistication with localism and festivities, and the perfect retreat between adventures. Both on land and at sea; guests can explore lakeside hiking trails in the morning and swim with dolphins in the afternoon, whilst Octant Furnas invites guests to take advantage of the thermal waters, with a dip in the hotel's thermal indoor and outdoor pools and enjoy a spa treatment after exploring the volcanic trails surrounding the property.