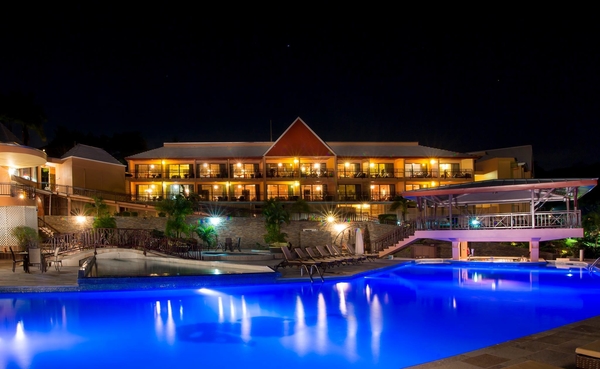 Romance begins and ends with the perfect ambiance. The premiere sister properties – Le Grand Courlan Spa Resort and Grafton Beach Resort located on Tobago, the sister island of Trinidad – provide the idyllic Caribbean setting to kick off a couple's getaway. Each resort offers lovebirds tailor-made romance packages so the time between the beginning and end is a heart-filled holiday – any couple, any occasion, any time of year.
Nestled on Tobago's breathtaking Stonehaven Bay overlooking the turquoise blue Caribbean waters, the resorts offer more than a "been there, done that" romantic retreat. With Le Grand's Romancing the Stone Packages and Grafton's Nightingale Packages, each provide twosomes plenty of opportunities to relish in romance by invigorating their senses with relaxing spa treatments, picturesque backdrops, exquisite cuisine, sounds of island calypso, a round of the resorts' signature cocktail, Turquoise Twists, at the swim-up bar and more.
"Our resorts provide guests a romantic experience no matter what stage their relationship is in – from the first vacation together, to the moment of saying 'I do' or celebrating an anniversary," said Nalini Galbaransingh, Executive Director of Le Grand and Grafton. "From the moment guests arrive, our romance packages provide an elevated level of pampering, service and activities while enjoying the resorts."
Adventure-seeking duos will enjoy complimentary use of the resorts' non-motorized watersports facilities, kayaks, pedal boats; complimentary tennis and squash courts; complimentary fitness center for couples who want to remain active; scuba dive center offering full-service dive certification, championship 18-hole golf course nearby and deep-sea fishing upon request (additional fees). Beyond the resorts, the treasures of Tobago await with the historic Fort King George, Argyle Waterfalls, Forest Reserve, Cocoa Plantations as well as outdoor activities including island tours, bird watching, scuba diving, or just soak up the island vibes while enjoying the Tobagonian culture.
About Le Grand Courlan Spa Resort
The 4-Star Le Grand Courlan Spa Resort is located on the beautiful Stonehaven Bay in Tobago overlooking the turquoise blue Caribbean waters. The resort's sloping hillside grounds offers 70 guest rooms and suites, refreshing dining options at three restaurants and bars. The Spa at Le Grand Courlan provides the utmost tranquility to relax and indulge by offering an extensive menu of services to soothe the mind, body and spirit. Furthermore, Le Grand Courlan offers a fitness center, tennis courts, game center and a range of non-motorized watersports and Scuba Diving center. For more information, visit http://legrandtobgo.com.