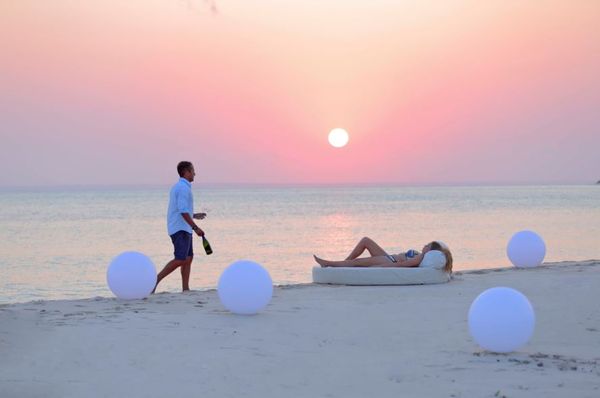 There's nothing more magnificent than celebrating a special romantic occasion in Africa. Whether you're planning a honeymoon, wedding or anniversary, you'll experience the romantic trip of your dreams with African Travel, Inc. by touching an ancient culture, discovering the magic of the wild and relaxing in spectacular luxury.
Who wouldn't want to celebrate a life milestone with a romantic picnic on the banks of the Zambezi River, sleeping under the stars on the enchanting Kenyan landscapes or listening to the echoes of lion roaring at an oasis camp ground in Botswana?
"Love is a celebration and Africa offers a plethora of romantic experiences that will surely create unforgettable memories," says Sherwin Banda, president of African Travel, Inc. "Couples who travel with us can relax because every part of their trip is planned, so they can enjoy quality time as they begin a new chapter together."
African Travel, Inc. specializes in celebratory and romantic travel to all parts of Africa. With this, we create a travel gift registry with all the details of your plans and itinerary. The site can be shared with friends and integrated into their social media platforms. Contributors can simply call or email African Travel, Inc. with their gifts, which can also be posted on the site in weekly updates.
According to a recent article from Vox, gift registries are evolving into something that is more personal and representative of the couple, such as honeymoon or family vacation funds.
Allow your friends and family to give you the gift of love with your registry, so they can travel with you and book the finest hotel accommodations, fine-dining experiences and exceptional safaris. If you have already set-up another registry, you can add the link to your safari vacation itinerary and encourage your friends and family to contribute to help make your travel dreams come true.
Our handcrafted, personalized itineraries will give you the memories of a lifetime, such as a 12-day trip to South Africa where you can discover the magnificent wildlife, scenic ocean views, decadent wines and authentic South African food. Whether you are looking for a safari excursion with a large group, an intimate couples' massage, or a luxury dinner overlooking the ocean, our travel experts can help you craft your memorable journey.
Your sample celebration journey could include a four-night stay at the 5-star, award-winning hotel, Twelve Apostles Hotel & Spa in Cape Town, with luxurious spas, sight-seeing of mountain tops, exclusive wine tours and views of the pristine beaches of Camps Bay. On the following four days you can stay at the Simbambili Game Lodge in the renowned Kruger National Park and go on drives with expert rangers to see astounding wildlife, such as the Big Five, and possibly a leopard from the Sabi Sands, which has the highest concentration of leopard in the world.
You can spend your last four days in paradise while exploring the Bazaruto Archipelago, with the options of reef snorkeling, scuba diving and deep-sea fishing. You'll be lodging at the blissful Azura Benguerra Island, a protected marine conservation area with pristine beaches and unspoiled coral reefs, where you can soak up blissful vacation memories while lying in the sun on pearl white sand.
No matter how intimate or large your group is, we will work with you on land and air arrangements to ensure that every detail of your trip is taken care of, so your time can be spent enjoying your celebration. We are dedicated to giving you an incredible adventure with the ultimate African experience.
For more information visit www.africantravelinc.com