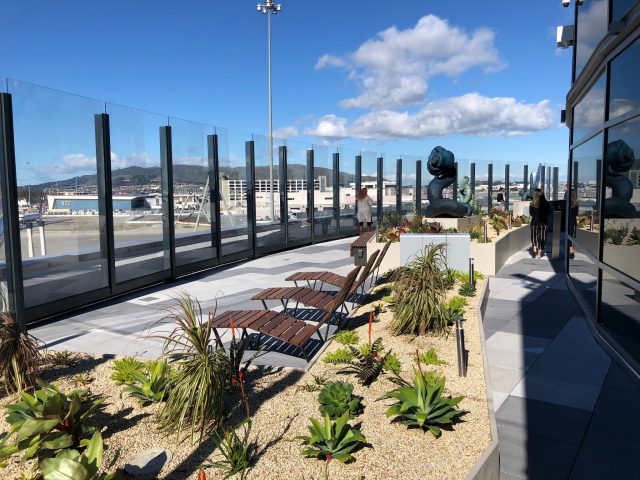 The San Francisco International Airport (SFO) today opened a unique new amenity to travelers: an outdoor terrace and observation deck, located post-security at the end of the International Terminal, Boarding Area G. The open-air space affords 180-degree views of the airfield, including some of the largest aircraft serving SFO, such as the Boeing 747 and Airbus A380 aircraft.

"Our goal is to create an airport experience second to none, and we're excited to introduce the first post-security observation deck at SFO," said Airport Director Ivar C. Satero. "This outdoor terrace gives our guests a relaxing oasis within our terminals and invites travelers to rediscover the excitement and magic of air travel. My thanks go out to our entire project team for bringing this concept to reality."

The 2,997 square foot outdoor terrace is furnished with wooden chairs, tables, and chaise lounges, situated among a creative display of drought-tolerant landscaping. Three bronze sculptures by local artist Woody Othello are sure to delight and inspire guests in the space. Ten-foot bird-safe glass panels provide wind protection while allowing open views of the skies above.

The terrace will be opened from 7:00 am to 11:30 pm every day, and is also accessible to passengers in Terminal 3 via a secure connecting walkway. Food and beverages may be brought out to the terrace, but smoking is not permitted at any time.

The project was part of a $55 million upgrade to the Airport's International Terminal facilities. Enhancements include new recompose areas immediately after the security checkpoints, offering passengers a relaxing space to re-assemble their items before continuing down the concourse. New seating areas and tables, complete with power outlets, provide an inviting space to dine on locally-sourced food and beverage concepts, while lounge chairs near boarding areas make for a more relaxing space.

The project to upgrade the International Terminal involved multiple groups. The design-build team is made up of Webcor and a joint venture between Woods Bagot and TSAO Design Group, while the construction management was provided by a joint venture of The Allen Group and Avila & Associates.

The airport plans to construct a second observation deck, located pre-security in Terminal 2, which is scheduled to open in October 2019. This space will be publicly accessible to anyone and will not require a boarding pass for travel.