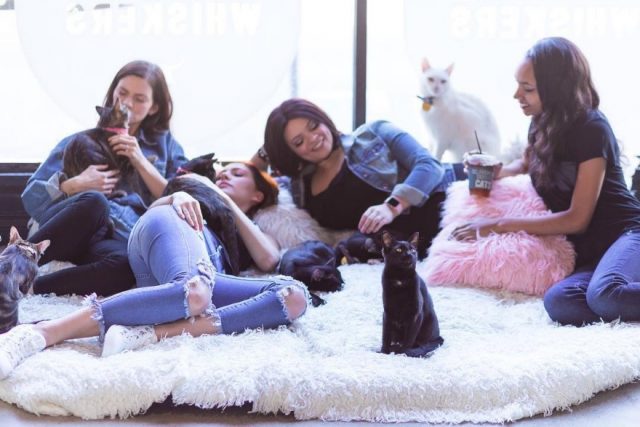 Animals make fantastic travel companions – and add to fantastic travel destinations. Whether you have a pet or two at home, volunteer at your local shelter (thank you!), or plan your travels around places with interesting wildlife, there's no doubt that animals bring love and joy into our lives in the unique way that only they can. We've rounded up the best places in Los Angeles for animal lovers to check out while in the City of Angels.
PETS UNSTRESSING PASSENGERS (PUP) PROGRAM – LAX AIRPORT
Anxious travellers need to look no further than LAX's Pets Unstressing Passengers (PUP) program. Red-vested therapy dogs and their handlers, also in red, are on hand throughout the departures levels of each terminal in the dynamic airport to offer comfort and stress relief, as well as information about the airport's projects and developments. All the pups and handlers have completed an in-terminal training and are registered with the Alliance of Therapy Dogs.
1 World Way, Los Angeles 90045
(855) 463-5252
CRUMBS & WHISKERS
Crumbs & Whiskers, which owner Kanchan Singh started with a Kickstarter campaign in hopes of getting more shelter cats into fulltime homes, is the perfect place to grab coffee and settle in for some quality kitty time. Every cat in the café is rescued from a high kill shelter and is available to patrons for adoption. The Melrose Avenue cat café is the second location for Crumbs & Whiskers with the first being in Washington, D.C. Visitors pre-book their time through the website in 75-minute slots that are $22 on weekdays and $25 on weekends.
7924 Melrose Ave, Los Angeles 90046
(323) 879-9389
THE DOG CAFÉ
The Dog Café is the first of its kind in the U.S. and offers guests quality time with rescue dogs from L.A. Shelters. The café, located in a Silver Lake strip mall, sees lots of visitor activity and recommends making a reservation beforehand as walk-ins can be limited during their peak post-work hours. The café's dogs live on site until they are adopted, with staff reporting that many have been since their April 2016 opening. $15 an hour will buy you an hour of fun and snuggles with sweet, lovable dogs that are sure to brighten up your day.
240 N. Virgil Ave (Unit 12), Los Angeles 90004
(323) 485-4077
STAR ECO STATION
Founded in 1997 and having grown significantly since then, the STAR Eco Station is an environmental science museum, an exotic rescue center, and a sanctuary for endangered and illegally-trafficked or abandoned at-risk wildlife. Visitors to the Culver City facility get the chance to learn about tortoises, fish, alligators, pythons, birds and more. Seasonal eco-camps offer young campers valuable lessons about how to care for the facility's many animals with a focus on ecology and environmentalism. The Star ECO Station's mission, "preservation through education", shines through when you visit this special place. STAR Eco Station is a designated Official Wildlife Rescue Center by the U.S. Fish and Wildlife Service.
10101 Jefferson Blvd, Culver City 90232
(310) 842-8060
MALIBU WINE SAFARI
Wine and animals – what else does one need? Saddlerock Ranch is a 1,000-acre vineyard and home to the Semler family's zebras, camels, emu, llamas, horses, chickens, goats, and Stanley the giraffe. The Malibu ranch has taken in exotic animals that are film industry retirees or castoffs from zoos and collectors, offering them a rich, well-cared for life in the hills of L.A. County. Malibu Wine Safari takes visitors on a guided adventure that includes stops to taste local wines, take in incredible scenery, and meet animals you'll be sure to fall in love with. There are several tour tiers, all of which are perfect for groups or duos. Toss on your sneakers and prepare for a major highlight on your trip to L.A.!
32111 Mulholland Highway, Malibu 90265
(818) 497-2206
THE GENTLE BARN
A home to 170 farm animals rescued from severe abuse, The Gentle Barn offers a safe haven for all of its furry friends for life. The sanctuary sits on six-acres of land in the Santa Clarita mountains where Hiroka the one-eyed horse, Nalla the cuddle-loving turkey, feathered beauty Diamond the chicken, and so many more, enjoy playful, relaxing lives with a regular roster of visitors from all over to meet the gentle residents. The non-profit is open to the public on Sundays from 10 a.m. – 2 p.m. Tickets are $20 for adults and $10 for kids with season passes, two-hour private tours and a VIP All Day Tour with Ellie, the founder, are also available. The Gentle Barn runs tours for at-risk youth and special needs children as well.
15825 Sierra Hwy, Santa Clarita 91390
(661) 252-2440
FARM SANCTUARY
Farm Sanctuary is home to approximately 100 cows, goats, pigs, and more, all of who live happily together on their 26-acre Acton hacienda ranch. The rescue facility is a popular spot for animal lovers, both local and visiting. Also an adoption network for animals escaping cruelty, Farm Sanctuary is open on Saturdays and Sundays with guided tours at 11:00 a.m., 1:00 p.m. and 3:00 p.m. Don't forget to pop into the gift shop that's open from 10:00 a.m. to 5:00 p.m. to pick up Farm Sanctuary-branded apparel, books, educational materials and other souvenirs.
5200 Escondido Canyon Rd, Acton 93510
(661) 269-5404
SHAMBALA PRESERVE
Shambala, a Sanskrit word that means: "A Meeting Place of Peace and Harmony for all Beings, Animal and Human", couldn't be a more fitting name for this high desert home to more than 30 rescued exotic felines. Founded by actress Tippi Hedren, the sanctuary's big cats are recovering from highly abusive past lives and are brought to Shambala after authorities have confiscated them from roadside zoos and private citizens. The Preserve has been home to well over 200 exotic felines including lions, tigers, cougars, snow leopards, cheetahs, bobcats, servals and more. The property is open to the public one weekend a month for 3-hour planned safari tours that include a 1-hour guided walking tour and cost $50 each. Sunset Safaris, deluxe Malaika Marquee overnight tent stays, and special school and youth group tours are also available.
6867 Soledad Canyon Rd, Acton, CA 93510
(661) 268-0380
HOLLYWOOD HOTEL
Hollywood Hotel, the longtime pet-friendly home-away-from-home for many of Tinsel town's brightest stars, has launched its "Pamper Your Pet" package that offers a little extra TLC for guests with dogs that are 40 pounds or less. The package costs $69 USD per pooch per night and includes a soft pet bed, a plush toy, water and food bowls, dog treats, and pet waste bags. Guests are also supplied a list of great suggestions for pet-friendly dining and outdoor activity options nearby, like popular celebrity hiking trail Runyon Canyon, Griffith Observatory, the stunning astronomy center with unparalleled views from the Pacific Ocean to Downtown L.A. and more.
Even guests staying at the comfortable, cosmopolitan hotel without their own furry friend can partake in some puppy love with the Puppy Party Package. For $200, the hotel will arrange a playdate with visiting pups. Cuddles and belly rubs are on the house.
1160 North Vermont Ave, Los Angeles 90029
(323) 746-0444
THE EVERLY HOLLYWOOD
Hollywood boutique hotel Kimpton Everly encourages guests to bring their furry, feathery or scaly friends along for their stay – with no limit on the numbers of pets allowed. This chic and comfortably designed hotel just two minutes from the famous Capitol Records Building has plush pet beds, food, water bowls and mats, and pet waste bags that they'll bring to your room. The concierge can provide a handy list of nearby restaurants, parks, groomers and pet boutiques to bring your loyal companion on your trip. The hotel hosts a nightly wine reception that pets are welcome to join, though all they'll be served is water, possibly treats and plenty of ear scratches for being such a good boy. Pets travelling with their people always stay free at Kimpton Everly.
1800 Argyle Ave, Los Angeles 90028
(213) 279-3532