Mystical, wild and opulent, ORIGINS luxury lodge ignites the senses and seduces the mind, body and spirit into perfect balance, all in the spacious expanse of Costa Rica's plush valley jungles, high in the northern rainforest.
ORIGINS, comprising six luxury lodges and the three-bedroom Villa Vertigo, is a singular property capturing the untamed luxury of Mother Nature alongside Costa Rica's fascinating pre-Columbian history. It's where supreme comfort and modern conveniences meet the pristine natural world. Understated yet artistic craftsmanship is at the heart of each elegant space, lending an alluring otherworldliness to the captivating environment. Each luxury lodge accommodation features a handcrafted canopy bed, private hot plunge pool on its terrace, open-air tropical in-suite bathrooms, and postcard-worthy views wherever guests gaze.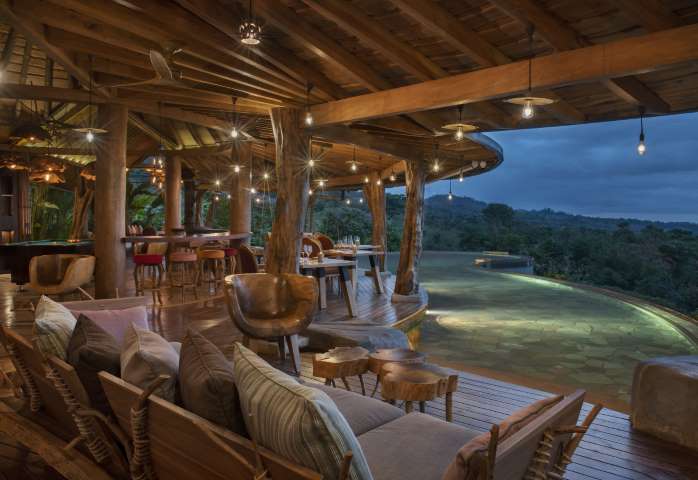 The 220-square-meter architectural masterpiece of ORIGINS is Villa Vertigo, suspended among the verdant treetops. The accommodation epitomizes the raw luxury movement with its aggregated raw materials handcrafted specially by local artisans. With its 180-degree panorama fanning over the forest valley, the expansive terrace lounge, complete with fire-heated jacuzzi, is the definition of breathtaking.
Patrick Rey, who has been based in Costa Rica since the '80s was the vision behind the concept, and French interior designer Hugues Blanchere translated the style and materials of Costa Rican aboriginal architecture into the modern aesthetic concept for ORIGINS. Architecture, Nature & Development's CEO/architect Mario Aviles helped bring the hotel to life, while Rey's wife, Valerie Rey, provided unique sculptural pieces. Building exteriors were designed to merge with nature, while the vegetation atop the living roofs was selected for its ability to blend with the colors and lines of sight of neighboring trees and flora.
French owner Thierry Le Goascoz's dreamed of creating "a new definition of luxury that will renew how one sees the world." And indeed, the transformative experience begins instantly after landing at Liberia or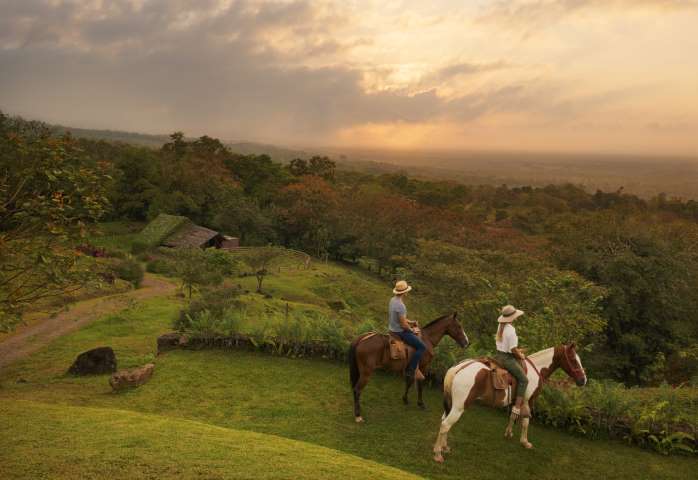 San Jose airports, with a journey winding through small pueblos and lush, virgin mountains. An aerial arrival is available, too, via helicopter to ORIGINS' private helipad or through private charter landing 40 minutes from the property using Upala's land strip.
Immersed in ORIGINS' pure wild nature, guests are invited to suspend their ordinary lives and plunge into a spectacular adventure. Intentional stays range widely from romantic getaways and family vacations to wellness retreats, weddings, reunions and company excursions. Core to most of these holidays is a curated array of one-of-a-kind experiences and activities: nocturnal, sensorial and medicinal plant tours, waterfall hikes, horseback rides, lagoon fishing, yoga, chocolate making at a local cacao farm, and shooting the rapids in Tenorio National Park.
The culinary element of ORIGINS is rooted in Michelin-starred chef Jean-Luc L'Hourre's belief in "capturing the spirit of a region" with each dish. He designed exquisite French fusion restaurant El Salto's territorial cuisine using local Latin ingredients collected from strategic planting of the onsite organic garden and symbiotic relationships with local farmers. Overseen by onsite chefs Dominique Serres and Rachel Biehn, a sense of sustainability and community permeates El Salto's menu.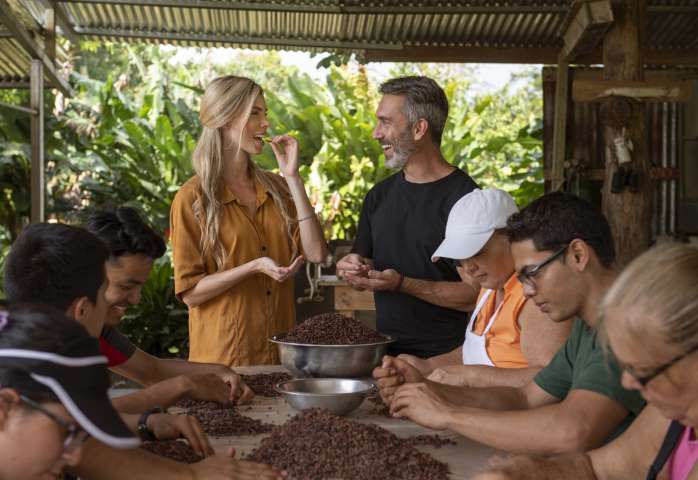 Costa Rican Chef Manuel Marroquin is also on property as a specialist in Asian and Peruvian cuisine, helping to define the fusion of Latin and French elements with organic herbs, edible flowers, and an array of vegetables to incorporate into Origins signature cuisine, which also includes innovative vegan and vegetarian menus as well.
At Skyview Lounge, organic garden-to-glass cocktails also play into this idea, encouraging friends old and new to engage and enjoy together.
The Spa at ORIGINS is an integral part of ensuring guests' inner and outer wellbeing. Open-air yet intimate, it's where the concept of time disappears. Signature organic treatments and healing massage therapies help alleviate any stress and tension lingering from the real world. The Laka-Tii Spa Suite is named from the dialect Maleku (indigenous tribes who lived in this area) which Laka means water and Tii means earth.