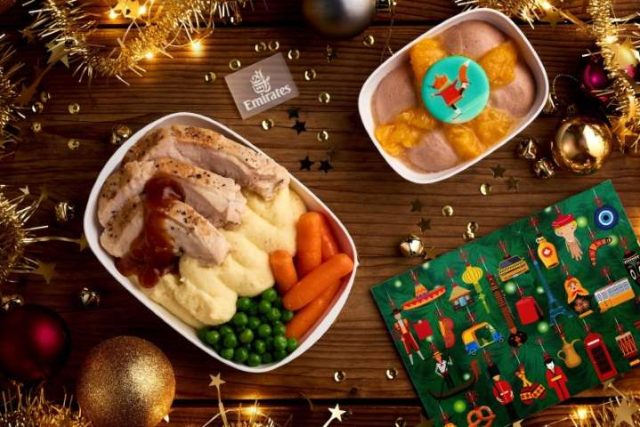 Emirates has loaded its flights full of treats for everyone this holiday season: from delicious Christmas menus, luxurious amenities, and cool gifting ideas to festive movies and music playlists.
As the largest international airline serving customers from all over the world, Emirates takes pride in connecting people and cultures. Year round, it offers regionally-inspired menus and a truly global selection of music and entertainment content in over 40 languages. In addition, Emirates brings a flavor of major world festivals onboard and in its exclusive Lounges to share these special occasions with its customers.
Click here for more information on our festive offering.
Festive meals and treats
Fill up on roast turkey drizzled with cranberry jus lié, served with peas, roast potatoes, and pan fried smoked chicken sausage. Round off the feast with a chocolate mousse with mandarin compote topped with a festive chocolate button.
If you're travelling in First and Business class, your Christmas dinner begins with lemon and herb king prawns served with fennel salad and cocktail sauce, or a classic salmon gravadlax. Then delve into roast turkey with chestnut stuffing, turkey bacon, paprika potatoes, and creamy Brussels sprouts with a cranberry jus lié. Finish with a choice of delicious festive dessert.
Sip on a velvety hot chocolate while watching your favourite Christmas movie, and on 24 and 25 December, everyone onboard can take home a little baked treat with our compliments.
Prefer to start your dining experience while on the ground? Emirates Lounges in Dubai has laid out a range of Christmas delights. Start with roasted turkey accompanied by root vegetables, roasted new potatoes and chestnut stuffing, and take your pick of sweets from traditional mince pies, Christmas stollen, Christmas fruit pudding with cherry compote, or roasted pear with ginger crumble and diplomat cream. Christmas dishes are also available in some Emirates Lounges outside of Dubai, including London Heathrow, Rome and Cairo. Emirates has re-opened most of its exclusive Lounges around its network, offering complimentary access for First and Business Class customers and eligible Emirates Skywards members. If you're flying on Economy, you may also be able to enjoy Emirate's signature Lounge experience for a small fee.