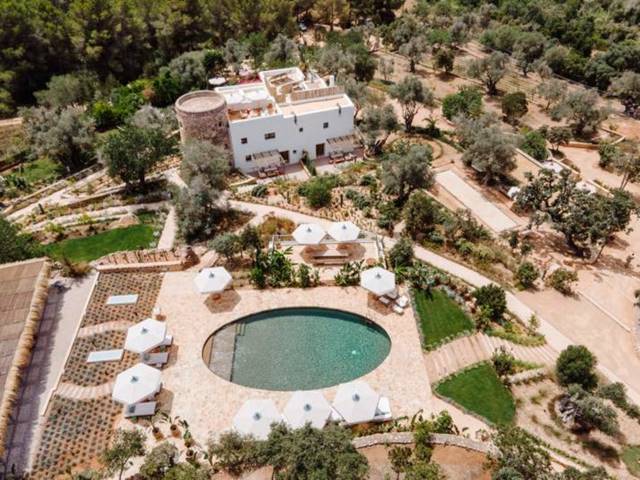 New for 2021, Fincadelica is undoubtedly the most luxurious and exclusive villa estate to be launched in Ibiza this year.  An incredible historic 300 year old Ibicencan farmstead with an ancient stone tower set amongst a hidden paradise of 20 rambling acres of land in Sant Lorenc de Balafia in the heart of the island, and available for exclusive hire only, Fincadelica is slow living at its very best and an utterly unique villa offering the utmost peace and privacy.
Fincadelica takes luxury to the next level. The aesthetic is super glamorous yet understated, full of character with unique design features- a beautiful edit of carefully sourced pieces that have the ultimate wow factor and provide a luxurious experience like no other. The estate is designed by renowned Ibiza based Dutch Carmen Straatsma from Studio C and Ted Milano. Interiors are tactile, luxurious, eclectic, and give a nod to the 1970s by way of natural textures, iconic design pieces with a warm, earthy palette. Art and antiques take centre stage, influenced by the finca's colourful owners: a trio of global nomads who have found home in Ibiza's countercultural paradise.
Serena Cook founder of Deliciously Sorted concierge says 'This year we have seen a huge shift in the style of villas that our high-end clients are booking – it's not about minimalist interiors and infinity pools anymore, they want the 'back to nature' experience in bigger properties.  Still in total luxury but with an authentic more bohemian slant where the whole tribe can stay for longer periods. At Fincadelica, with its 20-acre estate you would never have to leave!'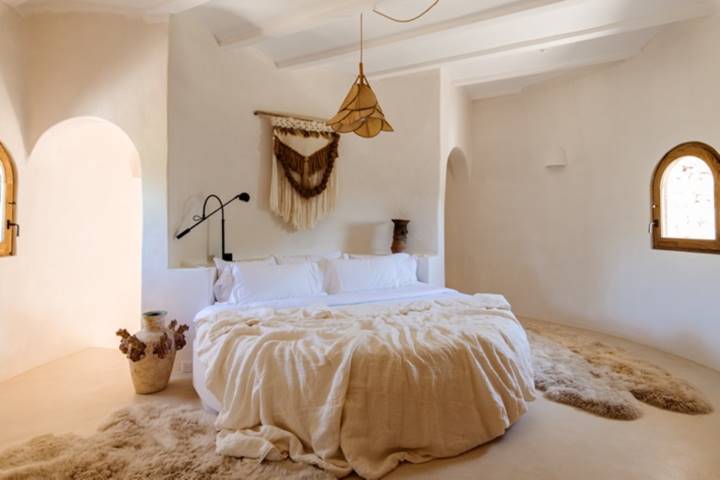 The villa estate has 9 luxuriously comfortable bedroom suites, each with their own unique character; an array of spectacular outdoor living and dining spaces amongst the terraces of carob, orange and almond trees; stunning and a capacious indoor dining and relaxing areas; a 13 metre long saltwater swimming pool with panoramic views across the Ibizan countryside; dedicated fitness and wellness areas for yoga and delicious spa treatments; extensive greenhouses dedicated to permaculture, biodynamics and electro culture farming providing  delicious and healthy farm to table biodymanic produce for the estate; a private boat house at nearby Cala Xarraca bay with exclusive use of a self-drive five metre boat; large, serviced bar; traditional stone pizza oven and Josper oven; a Tipi for holistic ceremonies and meditation and even a dedicated party cave complete with high spec DJ equipment and sound system.  
In the living and dining room space, rustic wooden doors open onto a soaring living space with double height ceilings, metre-thick stone walls and traditional sabina beams, whose evocative pine fragrance permeates the house. This is the hub of the finca, a convivial space and soothing refuge from the heat of the day. Floor-to-ceiling windows flood the space with light, highlighting a cluster of rust velvet Arflex Marenco sofas. Mid-century lounge chairs surround a polished stone coffee table. Sweeping across the wall is a vast handwoven art installation, its raw natural textures echoed by Esparto grass rugs. A huge pine dining table seats 18 on playful psychedelic chairs, the ideal spot for lazy family breakfasts or glorious dinner parties with friends.  Fincadelica honours Ibiza's local craftspeople and the dining room features stylish contemporary ceramics by Yvette Spowers and Laura de Grinyo (Ladio), along with traditional Ibicencan antiques.
The 9-bedroom suites are all furnished with beautiful vintage design features such as rattan Gio Ponti chairs, mid-century pieces, unique artwork, Arflex sofas, beautiful sumptuous sunken bathtubs or large walk-in wet rooms, king-size beds dressed in Egyptian cottons, butter soft linens and silks and the highest quality Simms mattresses. Rooms have stunning views over the island.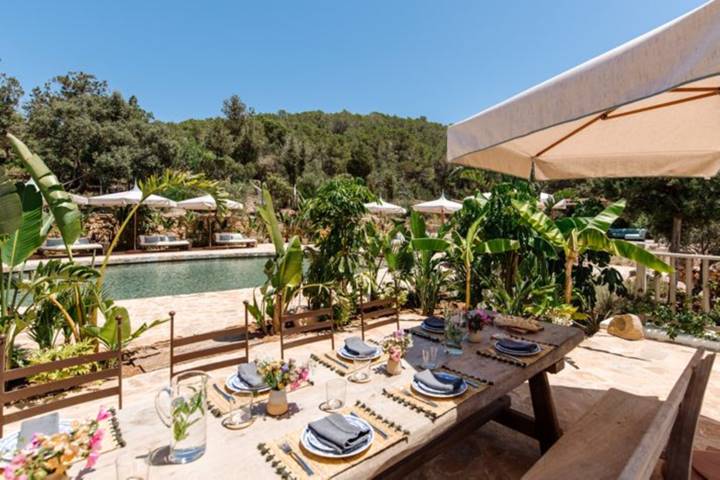 Suites include the incredible Tower Suite, a unique bolthole set across two floors of Fincadelica's ancient stone tower and accessed by a historic stone staircase. On the first floor is a light-flooded bedroom with a vast circular bed and above, a private living area with an oversized, lounging sofa. This secluded space opens up onto a sun-soaked roof terrace with cushioned day beds and 360-views of Ibiza's unspoilt countryside.
Wellness is at the heart of the Fincadelica experience. Located in the magnificent old tower, Ibiza's finest therapists are on call to provide reiki, massage, acupuncture, reflexology, somatic healing and more. The chillout garden is the ideal place to enjoy beauty treatments, crystal therapy and sounds sessions. In homage to its privileged rural location, Fincadelica puts great emphasis on sustainability and slow living. Guests are encouraged to retreat, replenish, and to honour the estate's connection to Mother Nature
Fincadelica's immense, fertile greenhouses are at the heart of the finca's menu. Following biodynamic permaculture practices, seeking to enliven plants by drawing on the cosmos and avoiding the use of any chemicals ensuring that Fincadelica retains a holistic, organic and ethical approach to farming, gardening, food and nutrition.
Food offerings will be prepared the by one of the island's best private chef farm-to-table mediterranean style and using local organic produce sourced seasonally from the estate and the island.
Hidden within the grounds of the estate and accessed through a carved stone entrance, is a self-contained underground party cave complete with high-spec DJ equipment and sound system. This soundproofed space is totally unique to Fincadelica and is furnished with a curved DJ booth, handmade wooden bar, vintage Willo Rizzo drink cabinet and tribal statuary. The room works equally well for movie nights, when guests can curl up in in the sheepskin-clad chillout alcoves.
A traditional Ibicencan caseta Varadero or boat house forms part of Fincadelica's offering. Situated in the northern cove of Cala Xarraca, a ten-minute drive away, a self-drive boat is included and is idea for exploring Ibiza on water.
For more information, visit fincadelica.com.