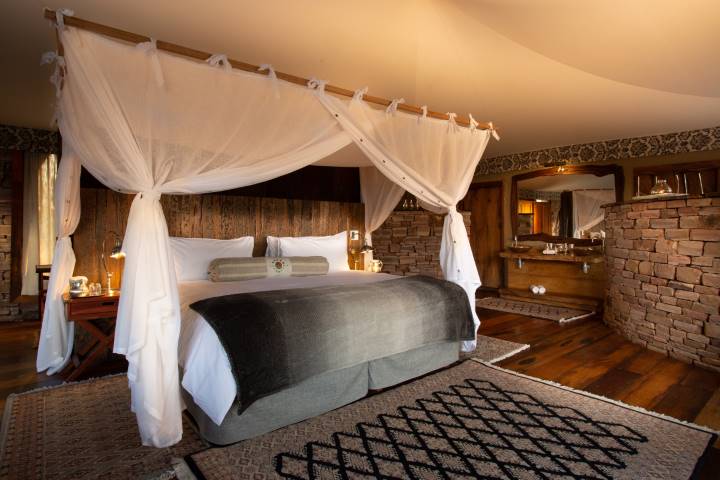 Great Plains is thrilled to have welcomed their first guests at the brand new Tembo Plains Camp, which is ideal for couples, families, multi-generational travellers, and those looking for an exclusive personal safari experience. "Tembo", meaning elephant, pays tribute to some of the many magnificent animals frequently seen around Tembo Plains Camp, which is ideally located in one of Africa's finest wildlife destinations today, on the private 128,000-hectare Sapi Reserve.
Boasting four spacious guest suites, an exquisite two-bedroom suite and a private guide tent with interiors designed by Great Plains co-founder Beverly Joubert, Tembo Plains Camp can host up to twelve guests and is a proud member of Relais & Châteaux – the only camp in the whole of Zimbabwe given this honour. This Réserve Collection safari camp is designed, and strategically situated, to offer guests endless safari possibilities. Activities at Tembo Plains Camp include wildlife-viewing drives, guided walking safaris, canoeing, fishing and boating on the Zambezi River. With birdlife in abundance, endless bird watching opportunities are at hand. Children (aged six +) have incredible options of activities to choose from as part of the Tembo Plains Young Explorers Program, including bush walks around camp, learning conservation and survival skills from guides, bracelet making with Zimbabwean Ndebele beads, movie nights in the bush, stargazing, learning how to cook Zimbabwe-style in the interactive kitchen and more!
"There is a big difference between saying nothing and saying something. And another monumental leap to actually doing something. So, when we looked at this area and decided to build Tembo Plains Camp, we knew we needed to play a role as custodians of one of the most magnificent pieces of Africa, where elephants roam peacefully once again, and the atmosphere of calm and prosperity in the sense of wildlife returning to paradise is so evident. Tembo Plains Camp is built like that on the riverbank, specifically to exude tranquillity because, without that, life is just chaos and clutter. What first attracted me to this land was its potential to be taken care of and brought back to life – and we have done exactly that! Welcome to Tembo Plains, the place of elephants, from whom we learn so much," commented Dereck Joubert, CEO and co-founder of Great Plains.
When guests aren't busy exploring the lush local wildlife and stunning scenery, they will be spoiled by the camp's chefs, whipping up speciality dishes such as Chef Zamani Sibelo's Baked Zambezi Bream, flavoured with coconut milk, fresh green dill, lemon juice, chopped red chilli, ginger and seasonal mixed vegetables or the vegan-friendly coconut rice served with asparagus salad. Tembo Plains Camp offers guests an extensive wine list from estates with a conservation focus, personally selected by Dereck Joubert, including varietals from South African Vineyards and French Champagne.
Each guest suite at Tembo Plains Camp offers an indoor lounge and outdoor dining area, private plunge pool and exercise bikes, so guests can stay fit and feel fresh throughout their stay if they wish. Make sure to treat yourself to pampering spa treatments at The Spa at Tembo Plains Camp, which overlooks the lower Zambezi. Therapists create bespoke treatments using natural ingredients such as tamarind, baobab, citronella and lavender oils. For those with tired muscles, an in-room spa treatment can be arranged upon request.
Since opening in August 2021, Tembo Plains Camp's game viewing has been extraordinary, with painted dogs, buffalo, lion, elephant, leopard and iconic African species seen.  Guests have complimentary access to professional cameras and high-quality binoculars throughout their stay to capture the many special holiday moments.