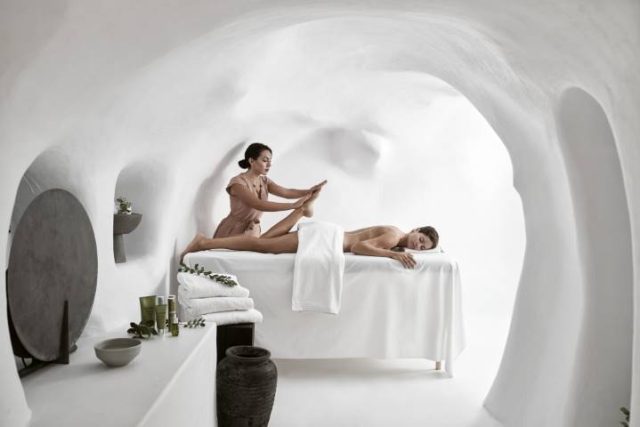 OMMA Santorini is delighted to launch a series of heavenly new treatments inspired by the island's volcanoes. Using natural materials from the island such as volcanic stones and Mediterranean seaweed, the OMMA Spa, powered by ELEMIS, the no1 British luxury skincare brand, offers an array of therapies and treatments that work in complete synergy with the skin, mind and body to ensure guests feel a sense of relief and revitalisation. After a long day of sun-soaked excursions, unwind at the OMMA Spa and indulge in the signature cave-like treatment room with an ethereal ambiance that elevates the senses and restores the body's natural balance. The fabulous spa offers a choice of spa therapies and treatments ranging from aromatherapy massages to full body scrubs using natural Greek ingredients, all designed to soothe, pamper, de-stress and re-invigorate. Perfectly placed in a remote and peaceful setting, guests are offered several bespoke pampering treatments.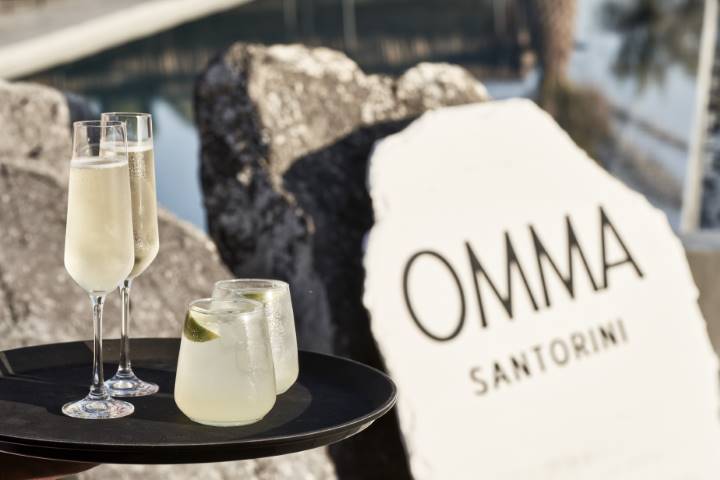 OMMA Volcanic Hot Stone Massage – A signature treatment inspired by Santorini's volcano, using volcanic stones as a natural healing medium to release trapped energy in the muscles and ease any tension, whilst providing hydration and nourishment using ELEMIS body oils.
STRONGILI Lymphatic Drainage Leg Massage – A treatment inspired by Santorini's initial name, meaning 'round' in Greek, that uses a round of Wringing & Hacking' Massage techniques to help target poor circulation and fluid retention on the leg area. A perfect therapy after traveling or for those that want to feel the relief of discomfort on tired legs.
OMMA Signature Spa Therapy – A relaxing massage that functions as a true healing therapy where guests can choose the essential oil journey to target poor sleep patterns and encourage a calmer mind.
ELEMIS Luxury Facials – OMMA Spa offers a selection of facials including the best-selling global skin phenomenon, the Pro-Collagen Facial, that utilises Mediterranean seaweed and techniques that list and shape the facial contours.