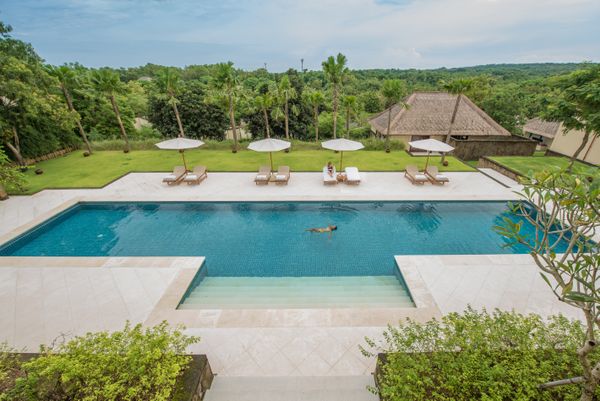 Setting a new standard for wellness retreats in Asia, luxury resort REVĪVŌ will be opening on the 30th March 2018 on 3 hectares of lush land in Bali. Meaning "I'll live again", the concept of REVĪVŌ is to soothe the spirit and rejuvenate the body through enriching the mind with a complete journey including relaxation activities, spa and holistic medicine treatments, and a personalised nutritional programme. The resort will offer 16 Balinese-style suites, including two 4- bedroom villas that can be booked for more exclusive retreats, a restaurant, bar and pool side lounge, spa, hybrid fitness area and events space.
Located amidst the breezy hills of Nusa Dua in south Bali, REVĪVŌ will be surrounded by teak forest, dense tropical rainforest and the Indian ocean for the ultimate decompression from bustling city life. The resort will offer bespoke programs based on each individual's needs, with the goal of achieving holistic "healing" through mind training and self-awareness, as opposed to treating specific illness or injuries.
While each retreat can be tailor-made to suit individual goals, there will be a regular schedule of immersive programs lead by experts in each area, which will range in duration from 3 to 14 days long. This will include:
Emotional balance and mind training
Detox & organic weight loss
Sleep well
Anti-ageing & longevity
Destress & Relax
Mother-to-be
Fitness will be a key component of each retreat, which REVĪVŌ will incorporate through a hybrid fitness area located on 8,000 square metres of verdant and peaceful land towards the rear of the resort. The area will be comprised of a yoga barn, a martial arts hall, a reformer Pilates studio, a gym with TRX, boxing and kinesis equipment, a 25-metre-long lap pool for aqua workouts and a 1,500 square metre landscaped park for outdoor exercises. The fitness offering will focus on hybrid workouts, with as much emphasis placed on inspiration as perspiration. There will be a balance between the more intensive Yang – with heart-pumping HIIT sessions, and the softer Yin – with yoga and other gentler meditative and restorative practices like Qi Gong and meditation to simultaneously cultivate physical, mental and spiritual well- being. From group classes to private sessions or teacher trainings, the experience will be completely customizable to support unique fitness and wellness goals.
The food and beverage programme will be equally important and will be comprised of a restaurant, a Bar, and a pool side lounge, each of which will operate under the philosophy of serving fresh, wholesome, organic and balanced meals for guests. Each venue will serve food and drinks as close to their natural state as possible, with a mission to sharpen and delight taste buds, while continuously supporting health. Carefully designed by REVĪVŌ's creative nutritionist chef, Aliwalu, the menus will offer a selection of healthy recipes made with seasonal ingredients that will be adapted to suit each guest's nutritional needs. The focus will be on high protein dishes, which have a balanced amount of healthy fats, are low in carbs and free from gluten – with a Balinese twist. Using the finest organic ingredients, REVĪVŌ aims to support local farmers, sustainable agriculture and environmentally friendly products, with no additives, preservatives or refined or processed ingredients in any of the dishes.
The third component of REVĪVŌ is the holistic spa, which will bring together authentic ancient Balinese healing traditions, aroma, hydro and chromo therapies and facilities to nurture the body and achieve overall well-being and balance. The spa will stay true to the age-old tradition of using elements from the surrounding environments to heal – each therapeutic treatment, restorative massage and nurturing body and facial treatment will be customised by highly skilled therapists using herbal-infused oils, aromas and massage techniques. The spa will be comprised of five double treatment rooms, each with their own outdoor bath, and will feature two hydro jet Vichy shower beds, hot and chill plunge pools, a Jacuzzi, infrared saunas, steam rooms, gorgeous changing rooms, an aromatic garden and a salt water floating pool set amidst tropical greenery.
"We are thrilled to be opening the first resort of REVĪVŌ in Bali, to meet the increasing demand for rejuvenating, mindful travel. We truly believe that the holistic wellness offering, led by a team of experts in their respective fields, will raise the bar for a new level of luxury retreat in Asia," said Gordon Oldham, Founder, REVĪVŌ.
Bali will be the first location for REVĪVŌ Wellness Resorts. It will soon be followed by REVĪVŌ Wellness Cruise, Komodo Islands, in early 2019 and REVĪVŌ Château de Fiac, France in mid 2019.
For more information, visit revivoresorts.com