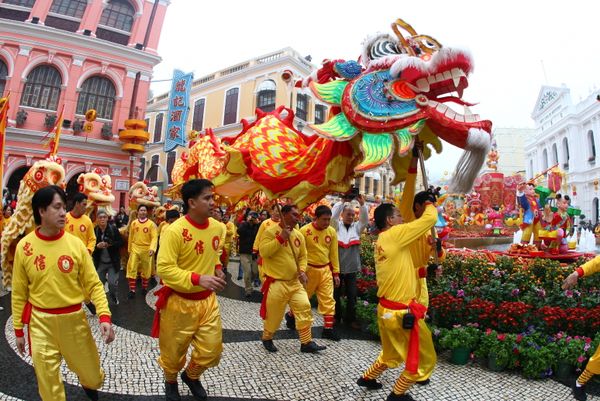 Macao will soon be filled with the colourful sights and sounds of Chinese New Year as it welcomes the 'Year of the Dog'. From 16 February, Macao's bustling city streets will be transformed with sparkling lanterns and decorations, ready for the week-long festive period, the most important and colourful festival in Macao's events calendar. Excited crowds will be wowed with show-stopping parades, cultural performances and breathtaking firework displays.
The festive programme begins with the Golden Dragon and Lion Parade on 16 February, when a 238-metre golden dragon and 18 lions will lead a parade from the iconic Ruins of St Paul's past some of Macao's most famous sites, finishing at Sai Van Lake Square. On 16 and 17 February lucky red 'lai see' packets will be given out to residents and visitors by tourism mascots and ambassadors, while artistic groups from across Europe and Asia will perform around the city, enhancing the seasonal atmosphere.
The highlight events of the festivities are the two Parades for Celebration of the Year of the Dog, which take place on the third and ninth days of Chinese New Year (18 and 24 February) when illuminated floats and over 1000 performers from around the world make their way through the city's atmospheric streets and plazas. The first parade begins with an opening ceremony at Sai Van Lake Square and culminates in a firework display in front of the Macau Tower. The second parade runs from Rua Norte do Patane to Iao Hon Market Garden, where there will be cultural performances from local singers.
Throughout the festive period, crowds will visit the city's many temples to ask for blessings for the Lunar New Year, while fresh flowers, potted plants and bouquets are given as gifts for good luck. Temporary flower markets spring up across the city selling "auspicious" plants such as mandarin trees and bamboo stems, as well as pussy willow, cherry and plum blossoms, and orchids.
Another indispensable feature of the Chinese New Year celebrations are fireworks and firecrackers, whose loud cracking noises are used to scare away evil spirits; two designated areas are set up for people to buy and set them off in safety.
Chinese New Year is just one highlight in an exciting calendar of events in Macao, from traditional Portuguese and Chinese festivals reflecting the destination's unique heritage, to more contemporary sporting and arts events.  Other events of note include:
The Macao Arts Festival (May)
The Macao International Dragon Boat Races (June)
The Macao International Fireworks Display Contest (September/October)
The Macao Grand Prix (November)
The Macao Light Festival (December)
The International Film Festival & Awards Macao (December)
For further information and full details, visithttp://en.macaotourism.gov.mo/events/calendar.php