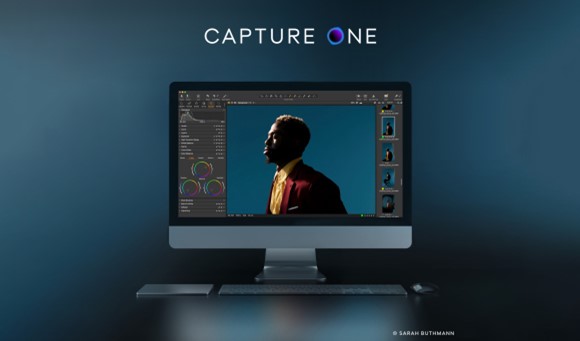 Capture One has announced the immediate availability of Capture One 22 (15.3.0), a significant and dynamic update to Capture One that brings new levels of efficiency, flexibility, and mobility for a modern and collaborative workflow.
Extending upon its most-loved elements and features like industry-leading tethering and customizability, Capture One now introduces new favorites like wireless tethering for Sony cameras, Magic Eraser for easy and accurate masking, and Cloud Transfer; the company's major first step into multi-platform and mobile support, as it prepares for its iPad app release later this month.
"In March, for the first time, we as a company shared our vision for Capture One as a multi- platform ecosystem for creatives, and laid out our roadmap for getting there; it was a product of listening to our users and being ambitious for them and the community. It began with Capture One Live, and now we are moving into Capture One for iPad, with this release being a critical step into the future we are building. It's always rewarding to see the marks of progress, but I'd be remiss not to mention it's also an exciting time." – Rafael Orta, CEO, Capture One
Furthering its commitment to development driven by user-feedback, Capture One 22 15.3 brings a host of improvements to the user experience and its current stable of features. As of today there is Metal support on Intel Macs, a guided tour for new users to get familiar fast, new Styles Pack functionality, and upgrades to Capture One Live to make it more than tool for real-time collaboration, but also a post-shoot platform.
What's New In Capture One 22 (15.3.0)
Wireless tethering (Sony)
Save to card & computer when tethering (Canon)
Magic Eraser
Tool Panel redesign
Cloud transfer from iPad
Crop Ratio saved per image
Rotation smoothness (Mac)
Style Pack functionality 
Guided Tour
Metal support on Intel
Capture One Live:

1 month Session duration
Keyboard shortcuts on web
Improved watermark workflow
Commments BETA (Web only)
Wireless Tethering (Sony)
Beginning with Canon cameras, Capture One 22 (15.3) now expands on Capture One's wireless tethering capability to several Sony cameras. This tethered functionality is identical to tethering over USB and adds another useful tool in Capture One's expansive toolset. With Wireless Tethering you need one less cable on set, making for a fluid and dynamic tethered shooting experience.
The following cameras are supported:
Sony A7R IV/IVa
Sony A1
Sony A7 IV
Sony A7s III
Sony A7C
Sony FX3
Sony ZV-E10
Sony A9 II
Save To Card & Computer When Tethering (Canon)
Control where to save your images from the Camera Settings Tool when tethering a Canon camera. You can choose to save to card, computer, or both. This provides a convenient backup method, as well as enabling the user to see and review the images on the camera display.
Magic Eraser
The Magic Eraser is a new type of Eraser providing similar functionality as the Magic Brush. Not only can you now use Magic brush to make quick and easy work of complex masks, but just as easily and quickly remove parts of masks on similar areas such as sky, skin etc., making for an even more fluid and efficient workflow.
The Magic Eraser is available from the Layers Tool and Cursor Tools. You can link the settings of the Magic Brush and Magic Eraser if needed. When linked, the Magic Brush and Magic Eraser will share the same settings for Size, Opacity, Tolerance, Refine Edge, and state of 'Sample Entire Photo'.
Tool Panel redesign
The Tool Panel has been redesigned to allow an easier and more predictable experience when browsing the interface. Additionally, the design will align with Capture One on iPad. The redesign consists of the following aspects:
New, bigger icons for all Tool Tabs
Labels below icons showing the name of the Tool Tab
Labels are enabled by default, but can be turned off
Fewer Tool Tabs by rearranging the tools
Easy access to customization options from the three-dot icon
Capture One automatically makes backups of workspaces if something changes when updating. Your previous workspace can be accessed from the customization menu. The previous default
workspace is also available from the Workspaces menu under the name "Default (Legacy)".
Cloud Transfer
Cloud Transfer allows you to import images into Capture One that have been uploaded to the cloud from the iPad app. An internet connection is required to use this feature, and the "Cloud transfer" button can be added to your main toolbar.
From there you will get access to a menu, allowing you to import the photos from the cloud onto your computer, in your sessions, or catalogs. The import process will start, and your photos (and their adjustments) will be available to you in Capture One Pro desktop.
Capture One Live
Easier Watermarking
You can set a watermark to an individual Live Session by choosing one of the Recipes, which can now be found in Capture One Live pop-up window. When you choose a Recipe, only the watermark settings are applied to the Live Session. The actual management of the Recipes takes place in the Exporter.