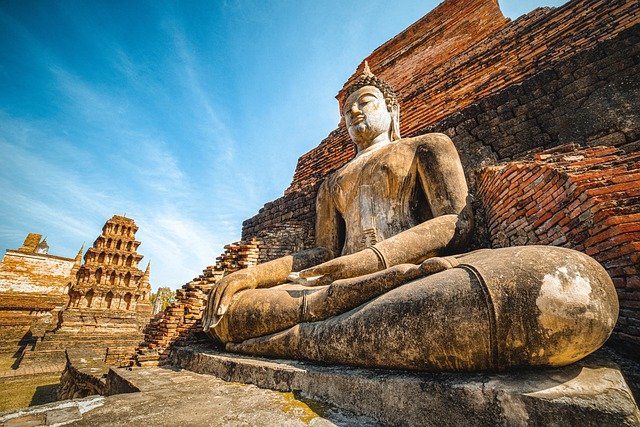 White sandy beaches, crystal clear waters, mouth-watering food, and some of the friendliest people on earth all await you in Thailand. This southeast Asian country has become the hottest new tourist destination with unfathomable beauty offered at an attractively low price.
The entry requirements have also become easier to navigate with electronic visa systems in place and many of the most stringent COVID regulations being axed.
Here is an easy guide on how to apply for the electronic visa for Thailand and what you can expect from this exciting destination.
Who needs an e-visa?
Thailand has very generous visa policies with dozens of countries getting visa-free stays of up to 30 days. This includes:
Andorra
Australia
Austria
Bahrain
Belgium
Brunei
Canada
Czech Republic
Denmark
Estonia
Finland
France
Germany
Greece
Hong Kong
Hungary
Iceland
Indonesia
Ireland
Israel
Italy
Japan
Kuwait
Laos
Latvia
Liechtenstein
Lithuania
Luxembourg
Macao
Malaysia
Maldives
Mauritius
Monaco
Mongolia
Netherlands
New Zealand
Norway
Oman
Philippines
Poland
Portugal
Qatar
Russia
San Marino
Singapore
Slovakia
Slovenia
South Africa
Spain
Sweden
Switzerland
Turkey
Ukraine
United Arab Emirates
United Kingdom
United States
Vietnam
The new e-visa process helps those traveling from the following countries to get their visa quickly and easily:
Bhutan
Bulgaria
China
Ethiopia
Fiji
Georgia
India
Kazakhstan
Malta
Mexico
Nauru
Papua New Guinea
Cyprus
Romania
Saudi Arabia
Taiwan
Uzbekistan
Vanuatu
Cost of e-Visa to Thailand
The payment for the Thai e-visa is twofold, one online processing fee and once more when arriving at the border.
The first fee is $40 for a single-entry tourist visa that lasts 15 days. The multiple entry visa costs $200.
The fee on arrival is 2,000 Thai Baht which amounts to around $61. This must be paid in local currency at the border.
The visa fee was waived during the pandemic but has been reinstated once more.
Thai e-visa application process
The application process is simple and only requires applicants to enter a few basic details and answer security questions.
An applicant's passport must be valid for more than 30 days after arrival in Thailand and they must have a credit card on hand to complete the payment.
The three main areas of information that will be completed are:
Your full name, date, and place of birth
Passport number, issuing, and expiry date
Address and contact information
Due to the COVID pandemic, travelers now also need to provide a travel insurance certificate showing that they have sufficient coverage in the case of infection.
The visa is sent to your email inbox and the PDF should be printed out and kept on hand in digital format too.
The e-visa can only be used at the international airports and people crossing by land or sea need to apply for a different visa. The international airports are:
Bangkok – Suvarnabhumi International Airport – BKK
Phuket – Phuket International Airport – HKT
Bangkok – Don Mueang International Airport – DMK
Chiang Mai – Chiang Mai International Airport – CNX
How Long does the Thai e-visa take?
The visa application process is quick and easy and only takes a few minutes to complete.
The decision-making process usually takes around 2 days but in some cases, it can take up to 5 days.
Applicants can apply between 30 days before their departure but need to apply more than 5 days before their departure. The visa is valid for 30 days from the moment of approval.
It is important to note that this visa cannot be extended so applicants must take great care when considering their travel dates.
Top 3 Reasons to Visit Thailand
Natural Beauty
Thailand has an abundance of mesmerizing natural attractions that constantly leave visitors in awe. The country has more than 1,400 islands, thick tropical forests, pristine beaches with reefs teeming with life, and that is just the tip of the iceberg. This is also a great place to get SCUBA certified thanks to the low cost and unbeatable underwater life.
Culture
Thai culture offers a multitude of unique aspects that lure visitors to the country. From hypnotic traditional dances to elaborate temples high in the mountains, every angle of Thai culture is colorful and inviting.
Thai food is also world-renowned and people flock from all over to savor the robust flavors of Thai cuisine. Think flavorful Thai curries, refreshing papaya salad, an abundance of fruit, and mouth-watering Pad Thai noodles.
Wellness
Thailand has become synonymous with a slew of wellness opportunities offered throughout the country. There are several yoga and meditation retreats scattered everywhere from island destinations to mountaintop hideaways.
Thai massages are also legendary, stretching out every muscle in your tired body. There are also spa treatments offered at attractive prices at some of the most jaw-dropping locations you can imagine.