Sister resorts Jade Mountain and Anse Chastanet, spread across 600 acres edged with stunning Caribbean coastline overlooking St. Lucia's majestic twin Pitons, will host the annual Mango Madness Festival this July and August. Jade Mountain's Emerald Farm is the home to an abundance of mango trees and for over a decade, the resort has celebrated the harvest with a mango festival on the property.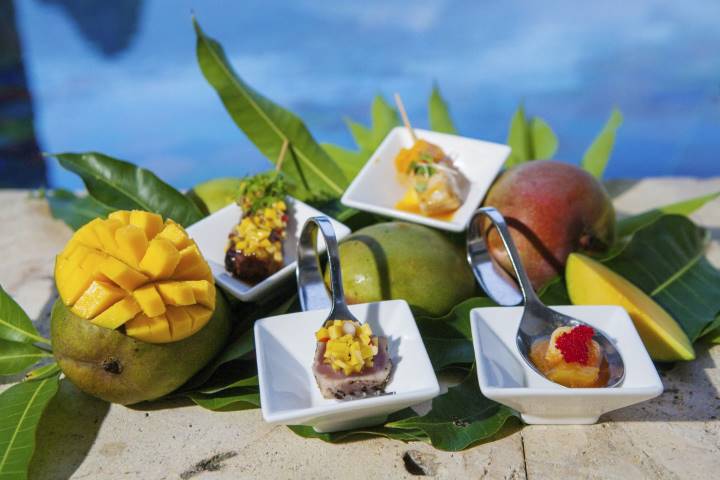 The festival encapsulates all things mango from its mixology experience, with the famous signature 25# Mango Mojitos, to the Night of 1000 Mangos Dinner which entails a five-course luxury dinner consisting of the sweet fruit. Mango-lovers can also enjoy interactive and educational classes such as harvesting tours or cooking classes, offering the opportunity to concoct anything from sticky mango jam to zesty mango chutney.
Those seeking ultimate relaxation can indulge in a relieving mango massage, revitalising body scrub or nourishing body wrap, pursue a leisurely meander through the Anse Mamin plantation tour or delight in some retail therapy choosing from an exotic array of candles, soaps and other mango-themed offerings at the resort's boutiques.
Nina Compton is a St Lucia born Chef who has been heavily involved in the festival, working very closely with Jade Mountain's chefs – Executive Sous Chef Elijah Jules and James Beard Award Winner Chef Allen Susser. They have collaborated to produce an incredible 5-course seasonal and sustainable sensory mango tasting menu using 1,000 mangos! The abundance of mango trees on the property allows the delicious sweet fruit to be celebrated through an array of versatile recipe combinations.
Nina has an extensive culinary past – having graduated from the Culinary Institute of America, she began her professional culinary journey at Daniel in New York City, alongside prominent restaurateur Daniel Boulud. She merges traditions from New Orleans, in which she currently lives, together with her Caribbean origins. In 2017 she was honoured with the reputable "Best New Chef" award for Food & Wine magazine, alongside this, her restaurant Compère Lapin located in New Orleans was named one of America's 38 Best Restaurants by Eater in 2017, an incredible accolade to receive. Compton's restaurant has received copious amounts of respectable reviews; Esquire noted it for one of "The 40 Most Important Restaurants of the Decade", depicting how the conch croquettes, curried goat and collard greens with coconut cream reinvigorates new traditions.