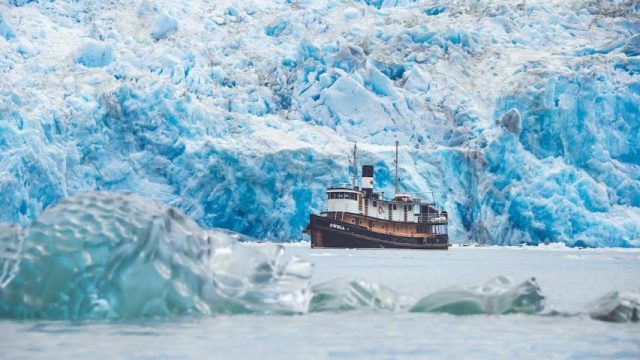 In a time when nature vacations, reconciliation, and traveling with responsibility dominate people's thoughts, Maple Leaf Adventures' just-announced 2022-23 trip schedule is of great relevance to those considering where to go now.
The company is a boutique expedition cruise operator, owned and operated by coastal people, that has been solely dedicated to regenerative travel experiences on Canada and Alaska's west coast for decades. These regions abound with islands, natural coastlines, and wildlife that are far off the well-traveled routes, and are home to many Indigenous cultures.
Maple Leaf's 2022-23 trips deliver:
Off the beaten track adventures among fjords and archipelagos that showcase the wild coast in ways people (even locals) have not experienced before.
Peak itineraries in the low-travel times of spring and fall, with just 8, 12 or 24 guests on each yacht, and small groups on each shore trip (usually 2 per day).
Meaningful guest engagement in citizen science, nature observation, food gathering, and knowing that as a traveller they are part of a conservation-based alternative to more destructive industries.
Local roots and connection, through the beloved yachts, communities, crew and guides that conduct the trip throughout their home.
Special access to special areas through the company's local knowledge and years of relationships and partnerships with Indigenous communities.
All three of Maple Leaf Adventures' passenger vessels, Maple Leaf (a classic BC sailing ship), Swell (a historic BC tugboat), and Cascadia (a luxury expedition catamaran) provide comfort, gourmet meals, and the most exclusive views available – west coast sunsets, marine mammal encounters and dark skies for stargazing.
With trips appealing to guests of all ages, and most frequently taken by people aged 55-80, this itinerary is on target for the growing traveling public that shows interest in a more regenerative approach to their holiday time.
"We've painstakingly created experiences out of the best this coast has to offer – from our restored yachts, our locations, our food and décor, to our view of life in this place," says Maureen Gordon, a co-owner of Maple Leaf Adventures. "It's not a 'destination' to us. It's our home that we all passionately love, and protect, and celebrate with our guests."
Summer Safaris – A series of coastal adventures
At the height of summer, guests explore British Columbia's wild west coast, far north of busy Tofino. From the edge of the continental shelf off northwest Vancouver Island to the aptly named Whale Channel on the mainland coast, these week-long itineraries feature migratory sea mammals such as humpback whales, orcas and sea lions, as well as seabirds, remote islands and beaches, plus the opportunity to participate in citizen science. Typically also includes visits with our friends in Indigenous communities.
2022/2023 departures:
All of these are within our summer safaris series; dates are the same in both years:
· Wild Side of Vancouver Island, July 9-15, July 16-22
· Whales and Wild Isles, July 21-29, July 23-31, Aug 21-29
· Great Bear Rainforest Summer, Aug 1-5, Aug 6-10, Aug 12-16
· Whales & Totems, Aug 3-8, Aug 9-14, Aug 15-20
Salish Sea and Desolation Sound
While people may know the cities that surround these vibrant marine regions (Victoria, Vancouver and Campbell River), the Salish Sea and Desolation Sound may as well be thousands of miles away. They are that little-known. Their intricate waterways, between islands as diverse D'Arcy Island (ĆTESEU) with prickly pear cactus and meadows of wildflowers and the Redonda Islands with steep mountains and waterfalls, are inaccessible to most and a wild haven in southern BC.
Maple Leaf's trips explore them in their spring and fall splendor, when virtually nobody else is around. In addition to stunning land and waterscapes, trips feature wildlife and cultural history.
In addition to the nature and wildlife tours, Maple Leaf Adventures also offers two exclusive culinary tours (Wines & Islands and Craft Beer Cruise) designed for guests to fully immerse themselves in the nature, wildlife and terroir that inspires these uniquely Canadian flavors.
2022/2023 departures:
Dates are the same in both years:
· Spring: Apr 9-13, Apr 14-18, Apr 19-25, Apr 21-25, Apr 27-May 1, Apr 30-May 4, May 2-6, May 5-9
· Fall: Oct 17-23, Oct 19-25, Oct 25-29, Oct 26-30, Oct 26-31
Great Bear Rainforest (including the Kitlope)
The Great Bear Rainforest is a land of fjords, islands and great river estuaries. It contains the world's largest intact temperate rainforest (the Kitlope). Bears and wolf packs thrive as they have for millennia. Explore the wildlife, the waterfall-filled wonder, and the human history of one of the planet's most spectacular coastlines – "the last stand of the great North American rainforest," according to one expert.
Through our local knowledge and that of our Indigenous partners in their territories, guests explore the many layers of human and natural history on these trips in peak seasons for wildlife: spring and fall.
2022/2023 departures:
Dates are the same in both years:
· Spring: May 11-19, May 19-26, May 20-27, May 27- Jun 2, May 28-Jun 3, Jun 3-10, Jun 11-18
· Fall: Aug 17-25, Aug 26-Sep 2, Aug 31-Sep 8, Sep 3-10, Sep 9-17, Sep 12-19. Sep 18-26, Sep 20-27, Sep 27-Oct 5, Sep 28-Oct 5, Oct 6-13, Oct 7-15
Haida Gwaii
An archipelago of steep, rainforested islands on the continental shelf off BC's mainland, Haida Gwaii has been the realm of the Haida since time immemorial. These trips explore not only the populated north, but also famed Gwaii Haanas. Only 3000 people each year are able to visit this protected region, currently co-managed by the Haida and Canada. Highlights include abundant marine life and several traditional Haida village sites, including UNESCO World Heritage Site SGang Gwaay. Referred to sometimes as a "northern Galapagos", Haida Gwaii species are differently evolved than their mainland counterparts. Gwaii Haanas is the only region in the world protected from the mountain peaks to the ocean floor.
In 2021, the Haida Gwaii Pledge was introduced as a new tourism management tool with guidance from hereditary leaders, knowledge keepers, community members and health authority.
2022/2023 departures:
Dates are the same in both years:
· May 8-15, May 15-22, May 22-29, May 29-Jun 5, Jun 6-14, Jun 14-21, Jun 15-23, Jun · 21-28, Jun 23-Jul 1, Jun 28-Jul 5, Jul 1-9, Jul 9-17
Alaska Supervoyage
The history of southeast Alaska is intricate: Tlingit, Haida, Russian and American cultures all leave their mark on its towns. And although millions cruise through it each year, almost none spend time on the ground in its natural areas. These expeditions explore Alaska's rich nature up close – by spending 11 days becoming part of it. Highlights include the calving glaciers and rainforest but also exclusive access to Pack Creek (favored by brown bears) and other areas rich in wildlife. These trips are exclusively aboard our heritage tugboat Swell, who has plied these coastal waters since 1912.
2022/2023 departures:
Dates are the same in both years: · Jun 14-23, Jun 23-Jul 2, Jul 3-12, Jul 15-25, Jul 26-Aug 5, Aug 6-16, Aug 17-27