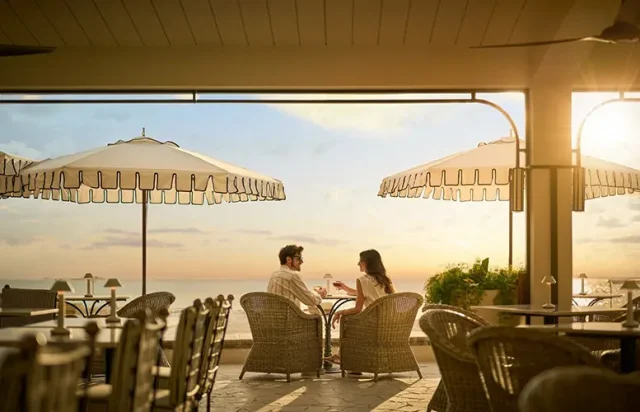 Engagement season brings a lot of pressure to make an unforgettable moment for couples, but Marriott International Hotels and Resorts provides the perfect settings for a proposal or bachelorette experience like no other. The variety of experiences offered across the Caribbean allows for any couple or bride to be, opting for a solo bachelorette trip, to enjoy every minute of the special romantic and relaxing packages offered.
Dorado Beach, a Ritz Carlton Reserve
Dorado Beach, a Ritz Carlton Reserve is the idyllic retreat for couples looking to immerse themselves in one of Puerto Rico's most exclusive luxury resorts. With its serene coastline, private residences, Spa Botanico sanctuary and rum experience, there is something for everyone at this 50-acre historical oasis. A unique experience for couples is La Cocina Gourmet's Culinary Center, which hosts wine dinners and cooking classes showcasing international cuisine and seasonal ingredients. Guests can engage in hands-on intimate culinary experience followed by a five-course wine dinner.
The Ritz Carlton, St. Thomas is the ultimate gateway to the Caribbean with 30 breathtaking acres of crystal blue waters, white sand, and lush tropical greenery. This spa-like resort is perfect for a solo bride to kick back and relax. The gorgeous property surrounded by nature's beauty also makes for the most enchanting engagement photos. Round out the trip with a majestic sunset sail ride aboard the resort's very own Lady Lynsey II elegant catamaran and a dinner on the beach.
The Ocean Club, a Luxury Collection Resort, Costa Norte
Every detail of this resort is fit for soon-to-be brides looking for a soothing weekend for themselves. The property provides several suites ranging from one to four bedrooms perfect for a Bachelorette getaway, solo or group. The chic, spacious suites include a dining area, full kitchen, spacious living area and a private terrace. Brides-to-be can also unwind at one of three resort pools or at the transcendent spa facility inspired by the south of France.
The Ritz-Carlton, Grand Cayman
Travelers can immerse themselves in luxury inspired by the Cayman Islands' natural wonders and cultural richness at The Ritz Carlton, Grand Cayman's sun filled Caribbean haven. Couples or solo bachelorettes can indulge in an exquisite culinary voyage at this resort known for the Cayman Cookout, an exquisite celebration of food and wine, or enjoy a seafood-inspired menu at the Caribbean's only AAA Five-Diamond restaurant, Blue by Eric Ripert.
The Ritz-Carlton, Aruba is the perfect destination for couples to celebrate their love. A special romantic dinner package creates a magical evening with the Caribbean Sea as a backdrop. The tone is set by melodic waves that gently caress the white sand, while Aruba's sunset lights the sky afire with a cascade of colors. A personal butler takes care of everything so couples can simply enjoy the moment. Chefs create a memorable evening with a customizable, delectable menu. From candles to the musician of your choice, dining on the beach is a one-of-a-kind and wonderful treat at The Ritz-Carlton, Aruba.