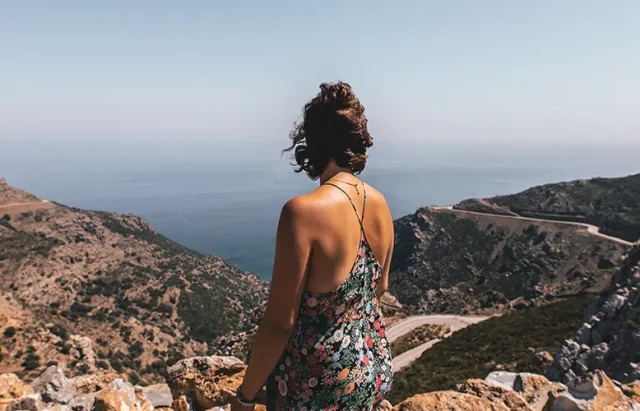 A popular documentary series now streaming online refers to the destinations that are home to the longest living people on the planet, known as Blue Zones. Surprisingly, these spots all share similar characteristics such as access to nature, a plant-based diet as well as a commitment to family; all of which are proven to increase health and longevity for the locals. Research from Booking.com found that almost half (42%)* of travelers are keen to take a 'health hiatus' in their travels this year so, with its mission to make it easier for everyone to experience the world, Booking.com shares how travelers can not only discover these incredible Blue Zone spots, but adopt a lifestyle that promotes longevity.
Okinawa, Japan
Located in southern Japan, Okinawa is home to a cluster of breathtaking islands that offer residents an opportunity to disconnect from the hustle and bustle, and rest. Made of coral, the island makes a perfect destination for travelers looking to bask in water activities such as diving, snorkeling and underwater exploration. In particular, the Mangrove Hija River Kayaking provides tourists a thrilling opportunity to go kayaking in the Hija River and get a glimpse of marine creatures such as gobbies and fiddler crabs. Known for its tropical climate, sugar sand beaches, turquoise waters, rich culture and more importantly, land of the immortals, it makes an ideal destination to detox from everyday life and explore all nature has to offer. Its relaxed ambience is fueled by its commitment to spirituality and holistic wellness, and with diverse wellness programs, residents can connect with nature and simple living. Travelers can also enjoy healthy cuisine sourced from fresh produce and embody the Japanese adage "Eat until you are eight parts (out of ten) full"; which contributes to why the locals are able to live full lives. For food lovers, the Nago Pineapple Park offers tourists an opportunity to learn about pineapple cultivation and the history of fruit in Japan while riding in a pineapple cart.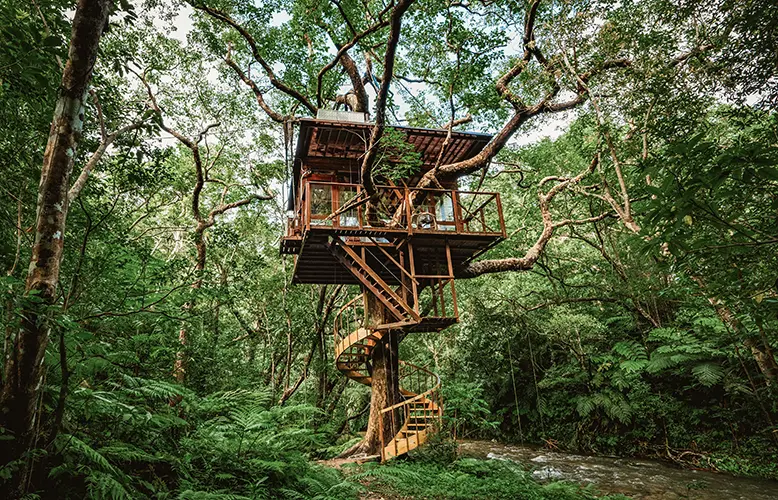 Where to stay: Tucked away in the northern part of Okinawa Island is Nago; home to this picturesque Treeful Treehouse Sustainable Resort. With natural infrastructure and beautiful greenery, this restful resort allows travelers to be as close to nature as possible and benefit from earthly nutrients and clean air. This Travel Sustainable property ensures most food available is locally sourced too.
Sardinia, Italy
Known as Italy's second largest island after Sicily, Sardinia is 170 miles (270km) in length. This destination is home to the world's longest living people, and is the Blue Zone with the largest male population exceeding 100 years of age. Its uncontaminated beaches allow travelers to enjoy clean cuisine, from fresh fish to a lean plant-based diet consisting of whole grain bread, fruits and vegetables which allows for good health and longevity. With all-year-round beautiful weather, travelers can start the day off with this guided Maddalena Archipelago Boating Tour exploring the beautiful islands in the region with live commentary and stops for swimming and shopping. Sardinians are not shy when it comes to living life to the fullest as they enjoy drinking one or two glasses of wine a day, thus visitors can join in this tradition and grab a few drinks. People in Sardinia are known to gather in the street to laugh with each other, with research showing laughter reduces stress, boosts immunity and lowers the risk of heart disease. Overall, this serene destination's commitment to family and community spirit makes it the perfect destination for couples or families looking to strengthen bonds and enjoy quality time together.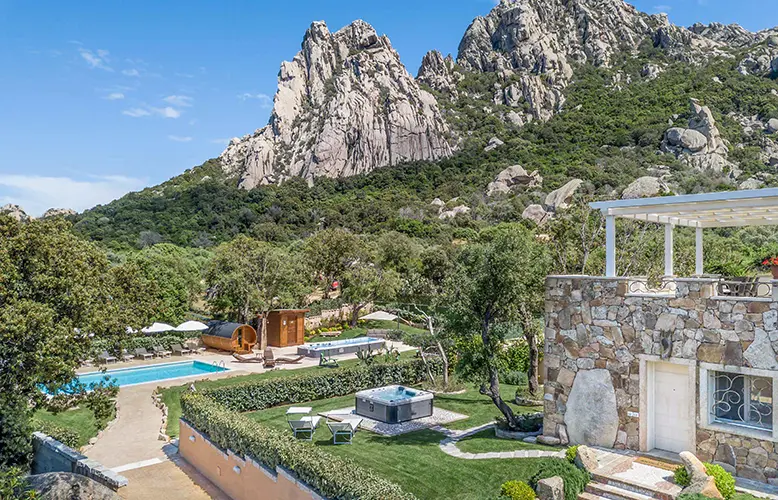 Where to stay: Enjoy breathtaking mountain views at Antica Fonte Holiday Homes which offers great facilities from a beautiful garden to two outdoor pools, fitness rooms as well as an open-air bath. This vacation home also offers a paid shuttle service from Olbia Costa Smeralda airport which is 14 miles (23 km) from the property, taking all the transportation hassle from guests and allowing them to truly switch into rest mode once they arrive.
Ikaria, Greece
This Greek island in the eastern Aegean Sea is best known for its commitment to slow living. Home to laid-back locals who are intentional about taking life one day at a time, this destination is ideal for travelers looking to detach from their busy lifestyles and enjoy a slower pace of life. The longevity of this destination's locals can also be attributed to the release of magnesium in the air which scientific research backs as a natural antidepressant, thus depression and loneliness are foreign feelings in this territory. For travelers looking for mental rejuvenation, this destination is the answer with opportunities to explore its beautiful beaches, natural landscape and mountainous views. The Samiopoula and Kakorema Full-day Tour with Lunch gives visitors the opportunity to discover a local island and secluded beach as well as chances to swim.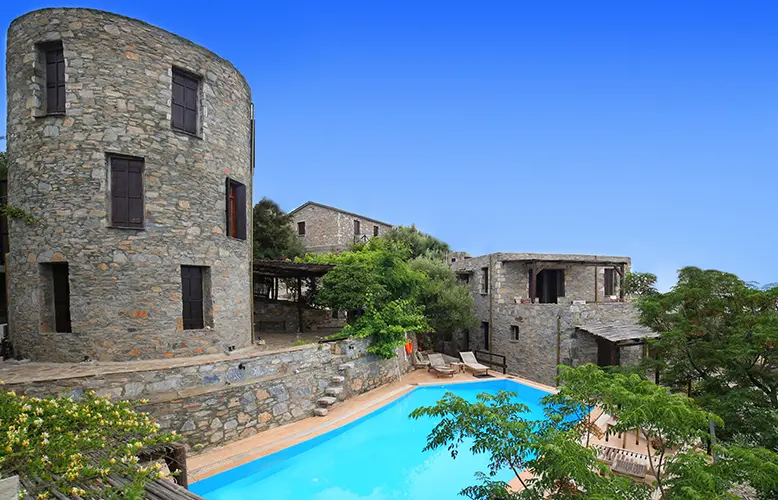 Where to stay: For travelers fancying a detox from the pressures of everyday life, the Pyrgos Traditional Village located close to the main port of Agios Kirikos, in Ikaria's capital is perfect for travelers looking to escape from the demands of everyday life. This Booking.com Travel Sustainable property is home to plentiful green spaces which improves air quality and immunity, but more importantly it is perfect for an over-stimulated mind in need of psychological restoration. With access to vegetarian and vegan meals, guests are guaranteed to feel nourished and revitalized.
Nicoya, Costa Rica
Located in western Costa Rica, this Latin American hotspot is known as an international wellness destination that spans secluded beaches, exotic wildlife and renowned as one of the healthiest and happiest places on earth. These areas are home to locals who are intentional about their health and fitness. Although the longevity of Nicoyans can be attributed to daily acts such as opting for walking instead of driving and eating a clean diet; nurturing familial and community connections is also a primary reason for why they live such full and wholesome lives. For those travelers looking to strengthen family ties in a rural setting, this destination is the answer with its beautiful beaches, communal parks and inviting locals.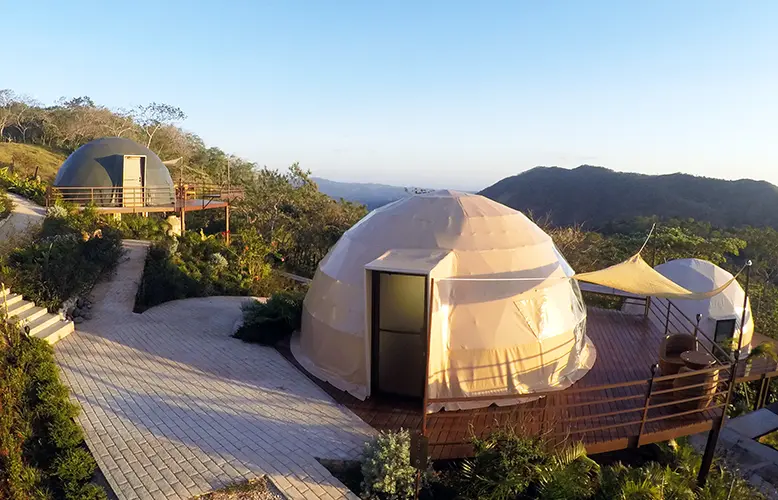 Where to stay: Travelers can whisk themselves away to Kintiri Glamping which is 27 miles (44km) from Nosara Airport. These luxury tents are situated in a stunning location overlooking beautiful hills and the nearby sea offers guests well designed rooms, access to a sauna as well as a Latin American restaurant with vegan and vegetarian options. For lovers of customs and traditions, this property offers a class on local culture and conventions which serves as a great opportunity for visitors to learn about the lifestyle and habits that make this destination so liveable. With a heart for the local community, this Booking.com Travel Sustainable property takes pride in investing in sustainability projects as well as giving a platform for local artists to display their talents. 
Singapore
This newly added artificial Blue Zone destination has garnered a lot of attention from experts due to its rising life expectancy in recent years. From government policies which encourage healthy eating to its ban on drugs and guns – which happens to be the leading causes of death in the western world, it has shown a commitment to the wellbeing of its citizens. With shops and amenities within walking distance, travelers can get a few steps in, absorb a dose of vitamin D and embrace positive wellbeing. Embark on a Gardens by the Bay Tour to see the largest garden attraction in Singapore, and take beautiful pictures with colorful flowers in the backdrop. In the cool of the evening, travelers can soak in panoramic views with Marina Bay Sands Skypark Observation Deck Tickets and take iconic photos from a height of 650 feet (200 meters).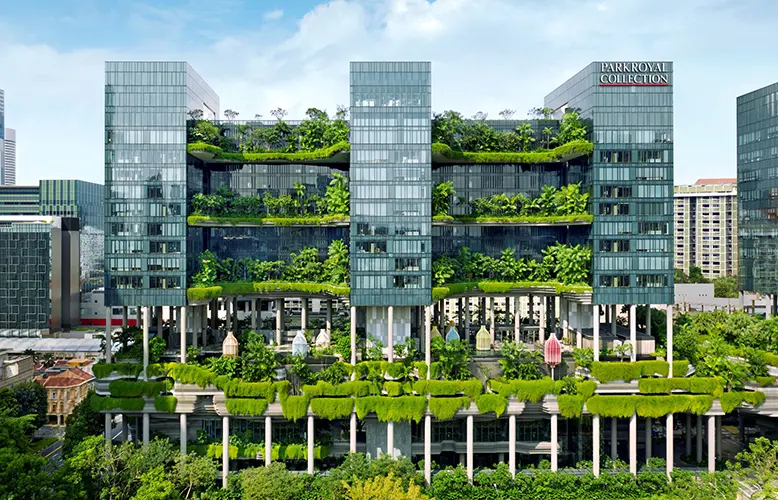 Where to stay: Known as Singapore's first garden-in-a-hotel, the Park Royal Collection Hotel will have travelers feeling like they are in paradise. With intricate interior design and stunning greenery, this property has great amenities such as, access to the sun terrace to relax like royalty as well as quick access to Chinatown where travelers can acclimate with the diverse aspects of Asian culture, and Clarke Quay which is the hub for Singapore's nightlife. Additionally, this property has a Booking.com Travel Sustainable badge for the impactful efforts it has taken from the use of solar panels to power emergency lights and lifts, filtered water systems in all rooms and its ban on single-use plastic.
*Research commissioned by Booking.com and conducted among a sample of adults who plan to travel for business or leisure in the next 12-24 months. In total 24,179 respondents across 32 countries and territories were polled (including 1014 from Argentina, 1006 from Australia, 505 from Austria, 504 from Belgium, 1009 from Brazil, 503 from Canada, 1009 from China, 1010 from Colombia, 505 from Croatia, 505 from Denmark, 1010 from France, 1001 from Germany, 500 from Hong Kong, 1005 from India, 504 from Ireland, 504 from Israel, 1008 from Italy, 1003 from Japan, 504 from Mexico, 502 from The Netherlands, 1007 from New Zealand, 1009 from Portugal, 507 from Singapore, 1008 from South Korea, 1001 from Spain, 505 from Sweden, 508 from Switzerland, 500 from Taiwan, 504 from Thailand, 1006 from the UK, 1009 from the US and 504 from Vietnam). Respondents completed an online survey in August 2022.