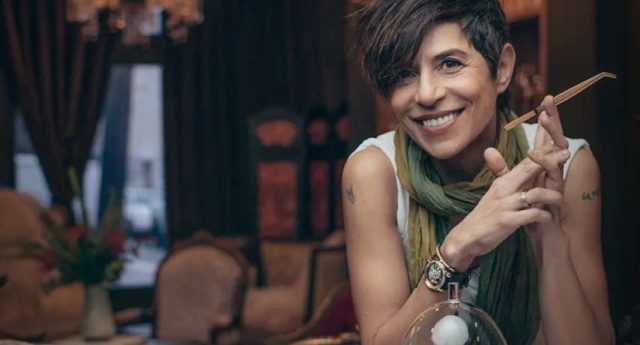 Chef Dominique Crenn, the first and only female chef in North America with three Michelin stars, helped the filmmakers of the horror movie "The Menu" bring to life the perfect menu for the main event which has been described as a real 9-courses culinary and artist masterpiece.
And now there is an opportunity for an intimate group of guests to meet, dine and discover with Dominique in person in France…
Enjoy Dominique Crenn for 5 days in France for a Hosted Experience with Satopia Travel
As the chief technical consultant for The Menu film, Dominique Crenn was responsible for advising on all aspects of food preparation and presentation to bring to life the concepts of the menu based on Seth Reiss and Will Tracy's screenplay. She has been working closely with Mark Mylod, the director and producers to ensure that the film accurately portrays the culinary world.
Crenn is known for her creative approach to cooking, and her menu is often inspired by her travels and experiences around the world. Dishes that Dominique Crenn designed as a consultant are presented with the slow-motion pomp and string accompaniment of a "Chef's Table" episode. Indeed, the food-worshiping Netflix series, which featured Crenn in season two, was an inspiration for "The Menu".
There is an incredible opportunity for an intimate group of like-minded travelers to meet chef, icon and activist Dominique Crenn.
In collaboration with Satopia Travel, Crenn conjures up five magical days and evenings where creativity and nature converge. Our most inspired Hosted Experience is a wonder to behold for our guests. Combining the magnificent culinary delights of triple Michelin star chef Dominique Crenn with the stunning backdrop of an ancient French chateau is certain to ignite your palette and spirit.
Dominique Crenn brings her soul to the feast, transforming ingredients through the poetry of gastronomy. Those fortunate to share her table and her stories will discover a world of passion and gratitude for food, community and life. You'll create and share unforgettable memories.
Ancient olive groves, crisp French linen, the vintages of Cognac and the sound of boisterous laughter under a starlit sky. Step into a magical world of natural beauty, wonder and awe.