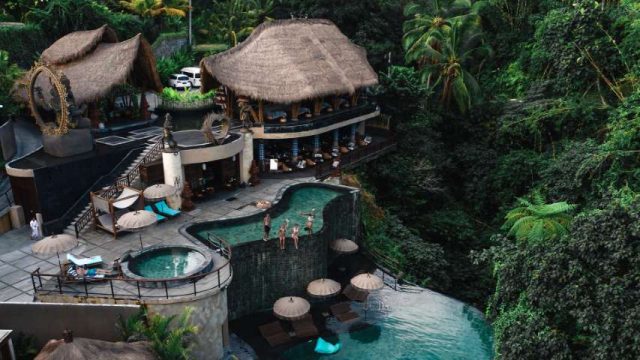 Ubud has long been regarded as a symbol of Balinese romance. Ubud's fresh air and unspoiled natural environment make it the ideal place to escape the city's hustle and bustle. Not surprisingly, the romantic drama film "Eat, Pray, Love," starring Julia Roberts, was also filmed in Ubud. Moreover, Travel and Leisure Magazine named Ubud one of the top three best cities in the world.
Ubud has several well-known tourist attractions that can be visited. Among them are seeing and interacting with tame monkeys in the Monkey Forest, taking in the village vibes at Tegalalang Rice Terrace, and taking a relaxing afternoon walk on Campuhan Hill. If you enjoy art, you can also go on a museum date by visiting the Neka Art Museum or the Blanco Renaissance Museum.
A day trip to Ubud is not enough. There are many interesting places to visit that will make your vacation even more memorable if you visit Ubud for more than one day. Besides that, Ubud has several resorts you can choose to stay in. The following are references to the comfiest hideaways in Ubud that are members of Ini Vie Hospitality, Bali's best hospitality management.
The Aksari resort Ubud is a villa with an elegant and romantic interior design that is one of the best places to stay in Ubud. This resort's address is Jalan Raya Desa Kenderan No. 88x, Tegalalang Ubud. The Aksari Resort Ubud is a wonderful place to spend time with family and friends. Aside from that, Akasri simply wants to provide the most romantic getaway experience in Ubud.
Aksari Resort Ubud is the ideal resort for honeymooners who would spend their intimate experience staying and capturing the breathtaking view of the resort. Features a Suite Forest View, Suite Twin Forest View, Aksari Suite, One Bedroom Villa with Private Infinity Pool, Royal One Bedroom River View Villa with Private Pool, Royal Two Bedroom Villa with Private Infinity Pool, and completed resort facilities, such as a Wedding Venue, Restaurant, Bar Lounge, Yoga, Public Jacuzzi, and Public Swimming Infinity Pool will make you have a perfect holiday. With a romantic ambiance combined with the sounds of nature, Aksari Resort Ubud is definitely your perfect accommodation for a relaxation retreat. It's also only 25 minutes from central Ubud and surrounded by a green valley, lush rice fields, and Tegalalang which is a popular rice terrace area for travelers over the world.