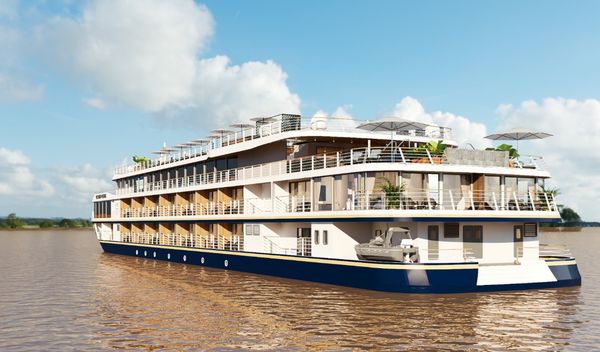 It's proving to be the hottest trend in travel as bookings for Mekong river cruises are literally going through the roof. According to Wendy Wu Tours, the UK's number one Asia travel specialists, cruise lovers are now setting their sights on Asia to get more value for money plus what was once seen as purely an adventurous destination for intrepid explorers, the Mekong is now a serious contender to the European waterways such as the Rhine and the Danube. The increase in Mekong river cruises is understandable. For those of us living in West, travelling in Southeast Asia seems very enticing but can be complicated to do independently, hence one of the best ways to explore life along the Mekong River is by ship.
Always the first to pick up on these trends, Wendy Wu Tours, are about to shake up the Mekong River cruise market with the launch of their new, state-of-the-art, deluxe river cruise ship, Victoria Mekong! Billed as one of the most exciting and eagerly awaited cruise ship launches of 2019, Victoria Mekong takes river cruising to a new level adopting a stylish and contemporary design with an Asian twist. The ship makes its maiden voyage at the end of this year and will sail four new group tours and two new private tours through Vietnam and Cambodia, all with a maximum of only 18 people per group.
John Warr, global sales director, Wendy Wu Tours, said: "The Victoria Mekong is a very exciting addition to our portfolio, filling what is a huge gap in the market. The ship has all the deluxe facilities of a 5-star standard ship with the price of a 4-star cruise offering the utmost in comfort for customers". Warr goes on to say: "With Victoria Mekong we are able to offer, for the first time, cruises sailing from the much quieter port at Can Tho Pier to Phnom Penh and return whereas most cruises sail from Mỹ Tho, a much busier and crowded port. This route also allows Victoria Mekong to explore the off the beaten track areas and to experience more unique offshore excursions along the Mekong Delta."
Victoria Mekong exudes a stylish and contemporary design throughout, fusing Asian-inspired interiors and exteriors creating one of the most unique and exciting cruise experiences on the Mekong. State-of-the-art features include Victoria Mekong's signature cocktail pool and pool bar, contemporary Asia-themed bar and lounge with luxurious soft furnishings plus signature restaurant with a locally-inspired menu that showcasing native cuisine. In addition, the ship boasts 33 spacious deluxe cabins plus two luxurious VIP suites, all with private bathrooms and private balcony.
For more information visit www.wendywutours.co.uk