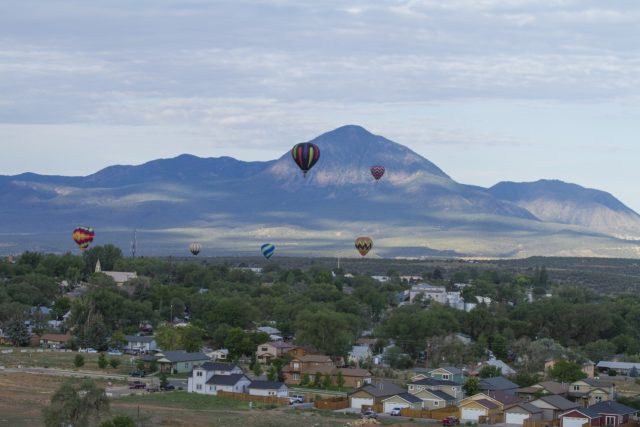 Fall is a fabulous time to visit Southwest Colorado's Mesa Verde Country. Autumn temperatures are nearly perfect in Mesa Verde Country, and it's a quieter time to visit away from the summer crowds. Mesa Verde Country hosts a line-up of fun fall festivals that are an entertaining way to anchor your vacation to the area. Come for the events and stay for the ancient adventures that await.   
Friday Food & Fun Nights (Fridays through September)
Every Friday through September, visitors and locals converge on Flanders Park in Dolores from 5-8:30 p.m. for a fun night of food truck fare featuring some of the best eats in the region. At dark, the party moves to nearby Joe Rowell Park for a drive-in movie. There's a $5 suggested donation for the flick, and concessions are available. (https://www.facebook.com/foodtruckfridaydolores/)
Cortez Farmer's Market (Saturdays through October)
Located at the corner of Elm & Main Streets in the Montezuma County Courthouse parking lot, the Cortez Farmer's Market features the best produce and artisan creations in the area, complete with live music. (https://www.cortezfarmersmarket.com/)
Cortez Hot Air Balloon Rendezvous (Aug. 5-7)
For three days in August balloons color the skies over Mesa Verde Country. There's a gorgeous balloon glow where the balloons are held to the ground so you can see the flames light up the night sky. The event is a chance to interact with the pilots and get up close and personal with hot air balloons.
Dolores Mountain Quilters Quilt Show (Aug. 19-20)   
Head to the Dolores Community Center to see some of the coolest creations from quilters in the region. Buy a raffle ticket for your chance to win the 2022 Raffle Quilt. (http://www.doloresmountainquilters.org/)
Mancos Brewfest (Aug. 20)
Great fun for parents and kids alike, the Mancos Brewfest at Mancos Brewery features local brews, ciders and wines, as well as music from The Crags, Lawn Chair Kings and State 38. The event is a fundraiser for local non-profits. (https://mancosbrewingcompany.com/event/mancos-valley-summer-brewfest/).
Harvest Beer Festival (Sept. 10)
For over two decades, Brewfest has been a great way to bring people together to support Montezuma Land Conservancy's mission while enjoying amazing local beer and great music.
2nd Annual Four Corners Fly-in (Sept. 17)
The Cortez Municipal Airport hosts the second annual Four Corners Fly-In. The high-flying event features food vendors and entertainment, including airplane/helicopter displays, a car show, children's activities and a presentation on the history of Cortez aviation presented by local author Garth Greenlee. (https://www.cortezflyingservice.com/flyin)
River Film Fest (Sept. 24)
Movies in Mancos! Join them to support local and up-and-coming film makers. Bring some food and enjoy the show.
Dolores Harvest Fest (Oct. 1)
Live music, a car show, games and food are all on tap for the annual Harvest Fest in Dolores's Joe Rowell Park. It's free fun for the whole family.
Pumpkin Festival (Oct. 29)
Celebrate Halloween in Cortez with hay rides, seed spitting contests, pumpkin painting, music, crafts and more.   For more information on planning a trip to Mesa Verde Country, call 970-565-8227 or visit www.mesaverdecountry.com.