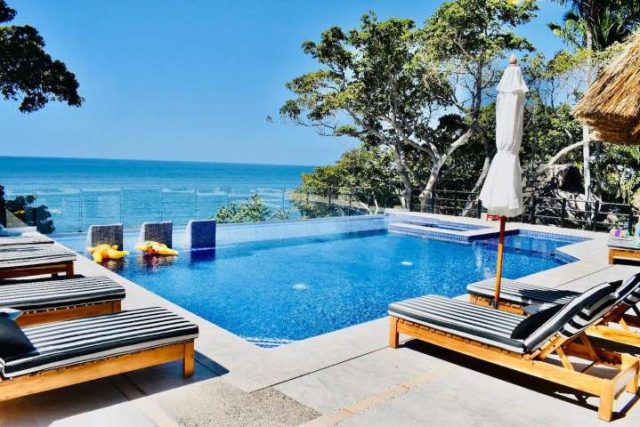 Set above its own pristine, sandy-beach cove, Casa Xzavian is nested in a jungle setting near charming San Pancho outside of Puerto Vallarta, blending contemporary design and authentic local details. Flanked by lush flora and fauna dotted with banana, coconut and mango trees, the main house consists of five bedrooms and six full baths, and the Casita II offers a private two-bedroom, two-bathroom guest house situated just steps away,
The house was designed by Juan Jose Galindo Bautista of Calli Intra Muros, alongside owners, Alan Kirshner and Suzy Ginsburg, that sourced local Mexican art, handmade furniture and home goods that are showcased along with luxury linens, hand-made chandeliers and notable artwork including a sculpture by Sergio Bustamante.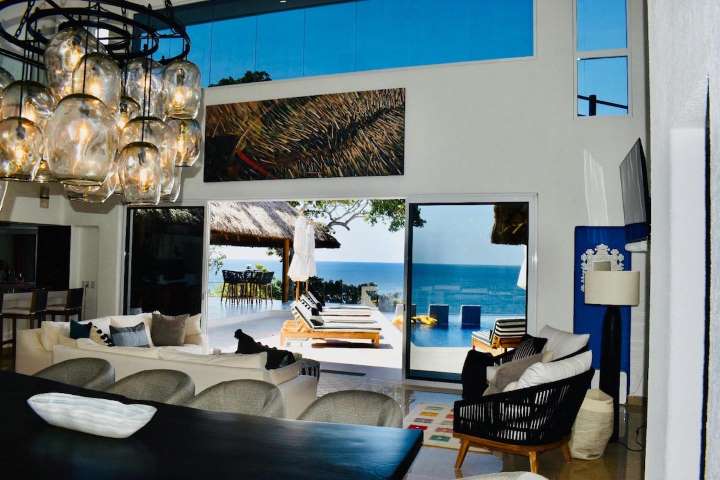 Stand out amenities include an expansive patio with a saltwater infinity pool and endless views of the ocean horizon, a hot tub, and outdoor kitchen palapa ideal for entertaining, relaxing, and unplugging, all with Mexico's legendary sunsets as a backdrop. The lush jungle setting gives way to nature's wildlife where guests can witness sea turtles running into the waves at dusk, whales breaching the water's surface, and some call this "a birdwatchers paradise" with more than 300 species in and around the mountains of San Pancho. Sequestered nature combines with the latest tech where guests can enjoy high-speed fiber-optic internet, Sonos sound system, and seven beautifully distinct lounge and break-out areas.
Wellness: Upon request, the Jungle Palapa hosts morning yoga classes and wellness massages by Gricelda Bustos Vargas, who has been harnessing the power of mindfulness for over 25 years in such places as the Four Seasons and St. Regis in Punta Mita. Gricelda has devoted her life to studying, teaching, and advocating the benefits of Chinese holistic therapies and mindfulness to help her clients reduce tension and soothe their thoughts with movement, including compression, acupressure, and passive stretching to improve their health and well-being.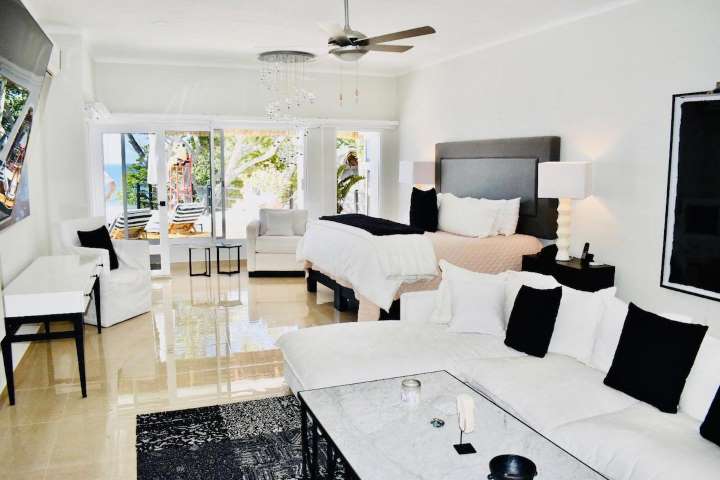 San Pancho is considered the Cultural Heart of Nayarit and is the quintessential sleepy beach town. Enjoy an abundance of delicious, health-conscious restaurants offering the freshest local and international cuisine. Sayulita, La Mandarina, and Punta Mita are just a short drive away for a day of shopping for local crafts, surfing, wind and kite surfing, stand-up paddling, scuba diving, snorkeling, yacht and sailing charters, wave runners, kayaking, coastal and deep-sea fishing, whale watching tours (seasonal), golfing, tennis, horseback riding, zip-lining, ATV rentals, mountain biking, running, and nature trail walks.
A private concierge is on hand to create a completely custom package tailored to any preference. Casa Xzavian was designed to be the ultimate beachfront retreat for friends, family, or colleagues to relax while enjoying nature, fabulous activities, fine dining, and the perfect escape from daily life. Casa Xzavian is fully staffed and professionally managed by General Manager, Israel Ortiz, who offers over 20 years of five-star customer service. A private chef prepares and curates meals including breakfast, lunch, midday snacks, dinner, the perfect wine / champagne pairing, a tequila bar, and tropical cocktails are custom tailored with the concierge two weeks in advance to anticipate guests' every desire.